Papua sees 15 aviation accidents, 18 fatalities this year: KNKT
Nethy Dharma Somba

The Jakarta Post
Jayapura, Papua |

Mon, December 19, 2016

| 01:02 pm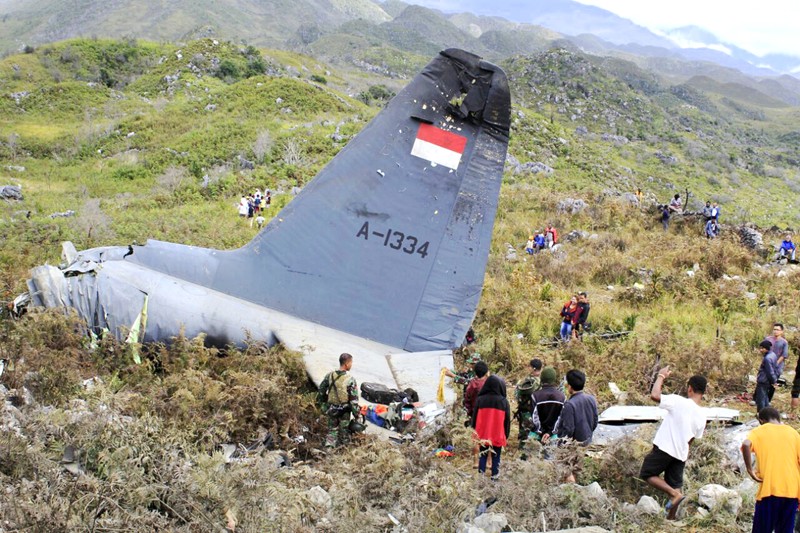 All that remains: Rescuers collect the personal belongings of the victims of an Indonesian Air Force plane that crashed in the mountainous area in Wamena, Papua, on Sunday. The Hercules C-130 crashed in bad weather in the easternmost province, killing all 13 people on board. (AP/Gerry Kossay)
The National Transportation Safety Commission (KNKT) in Papua said there have been 15 aviation accidents in Papua this year, ranging from minor accidents with no casualties to major accidents, like the one over the weekend, which killed 13 people.
"There have 15 cases, from minor accidents, like planes skidding off the runway during landings, to major accidents where passengers have lost their lives," said Norbert Tunyanan, the representative of KNKT in Papua.
The geographical conditions in Papua are such that the residents and the economy rely heavily on air transportation. There are many flights operating for passengers and for cargo.
Papuan KNKT recorded 18 deaths from the 15 accidents this year. Aside from the 13 fatalities in the biggest accident so far, the other five fatalities were from an accident involving Amur Aviation helicopter, which killed the pilot, Sr. Comr. (ret) Karmana in Nabire, in June and from an accident in Ilaga Puncak Jaya on Oct. 31, where an Alfa flight crashed and killed four people.
The most tragic accident occurred on Sunday, in which an Air Force Hercules crashed in Wamena, Jayawijaya regency.
The 13 victims, 12 Air Force military personnel and a technician, were brought to Malang using an Air Force plane on Sunday.
Olivia Kawer, sister of the pilot Marlon Kawer, told The Jakarta Post through a phone interview that the family in Biak was in mourning. Marlon has three children. (evi)
Some accidents in Papua in 2016:
Feb. 3, Helicopter Aviation Indonesia PK-AUG, crashed in Paniai, three injured
June 4, Amur Aviation Indonesia PK-UAF Bell 206, helicopter crashed in Nabire while landing, one died
June 14, AMA PK-RKC Cessna 208, plane landed next to the runway, hitting resident homes in Lolat Yahukimo, three citizens injured
Oct. 30, Indostar Aviation PK-INA AS 350B2, aircraft crashed during approach to landing site in Nduga, Papua, pilot injured
Oct. 31, Alfa PK-SSW DHC 4 Caribou, plane crashed into a mountain in Ilaga, Puncak Jaya, four people died
Dec. 18, Air Force Hercules A-1334, plane crashed in Wamena in Jayawijaya regency, 13 people died
Topics :
You might also like :
Comments