E. Nusa Tenggara people urge Jokowi not to visit Australia
Djemi Amnifu

The Jakarta Post
Kupang, East Nusa Tenggara |

Mon, December 26, 2016

| 12:30 pm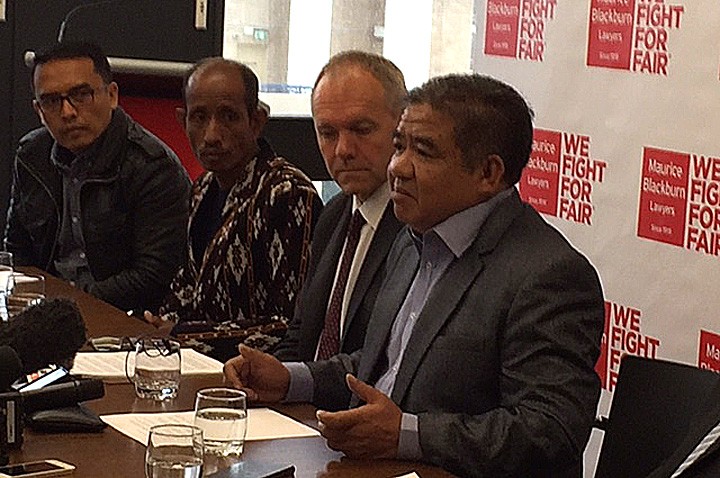 Stand up for us -- Ferdi Tanoni of the Care for West Timor Foundation (YPTB), right, speaks at a press conference after filing a class action lawsuit against PTTEP Australasia over oil leaking from its Montara oil rig in the Timor Sea in 2009. (Courtesy of Yayasan Peduli Timor Barat/-)
East Nusa Tenggara people have asked President Joko "Jokowi" Widodo to cancel his planned to visit Australia next year in protest at the lack of a Montara oil spill settlement.
"The Australian government keeps avoiding responsibility for the Timor Sea pollution," said Ferdi Tanoni, the mandate holder of the customary rights in the Timor Sea, on Monday.
An example, Ferdi said, was Foreign Minister Julie Bishop's statement that Australia did not have jurisdiction and the Indonesian government had yet to approach Australia to help the people in dealing with the pollution.
The fact was, Ferdi said, the Indonesian government had sent a letter to Australia seeking cooperation and help for the victims of the pollution.
The Australian Embassy in Jakarta told The Sydney Morning Herald earlier this month that "the Australian government had shared all relevant information about the spill with the Indonesian government including Australian response efforts. We have also shared long-term operational monitoring reports and environmental monitoring studies undertaken in Australian waters since 2009."
The Indonesian government agreed that the Australian government was not legally responsible but nonetheless said it could at least tell the Montara oil rig operator, PTTEP Australasia, to act in good faith.
"For the sake of Indonesia's dignity and sovereignty, we ask President Jokowi to cancel his Australian visit," Ferdi said. (evi)
You might also like :
Comments