Jokowi declares fight against disseminators of fake news
Ina Parlina

The Jakarta Post
Jakarta |

Fri, December 30, 2016

| 08:06 am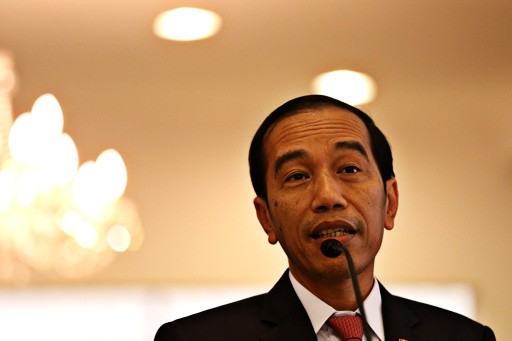 President Joko "Jokowi" Widodo speaks to journalists in a press conference at the State Palace in Jakarta. (JP/Wienda Parwitasari)
President Joko "Jokowi" Widodo knows very well the power of social media. In fact, many have credited his success in the 2014 presidential election to his ability to use multiple social media platforms to mobilize his supporters.
But the 2014 presidential election also taught Jokowi about the new menace to society, fake news. As voting day neared in early 2014, fake news began to circulate to hurt his credibility, including articles accusing him of having ties to the now-defunct Indonesian Communist Party (PKI) or another piece that alleged he was of Chinese descent.
Things went downhill after the election, with the massive proliferation of fake news and hoaxes through many social media platforms and a number of messaging services such as WhatsApp.
After huffing and puffing over the past few months, Jokowi finally declared war on fake news and hoaxes on Thursday.
He convened a Cabinet meeting with relevant ministers to discuss measures that could be taken to combat fake news and disinformation.
Citing data that said there were 132 million internet users in the country, about 52 percent of the total population, Jokowi urged that people should be aware that information technology can also make negative impacts on society.
Jokowi said of the total number, 129 million were active social media users and each person spent threeand-a-half hours a day on the internet through their mobile phones, which helped the proliferation of fake news.
(Read also: New app allows public to report fake news)
The President has repeatedly expressed in recent months his concerns over the growing intensity of disinformation on social media, including the latest fake news item on the influx of millions of Chinese workers into Indonesia.
Jokowi has ordered an investigation into the fake news and ordered the prosecution of individuals responsible for spreading the rumor, which he said was fanned to fuel anti-China sentiment.
The President has also expressed concern over the use of social media for people to exchanging memes or provocative remarks to mock and attack embattled Jakarta gubernatorial candidate Basuki "Ahok" Tjahaja Purnama, who stands accused of blasphemy.
In the Thursday meeting, Jokowi called for strict law enforcement and what he called an "evaluation" of online media outlets responsible for producing provocative fake news.
Jokowi has also ordered relevant government agencies to launch "a massive campaign" on social media and internet literacy, saying that "it is essential to see netizens get involved in the campaign to bring about positive and productive communication on social media consistent with our cultural values".
Responding to Jokowi's order, Communications and Information Minister Rudiantara said he planned to launch what he called an "anti-hoax society" in January.
The Cabinet meeting also ordered government agencies such as the National Encryption Agency (Lemsaneg) and the State Intelligence Agency (BIN), as well as the Culture and Education Ministry to improve coordination in handling issues related to the internet and social media.
Rudiantara said "better coordination and fast response from relevant ministries and institutions was crucial" in dealing with fake news.
He also maintained that the government would continue to protect freedom of speech in the fight against fake news.
Topics :
You might also like :
Comments