Ex-running mate defends Ahok in hearing
Callistasia Anggun Wijaya

The Jakarta Post
Jakarta |

Tue, March 7, 2017

| 01:29 pm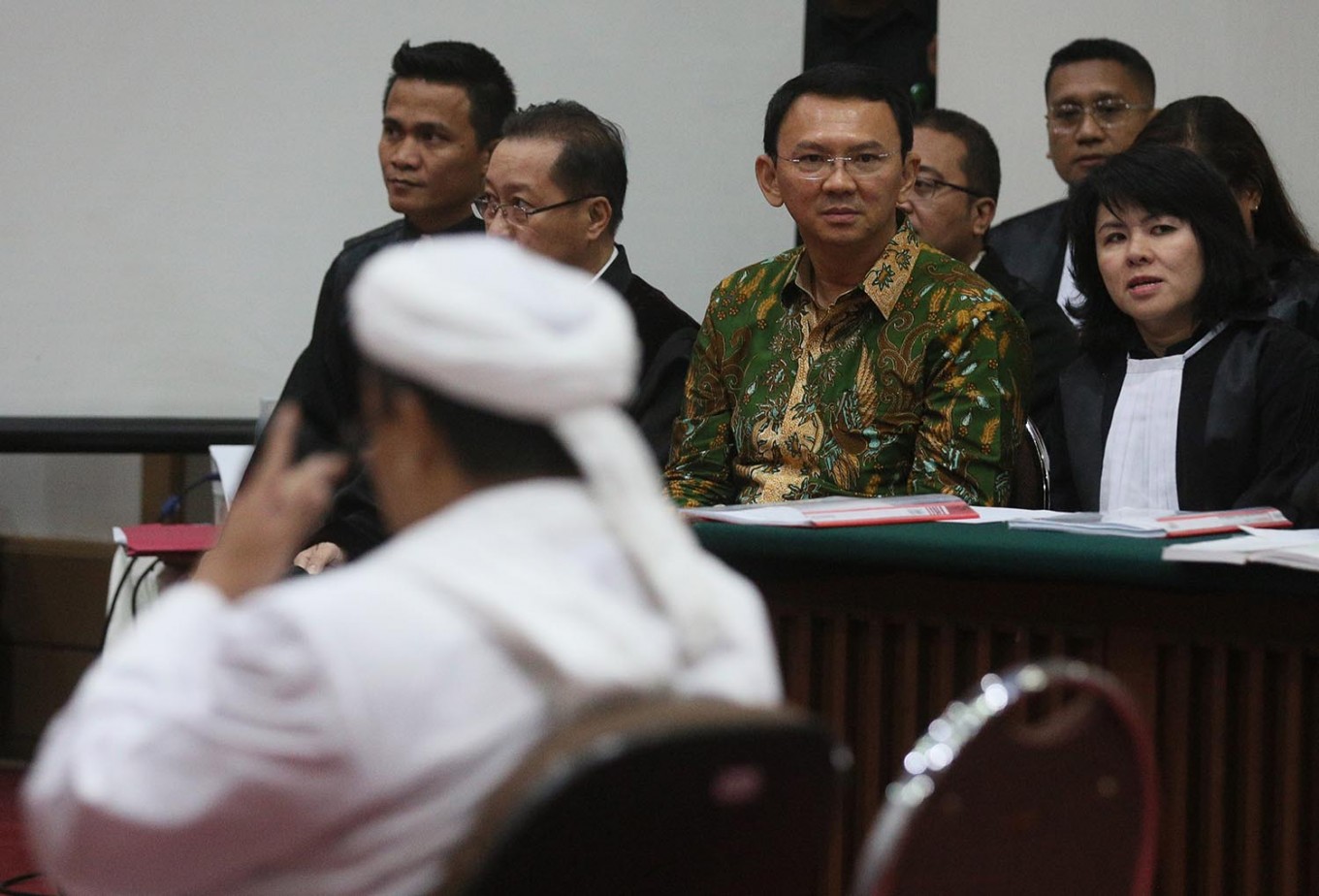 Jakarta Govenor Basuki "Ahok" Tjahaja Purnama listens to the testimony of Islam Defenders Front (FPI) chairman Rizieq Shihab during a hearing at the North Jakarta District Court on Feb.28. (Media Indonesia/POOL/Ramdani/ via JP)
Jakarta Governor Basuki "Ahok" Tjahaja Purnama's former running mate in the 2007 Bangka Belitung gubernatorial election, Eko Cahyono, defended the incumbent in a hearing of his blasphemy trial on Tuesday.
In the thirteenth hearing of the governor's trial at the North Jakarta District Court, Eko said certain parties had used the Quranic verse to hurt Ahok's chances of winning the Jakarta election.
Eko, who now serves as vice rector at Darma Persada University Jakarta, said that when Ahok ran for governor in the Bangka Belitung election, many people used religious issues to attack him.
He said religious issues were the reason he and Ahok lost the election, although, he added, several technical glitches that occurred on voting day also contributed to their failure, Eko said.
(Read also: Ahok presents witnesses for first time in blasphemy trial)
"In sermons during Friday prayers in Bangka Belitung, religious leaders prohibited people from voting for a non-Muslim leader. Pamphlets, which encourage people not to choose a non-Muslim as their leader, were distributed; but, I didn't know which parties were responsible for spreading them," Eko told the panel of judges at the hearing, which took place at the Agriculture Ministry in Ragunan, South Jakarta.
In addition to Eko, Jakarta-chapter Golkar Party politician Bambang Waluyo Djojohadikoesoemo and Analta Amier, who is Ahok's half-brother, were also presented by the defendant as witnesses in Tuesday's hearing.
Eko said that in 2007, Indonesia's fourth president Abdurrahman Wahid, who is popularly known as "Gus Dur", campaigned for the pair and said that religious matters should not be brought into gubernatorial elections.
According to Eko, Gus Dur said that people should prioritize competence, not religious background, as a gubernatorial post should be considered as a public service. (ebf)
You might also like :
Comments