Wiranto backtracks on harmony council's purpose
Marguerite Afra Sapiie

The Jakarta Post
Jakarta |

Fri, March 10, 2017

| 07:50 am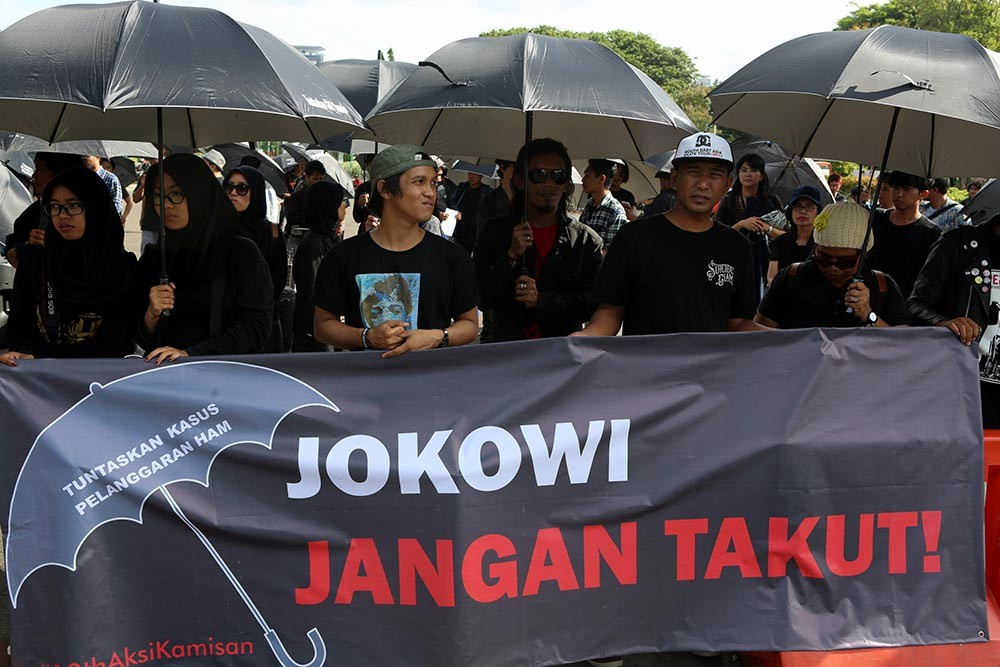 Activists participate in the 10th anniversary of the silent kamisan protest in front of the State Palace in Jakarta on Jan. 19, 2017. The 477th kamisan reach its 10th year since the first protest in 2007 asking the government to resolve past human rights violations. (JP/Seto Wardhana.)
The government might involve the planned Council for National Harmony (DKN) to settle the country's past human rights abuses despite a previous statement saying the council would only aim to settle horizontal conflicts, Coordinating Political, Legal and Security Affairs Wiranto said on Thursday.
"If in the end the cases of past human rights abuses cannot be settled through judicial means, they would be automatically resolved through non-judicial means. I see no problem if later [the DKN] will also be involved," Wiranto told journalists.
He previously said the government would establish the DKN to settle horizontal conflicts through non-judicial means and reiterated that it had no plan to use it to resolve Indonesia's past human rights abuses, like the Semanggi and Trisakti incidents, in which he was implicated.
Human rights activists lambasted Wiranto for giving conflicting statements regarding the function of the DKN. The activists also expressed concern that Wiranto would use the council to push for reconciliation for past abuses instead of judicial settlements.
However, Wiranto claimed that President Joko "Jokowi" Widodo's administration was still strongly committed to resolving the abuses. The government awaited recommendations from the National Commission on Human Rights (Komnas HAM) and the Attorney General's Office (AGO) on the results of investigations into the cases, he added.
"If the evidence is sufficient to bring the cases to court, they will be resolved through judicial means, but, if not, they will be resolved through non-judicial means," Wiranto said.
The draft of a presidential regulation to set up the DKN, which would consist of 11 members, was ready to be signed by the President, Wiranto said. (rin)
Topics :
You might also like :
Comments