Deceased Ahok voter denied last rites
News Desk

The Jakarta Post
Jakarta |

Sat, March 11, 2017

| 09:10 am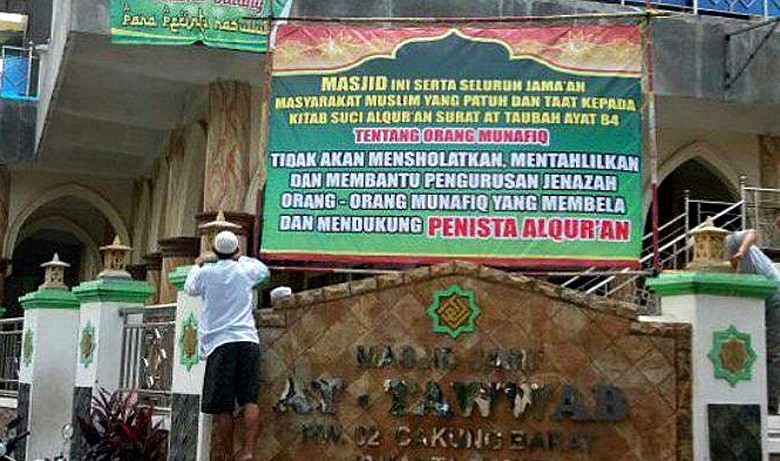 Hatred speech: The Jakarta Police are investigating the installing of banners, which call on all Muslims not to perform a funeral prayer for a deceased Muslim found to have supported Jakarta gubernatorial candidate Basuki "Ahok" Tjahaja Purnama, on several mosques across Jakarta are emblazoned with messages. (Courtesy of Wartakota-Tribunnews/File)
In the heat of the campaign period ahead of the Jakarta gubernatorial runoff election, a family claimed on Friday that local mosque authorities in Setiabudi, South Jakarta, had denied their request to hold prayers for their deceased mother because she had voted for the incumbent.
However, a cleric at the mosque said the deceased had not been taken to the mosque the day she died, on March 7, because of impending rain.
The first campaign period saw religious figures warning Muslims not to vote for non-Muslims, particularly Governor Basuki "Ahok" Tjahaja Purnama, who is standing trial over blasphemy allegations.
(Read also: Police, election supervisor partner to investigate hate banners)
The small mosque, like a number of other mosques in the district, had earlier displayed posters saying that those who voted for "blasphemers" would not be entitled to prayers and Islamic rituals when they died. Police had said such posters would be taken down. Acting Jakarta governor Sumarsono had also appealed against such posters.
A caretaker of another mosque in Setiabudi told The Jakarta Post earlier that a nearby mosque had rejected a request to hold prayers for a deceased person after the Feb. 15 election, as the deceased was known as an Ahok supporter.
Sunengsih, 46, a resident of Setiabudi, said there may have been objections to hold prayers for her mother, Hindun, because the deceased voted for the incumbent in the first round of the election. Despite regulations that all votes must be discreet, Sunengsih said several people may have known her mother voted for Ahok because she required voting assistance on account of her illness. "My mother did not publicly declare that she supported Ahok. Because she didn't know anything [about the candidates] she just randomly voted for him and many people saw her vote," Sunengsih said.
However, a local ustadz (Islamic teacher) later said he denied the family's request to hold prayers in the mosque because it was about to rain. Ahmad Syafei, the ustadz, said he and other residents bathed the corpse and conducted special prayers in the family's home instead.
"The weather did not allow us to take the corpse to the mosque," Ahmad said, adding that he helped the family bury the deceased in the nearby Menteng Pulo Cemetery in South Jakarta.
Sunengsih added that her neighborhood chief (RT) did not help arrange necessary documents, including her mother's death certificate, while she had to split her time between work and obtaining such documents.
Although many residents have made similar complaints, Sunengsih said her family suspected that the service she received had something to do with the election. Abdurrahman, the RT, denied the allegations.
Sunengsih told the Post that a family member had been intimidated by messages sent by the neighborhood unit secretary that said "all ulema refuse to attend Islamic celebrations in areas where Ahok won."
The messages reportedly also said ulema would refuse to bathe and pray for deceased Muslims suspected as "supporters of Ahok."
They also received a meme depicting a corpse that did not receive its last rites for not adhering to the Quranic verse Al Maidah.
Ahmad Ishomuddin from Muslim organization Nahdlatul Ulama (NU) said previously that denials of requests to hold prayers for deceased persons suspected of supporting Ahok were acts of intimidation
Topics :
You might also like :
Comments