Soeharto family gains momentum for political revival
Nurul Fitri Ramadhani

The Jakarta Post
Jakarta |

Mon, March 13, 2017

| 07:56 am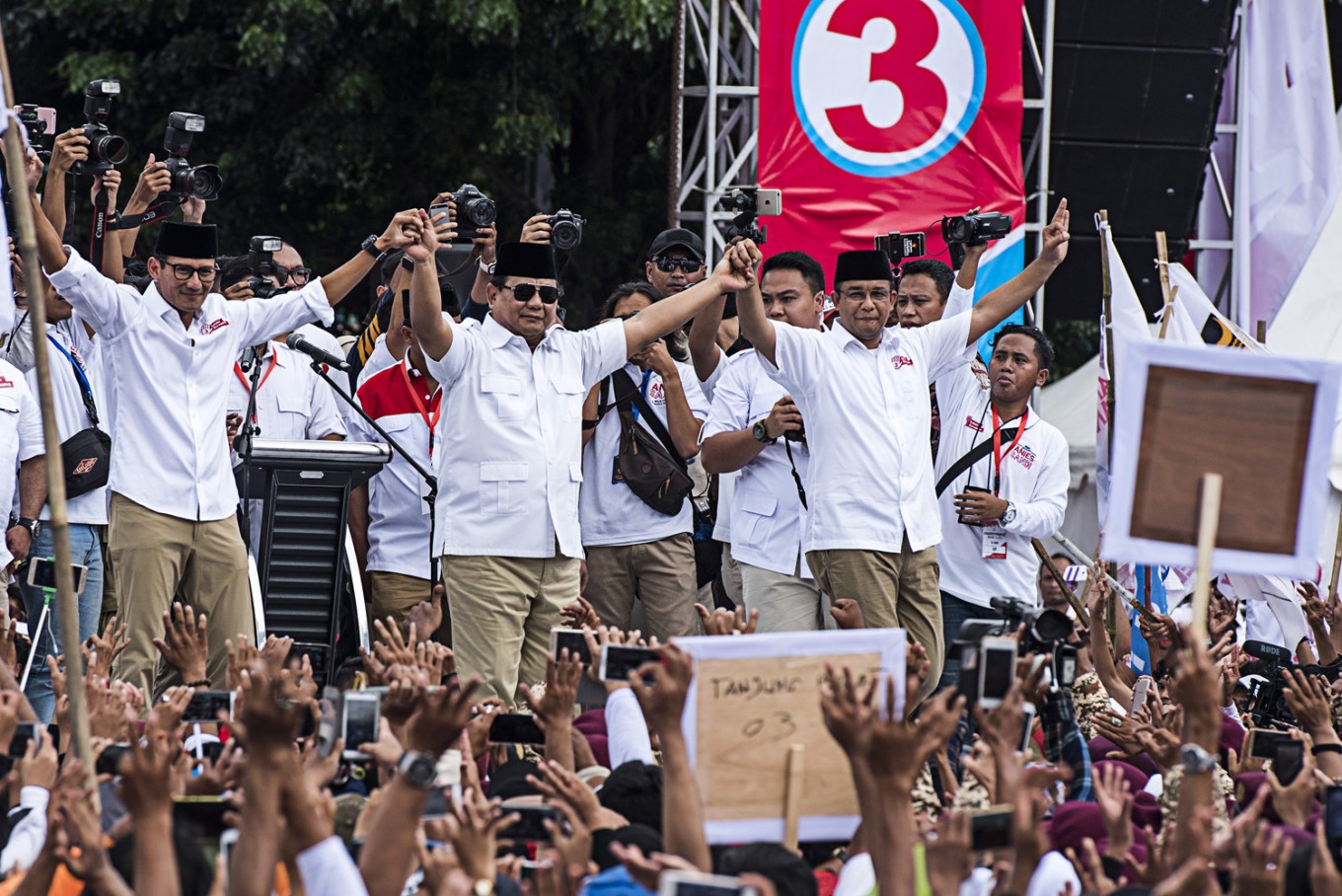 Gerindra Party chairman Prabowo Subianto (center) attends the campaign event of Jakarta gubernatorial candidate pair Anies Baswedan-Sandiaga Uno at Banteng Square, Central Jakarta. (Antara/M.Agung Rajasa)
Amid simmering tension in the campaign for the Jakarta gubernatorial runoff election, the family of Soeharto, the longest former serving-ruler of the country, has embraced newfound popularity among Muslim groups.
Commemorating the March 11 Indonesian Presidential Executive Order (Supersemar) on Saturday, Soeharto's children, also known as the Cendana family, gathered people and elite politicians at At-Tin Mosque in East Jakarta for a mass prayer.
Four of Soeharto's six children — Siti Hediati Hariyadi, Siti Hardiyanti Rukmana, Siti Hutami Endang and Hutomo Mandala Putra — attended the event on Saturday evening. The chief patron of the Gerindra Party, Prabowo Subianto, who is also Hediati's exhusband, was spotted among the hundreds of people at the mosque, which was built as a memorial to Soeharto's wife, Tien Soeharto.
Although claiming that the event was only a mass prayer to pray for Soeharto, political figures like Anies Baswedan and Sandiaga Uno were also there. They were mentioned as honorable guests. The two are the Jakarta election candidate pair endorsed by Gerindra and the Islam-based Prosperous Justice Party (PKS).
The pair is vying for the capital's top posts against Christian incumbent Basuki "Ahok" Tjahaja Purnama and his deputy, Djarot Saiful Hidayat.
Djarot, who is a deputy gubernatorial candidate from the Indonesian Democratic Party of Struggle (PDI-P), also attended the event.
The Cendana family also provided space in the Supersemar commemoration for the outspoken patron of the hard-line Islam Defenders Front (FPI), Rizieq Shihab, to deliver a tausiyah (sermon).
"The event can be interpreted as a political movement," political expert Zaenal Budiyono of the AlAzhar University told The Jakarta Post on Sunday. "They're seeking a revival as a powerful political dynasty. That's the Cendanas' interest."
After Suharto passed away in 2008, the family's influence in Indonesian politics has waned. The elder Hardiyanti, known as Tutut, failed to make anything out of her fledgling political party, while Tommy was soundly defeated in his bid to become the chairman of the Golkar Party, which for decades was Soeharto's political vehicle.
"Since the death of Soeharto, the Cendana has been struggling to seek an entry point into politics and this [the Jakarta election] can provide momentum for them [to revive their popularity]," Zaenal said.
Despite Golkar's endorsement of Ahok, the Cendana is more into Anies, a Muslim scholar. Hediati, known well as Titiek Soeharto, has declared her support for Anies and Sandiaga, despite her membership in Golkar.
In the 2014 presidential election, the Cendana family supported Prabowo, hoping to get back their political popularity, but then Prabowo lost to President Joko "Jokowi" Widodo.
Political expert Hendri Satrio of Paramadina University acknowledged it was reasonable if the Cendana family was trying to get back its political popularity because Soeharto's power had been rooted out, but whether the people would allow them to hold power again was another question. "The Cendana could emerge in Indonesian politics, but not as on-screen actors, as king-makers behind the screen," Hendri said.
In Saturday's event, Titiek gave a speech that mentioned Jokowi's statement that "democracy has gone too far."
"I agree with what Jokowi said, that our democracy has gone too far. No more Pancasila democracy echoed by Soeharto: There's only a liberal democracy where people can arbitrarily do and say what they want, ignoring our eastern culture and norms," Titiek said.
Titiek also elaborated how the Supersemar had historical momentum, marking the New Order era under his father, although the original document that changed Indonesia's political course 51 years ago is still nowhere to be found.
Topics :
You might also like :
Comments