Interfaith leaders to tour Europe, US to introduce Indonesia's moderate Islam
News Desk

The Jakarta Post
Jakarta |

Sat, March 18, 2017

| 08:19 pm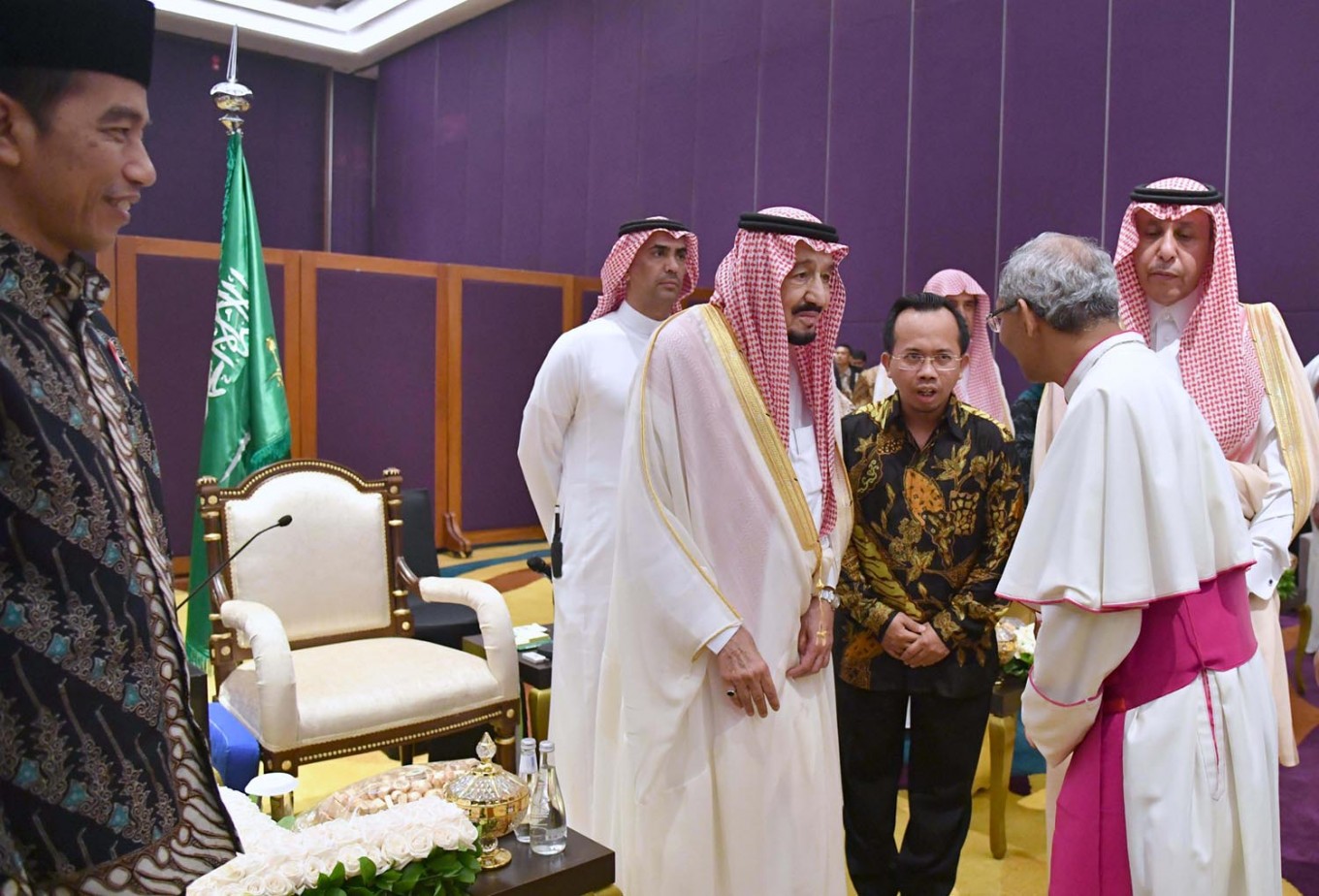 Tolerance: President Joko "Jokowi" Widodo (left) accompanies King Salman bin Abdulaziz Al Saud in a meeting with interfaith leaders in Jakarta on March 3. (Presidential Palace//Laily Rachev)
Indonesian interfaith leaders are set to visit several countries across Europe and the United States to introduce values of tolerance among Islamic religious followers in the country.
As a country of multi-ethnic groups and religions, Indonesia has long been considered a good example for other countries in building harmony among religious followers.
"The delegates will speak about the religious concord in Indonesia, how moderate Islam plays a crucial role in the country and how Indonesian nationalism can have tolerant and inclusive religious followers as its pillars," said Leimena Institute founder, Jacob Tobing, said as quoted by kompas.com after he met with Vice President Jusuf Kalla at the Vice Presidential Office in Jakarta on Friday.
Interfaith leaders who will join the tour include the presidential envoy to the Middle East and the Organization of Islamic Cooperation (OIC), Alwi Shihab, and noted Islamic scholars Azyumardi Azra, Amin Abdullah and Syafii Ma'arif.
France, Germany, the Netherlands, the United Kingdom and the US are among countries they will visit from March 28 to May 11.
Amin said the harmonious life among religious followers in Indonesia was no longer only at the level of dialogue and theory, but it was fully practiced as well. It has been shown in Indonesia's history that respect for diversity has been built well.
"The Vice President also asserted that holidays of all [nationally recognized] religions are celebrated in Indonesia. There is no other country that has so many religious holidays," said Amin.
All this time, he further said, the Middle East has always been a reference for Western countries in examining Islam. In fact, Indonesia could become a much better example in realizing the harmony among religious followers. (mrc/ebf)
Topics :
Join the discussions