Snowballing support for Kendeng residents
News Desk

The Jakarta Post
Jakarta |

Mon, March 20, 2017

| 12:49 pm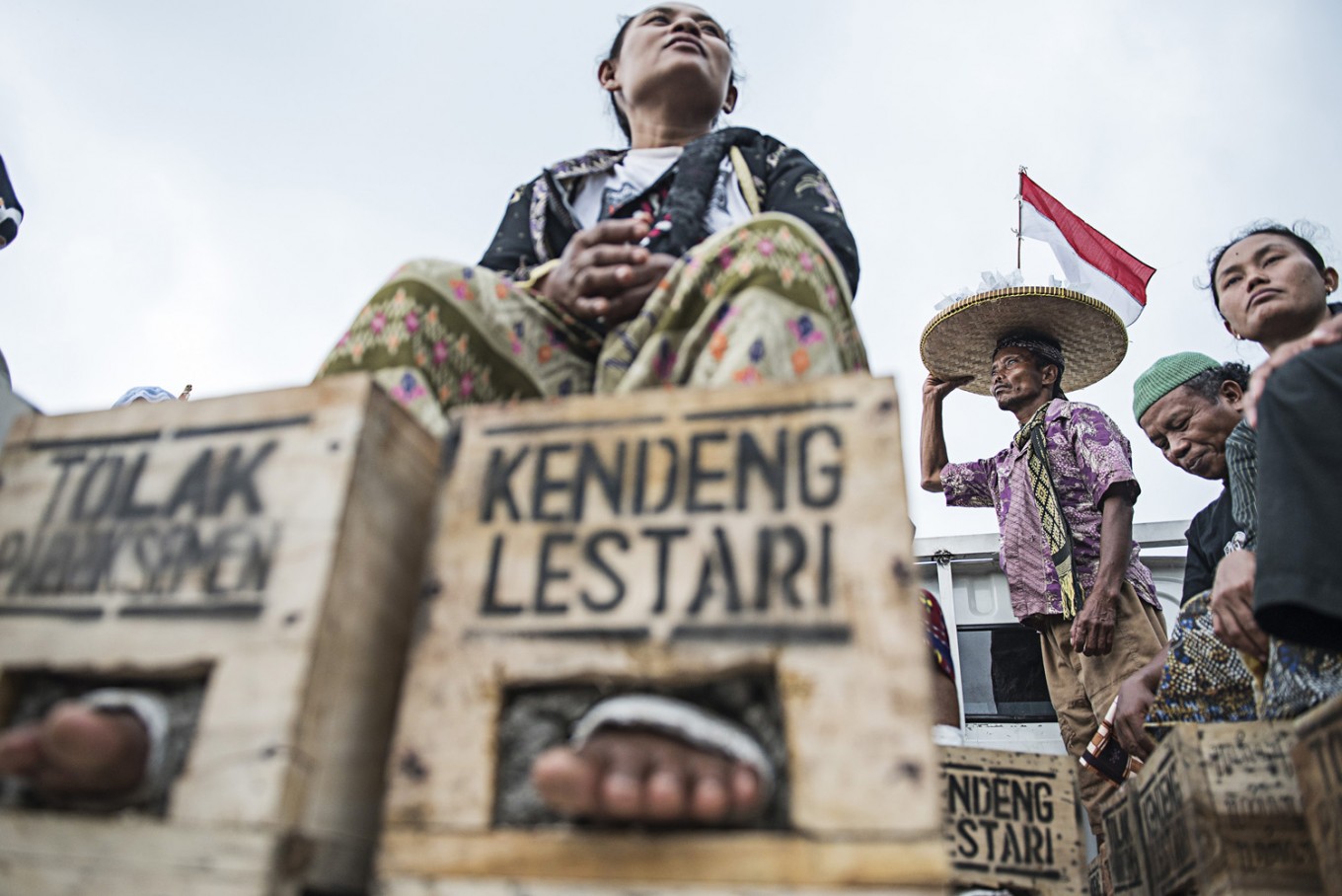 Not moving: With their feet locked in blocks of cement in front of the State Palace on Friday, Kendeng farmers protest the construction of a cement factory for state-owned cementmaker Semen Indonesia in Rembang, Central Java. (Antara/M.Agung Rajasa)
Having buried their feet in concrete blocks in front of Jakarta's State Palace for eight days, Kendeng residents are receiving growing support from other groups in demanding President Joko "Jokowi" Widodo revoke a license for a cement factory for PT Semen Indonesia in Rembang, Central Java, which they fear endangers their hometown.
On Monday, 50 Kendeng residents will see 10 activists from Jakarta join them in pouring concrete on their feet in front of the palace as an expression of solidarity.
The support comes from farmers from Teluk Jambe in Karawang, West Java, and from Batang, Central Java. Organized in the group United Farmers, they have come to the palace to perform a ritual to bring luck.
(Read also: Disputed cement plant in Central Java stays on track)
Bandung residents, meanwhile, expressed solidarity with the protestors during the city's Car Free Day event on Sunday. The Association of Independent Trade Unions of Bandung and the Working People's Party (PRP) also voiced their support for the Kendeng protest.
Volunteers from the Legal Aid Foundation (YLBHI) helped with soup kitchens, providing food and other needs for the protesters. They also raised donations by selling T-shirts to support the cost of the action.
In addition to the action by Kendeng residents in front of the palace, opposition to the cement factory echoed in the villages around the plant in Rembang. On Sunday night, Timbrangan villagers sent their prayers for safety and victory. (dis/wit)
Topics :
Join the discussions