Timor-Leste votes for new president amid poverty
Ina Parlina

The Jakarta Post
Jakarta |

Mon, March 20, 2017

| 08:06 am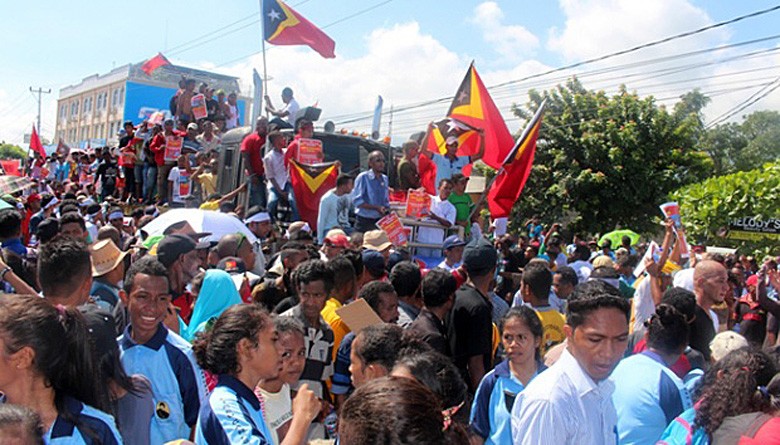 Timor Leste people stage a peaceful rally in Dili, Timor Leste, in March. (Tempo/Yohanes Seo)
Timor-Leste is voting for a new president on Monday, in an election believed by many as important to determine the future of the country.
Eight candidates, including a female candidate, are running in the election, the fourth since its independence in 2002, with a potential second round in April before the parliamentary election in July.
Francisco "Lu Olo" Guterres — backed by Fretilin, the left-leaning party that led the independence struggle — and Democratic Party politician António da Conceição — who is also the education minister — are the two leading candidates in Monday's election.
Other candidates are Antonio Maher from the Socialist Party of Timor, Angela Freitas from Trabalhista or the Labor Party and Jose Luis Guterres from Frenti Mudança, while three independent hopefuls, Amorim Vieira, Jose Antonio das Neves and Luis Alves Tilman, are also in the race.
Timor-Leste's Election Committee recorded over 747,000 registered voters scattered in the 13 districts in the country with 1,332 overseas voters expected to take part in both the presidential and parliamentary elections, the Dili Weekly reported.
Francisco Jeronimo from the East Timorese consulate in Kupang, East Nusa Tenggara Timur, said the condition in his country was stable ahead of the election,tempo.co reported. The news portal also reported that Dili was quiet on Sunday morning, unlike on the final day of campaigning on Friday when the East Timorese flocked to political rallies.
Most Dili residents left the capital and returned to their hometowns to vote since voters can only cast their ballots in their residency shown on their electoral cards.
"Dili is quiet as many residents have returned to their hometowns," Dili resident Fabiana Meneses said on Sunday.
Technical Secretariat for Electoral Administration (STAE) director Acilino Manuel Branco told Dili Weekly that his office has provided ample time for citizens to update or change their electoral card details to be able to take part in the elections in 2017.
Amid persistent poverty, unemployment and corruption in Asia's youngest democracy, Monday's presidential poll and the July parliamentary elections have been regarded as a critical time as the new leadership will face a lack of oil revenue, as warned by Dilibased think tank La'o Hamutuk.
Charles Scheiner of La'o Hamutuk said the challenge for the incoming government would be to diversify its sources of income to include agriculture and manufacturing, as the Bayu-Undan field is predicted to dry up in the next five years.
The energy sector in TimorLeste accounted for about 60 percent of the gross domestic product (GDP) in 2014 and more than 90 percent of government revenue.
As its closest neighbor, Jakarta expects the presidential election to run smoothly, said Foreign Ministry spokesman Arrmanatha Nasir.
"Whoever gets elected, Indonesia is ready to maintain cooperation with Timor-Leste, which will mutually benefit the two countries and contribute to stability and welfare in the region," he said on Sunday.
Topics :
You might also like :
Comments