Jokowi's in-law in graft trial
Safrin La Batu

The Jakarta Post
Jakarta |

Tue, March 21, 2017

| 07:15 am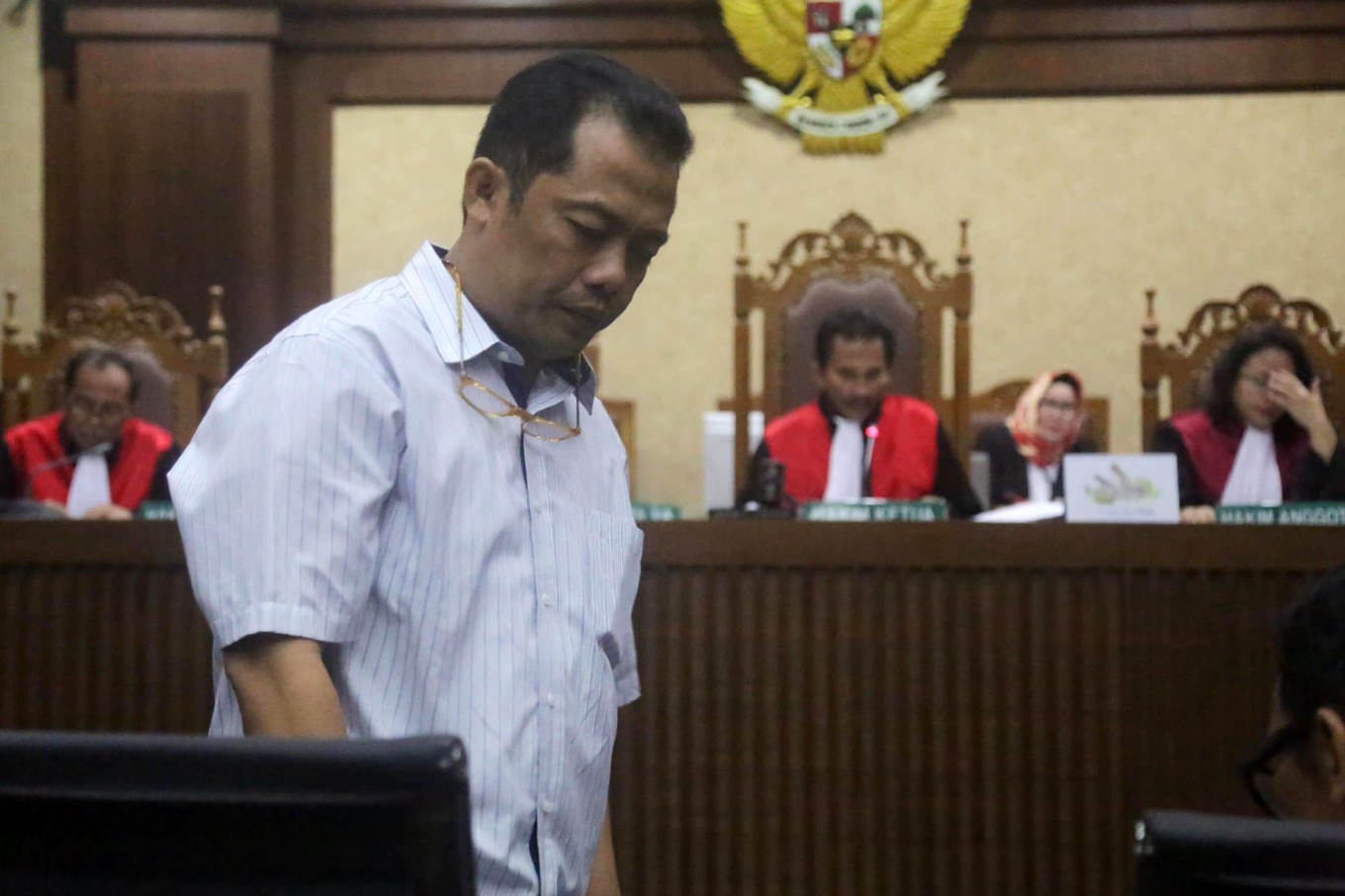 In the spotlight: Arif Budi Sulistyo, brother-in-law of President Joko "Jokowi" Widodo attends a hearing as a witness in a tax-related bribery case in Jakarta, on Monday. Ramapanicker Rajamohanan Nair, the country director of PT EK Prima Ekspor Indonesia, is alleged to have bribed taxation directorate officer Handang Soekarno with US$148,500. (JP/Wendra Ajistyatama)
Arif Budi Sulistyo, the brotherin-law of President Joko "Jokowi" Widodo, appeared in court on Monday to testify in the bribery trial of Ramapanicker Rajamohanan Nair, a businessman accused of paying a bribe to a middle-ranking tax official, Handang Soekarno.
Arif, who is married to Jokowi's youngest sister Titik Relawati and is the operational director of the President's extended family's flagship company PT Rakabu Sejahtera, allegedly acted as a middleman in helping Nair resolve his company's tax problems.
Nair is the country director of PT EK Prima Ekspor Indonesia — a local unit of the Abu-Dhabibased retail giant LuLu Group International.
In their indictment, the Corruption Eradication Commission's (KPK) prosecutors alleged that Arif played a role as a broker in a deal to clear PT EK's tax dues. Arif is one of Nair's business partners, with furniture produced by Rakabu accessing overseas markets through PT EK.
During Monday's hearing, Arif acknowledged he was a business partner to Nair and that he was aware that at the time the alleged crime occurred PT EK was seeking help to register for the tax amnesty, the government's recent initiative to boost tax revenue by offering a lenient rate of redemption for unpaid taxes.
Arif further acknowledged that he had provided assistance to Nair but said it went no further than helping him figure out ways for his company to settle the problems that came with tax amnesty registration.
"I asked Pak Mohan to send all documents related to his companies to me and, when I received them, I forwarded them directly to Pak Handang without reading them," said Arif in his testimony, referring to Nair's nickname.
Arif claimed that the reason he had forwarded PT EK's documents to Handang was because the tax official had earlier helped him register his company for the tax amnesty. Arif maintained that he considered Handang to be the right person to settle Nair's tax problems.
Arif also claimed that he got to know Handang, who has already been named a suspect in the bribery case, during a meeting that was also attended by Taxation Director General Ken Dwijugiasteadi at his office to inquire about the tax amnesty.
Although he acknowledged providing assistance to Nair, Arif claimed he had no idea why PT EK had failed to register for the tax amnesty.
Nair was caught red-handed by KPK investigators on Nov. 21 last year with a large sum of money, which was allegedly a bribe for Handang. In its indictment, the KPK indicated that Arif had played a broader role in the scandal, more than what he was willing to admit in the Monday session.
In the indictment, which was made available to The Jakarta Post earlier this year, it is alleged that Nair sought help from Arif in September last year.
Responding to the request, Arief asked Jakarta Special Tax Office head Muhammad Haniv to facilitate a meeting with tax chief Ken through Handang, who is also known to be one of Ken's confidants.
The case started when Nair challenged a request in June last year by the foreign investment tax office to settle unpaid taxes worth Rp 59 billion (US$4.4 million) for the proceeds the company received from the export of cashews in 2014 and 2015.
Nair filed a tax amnesty application for PT EK in September to have tax dues cleared, but it was rejected after the tax office found the company had other unpaid taxes of Rp 51 billion in 2014 and Rp 26 billion in 2015.
The bribery case is the first to implicate a family member of Jokowi, who burnished his image as a clean politician in the leadup to the 2014 presidential election. Arif served as Jokowi's family spokesman during the election campaign.
However, various members of Jokowi's family have been in the spotlight in the past few years.
For example, Jokowi's younger cousin was dragged into the Arcandra Tahar dual citizenship controversy after the latter was appointed to lead the Energy and Mineral Resources Ministry.
Criticism was also rife in 2015 when Jokowi's other younger cousin, Sigit Widyawan, was appointed as a member of the board of commissioners of state toll operator PT Jasa Marga despite his lack of relevant experience.
President Jokowi emphasized last month that he would not intervene in the investigation of his in-law's case, saying: "Whenever someone does something wrong they should be legally processed."
Transparency International Indonesia researcher Wawan Heru Suyatmiko said it was unlikely that Jokowi was involved in the alleged bribery.
He said Arif did not have a bureaucratic role in Jokowi's administration. "It is not impossible that Jokowi's name was just used [by Arif to inflate his purported clout]," he said. (mrc)
Topics :
You might also like :
Comments