Ahok's controversial speech not aimed at wooing voters: Expert
Callistasia Anggun Wijaya

The Jakarta Post
Jakarta |

Wed, March 29, 2017

| 01:23 pm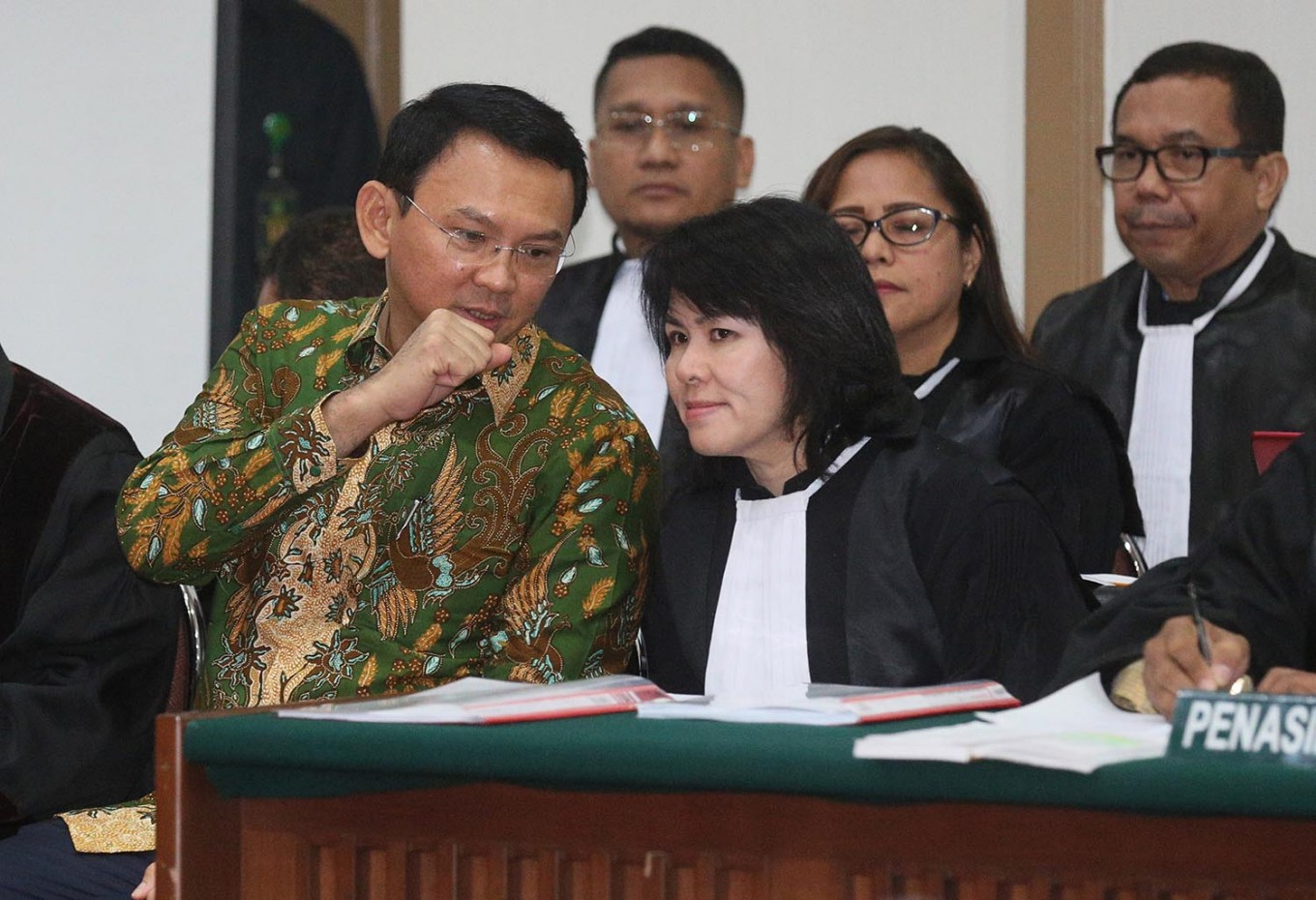 Jakarta Governor Basuki Tjahaja Purnama consults his lawyer during his blasphemy hearing in North Jakarta District Court. (Media Indonesia/POOL/Ramdani/ via JP)
Incumbent Jakarta Governor Basuki "Ahok" Tjahaja Purnama did not aim to attract Muslim voters in Thousand Islands by commenting on the Al Maidah 51 Quranic verse last year, a language expert testified during a blasphemy hearing in North Jakarta District Court on Wednesday, debunking the indictment against Ahok.
Atma Jaya University language expert Bambang Kaswanti Purwo said he had watched the full recording of Ahok's speech, which lasted one hour and 38 minutes.
During the speech, instead of campaigning, as accused by the prosecutors, Ahok said the residents did not have to vote for him.
Ahok said that no matter who the governor was, the city administration's fish cultivation program would continue and he encouraged locals to participate in it.
"He said a couple of times that the program would continue even if he wasn't elected […] There was no campaign element in his speech," Bambang told the judges.
He added that Ahok's comment on Al Maidah 51 was not the core of his speech as he mainly promoted his programs.
Ahok only commented on Al Maidah 51 because he realized that he might not be elected, reflecting on his experience in 2007, when people used the verse in an attempt to foil him in the Bangka Belitung gubernatorial election, Bambang said.
He added that to comprehend the context of Ahok's speech, the full version of the speech should be watched, not just parts of it or only read the transcript.
Join the discussions