Golkar chairman calls members to start campaigning for Jokowi's 2019 presidential ticket
News Desk

The Jakarta Post
Jakarta |

Mon, April 10, 2017

| 11:55 am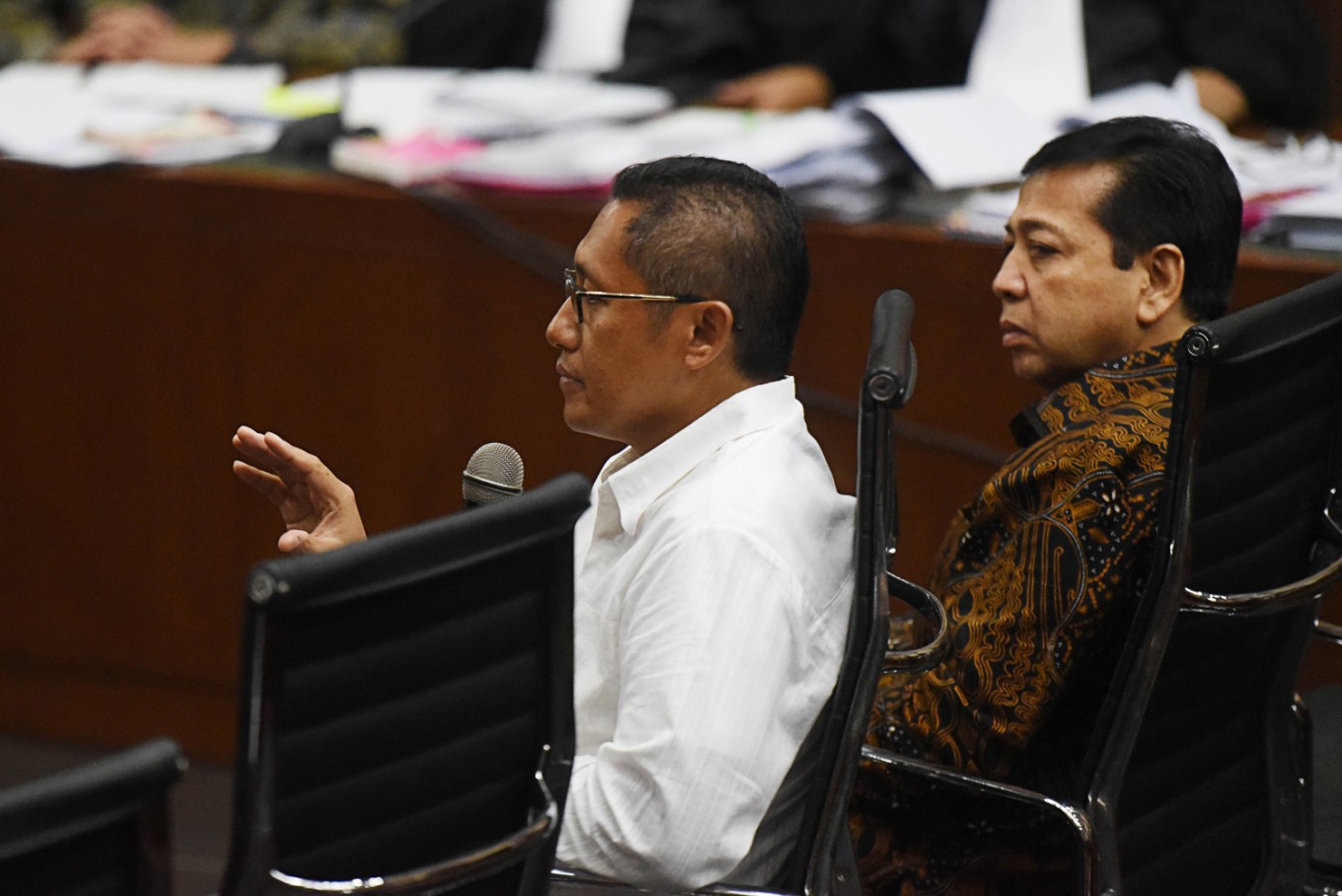 Under fire: Golkar Party chairman and House Speaker Setya Novanto (right) and the former chairman of the Democratic Party, Anas Urbaningrum, sit as witnesses during a court proceeding in Jakarta on Thursday over a bribery case involving e-ID procurement. (Antara/Akbar Nugroho Gumay)
Golkar chairman Setya Novanto has asked all party members to start putting up banners announcing President Joko "Jokowi" Widodo" as Golkar's presidential candidate for the 2019 election.
Setya told a regional party meeting in Surabaya, East Java, on Sunday to set up Jokowi's pictures in areas deemed strategic to introduce Jokowi's 2019 presidential bid nominated by Golkar.
"I ask all Golkar cadres to put up banners of Pak Jokowi's pictures. You can do it, can't you?" Setya said before the party's members as quoted by Tribunnews.com, adding that Golkar's decision to endorse Jokowi's second term was unchangeable.
(Read also: With Jokowi's charm, Golkar set to compete in 2019 poll)
To defend such a decision, Setya, who is also the speaker of the House of Representatives, cited an internal survey conducted by Golkar that found Jokowi's popularity hit 50.8 percent, leaving behind his potential strongest contender, Prabowo Subianto, with 20.2 percent.
The survey included Prabowo as his Gerindra Party is said to nominate him again to run in the 2019 presidential race. Setya said that the internal study also placed Jokowi's popularity at top rank with 98 percent.
Setya further asked Golkar members to set up a proper strategy to win the upcoming regional elections as well as the presidential election, expecting each village and city in East Java, as well as elsewhere, to recorded 100 new party cadres.
Setya, who is under fire of his alleged involvement in a mega graft scandal of e-ID procurement, needs protection from President Jokowi from the internal party's rift. (msa/dan)
Topics :
Join the discussions