Three injured as alleged IS supporter attacks police in Central Java
Agus Maryono

The Jakarta Post
Banyumas, Central Java |

Tue, April 11, 2017

| 07:00 pm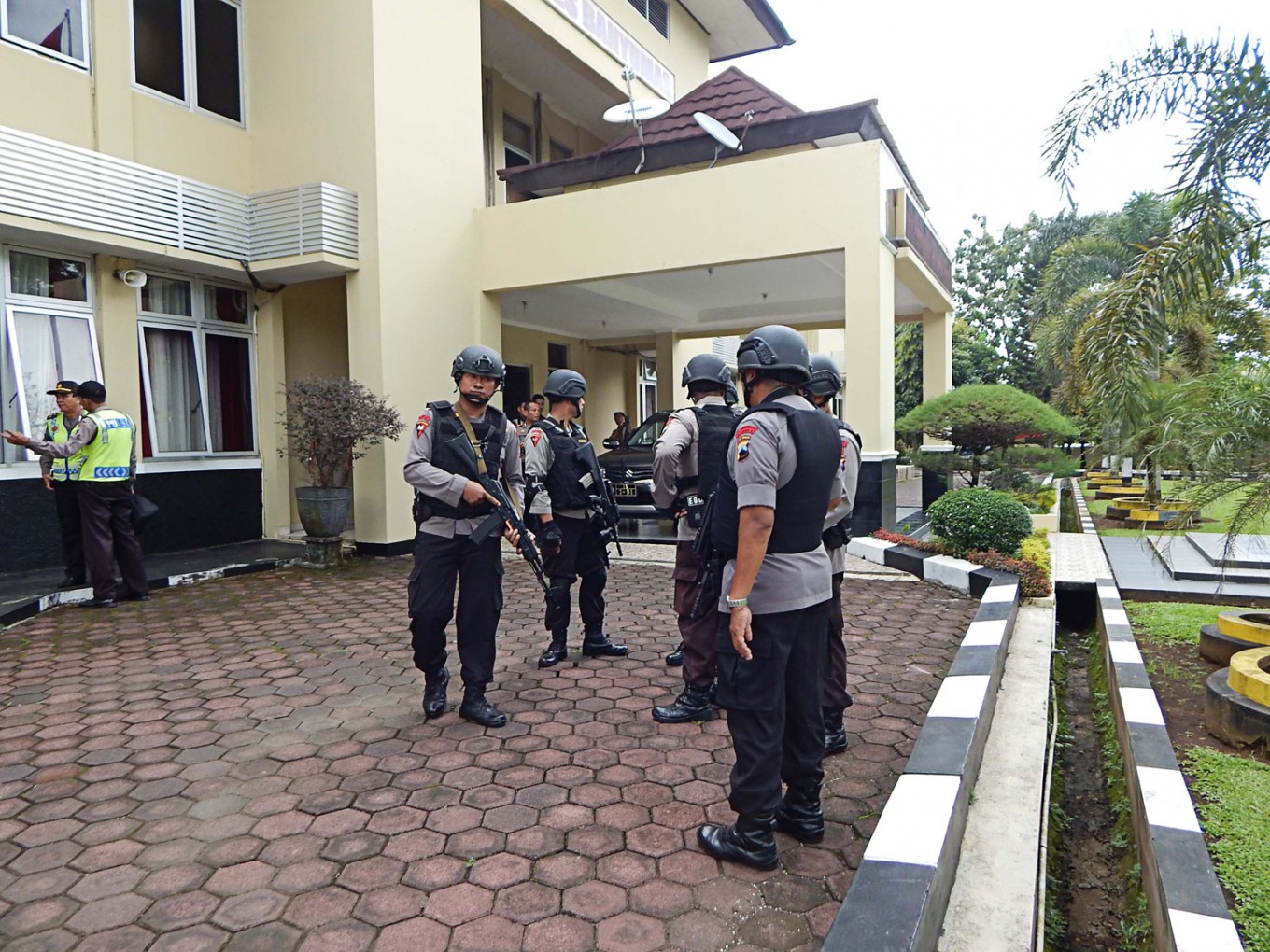 On guard: Fully armed police personnel are on guard after a suspected Islamic State member attacked three Banyumas Police officers with a machete on Tuesday. (JP/Agus Maryono)
A young man suspected of being a member of terrorist group Islamic State (IS) attacked police personnel at Banyumas Police headquarters in Central Java on Tuesday, leaving three officers injured.
Riding a motorbike at high speed, the alleged perpetrator, identified as Mohammad Ibnu Dar, 22, a resident of Karangaren village in Kutasari district, Purbalingga regency, Central Java, broke through the front yard of the police office at 10 a.m. and assaulted Adj. First Insp. Ata Suparta.
"Both Mas Ata Suparta and the perpetrator fell headlong," said Driyanto, 45, a journalist from Yogyakarta-based daily Kedaulatan Rakyat, who had witnessed the incident.
"I helped Mas Ata. Another police officer, Pak Karsono, aimed to help him, but suddenly he was attacked by the perpetrator with a machete. He was injured on his hand," said Driyanto.
A third police officer, Chief Brig. Irfan, attempted to help the wounded Karsono, but he too was attacked and sustained injuries to his thigh, Driyanto added.
"It was Pak Karsono who suffered most. He got slashed not only on his hand but also on his back," said Driyanto.
(Read also: Police warned of rise of 'not well-trained terrorists')
Only after several minutes did dozens of police personnel manage to incapacitate the perpetrator and take him into custody for an investigation.
Banyumas Police chief Adj. Sr. Comr. Azis Andriyansah said the perpetrator was wearing IS attributes when he launched the attack. "We are investigating and tracking down who this perpetrator is."
Azis said the motive for the attack remained unknown. (ebf)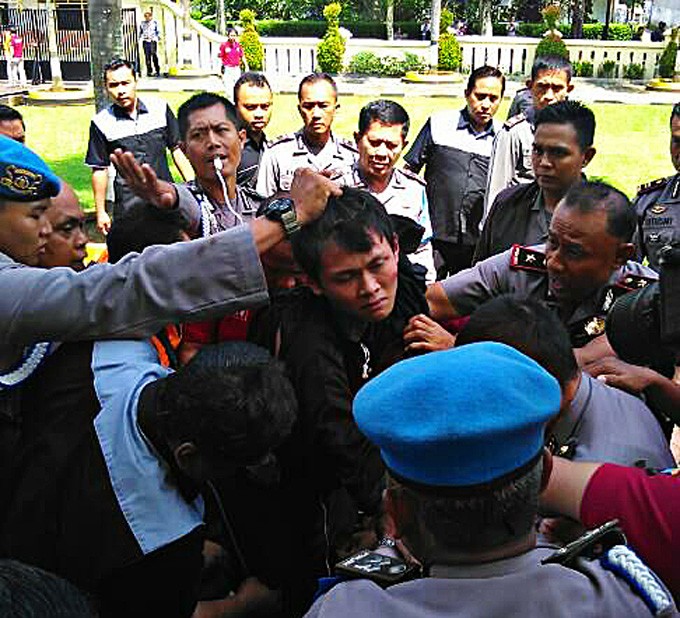 Arrested: Police personnel encircle Mohammad Ibnu Dar (center), 22, a Purbalingga resident, after he allegedly attacked three Banyumas Police officers with a machete on Tuesday.(JP/Agus Maryono)
Topics :
Join the discussions