New app allows Papuans to call emergency services, complain about police
Nethy Dharma Somba

The Jakarta Post
Jayapura, Papua |

Fri, April 14, 2017

| 10:05 am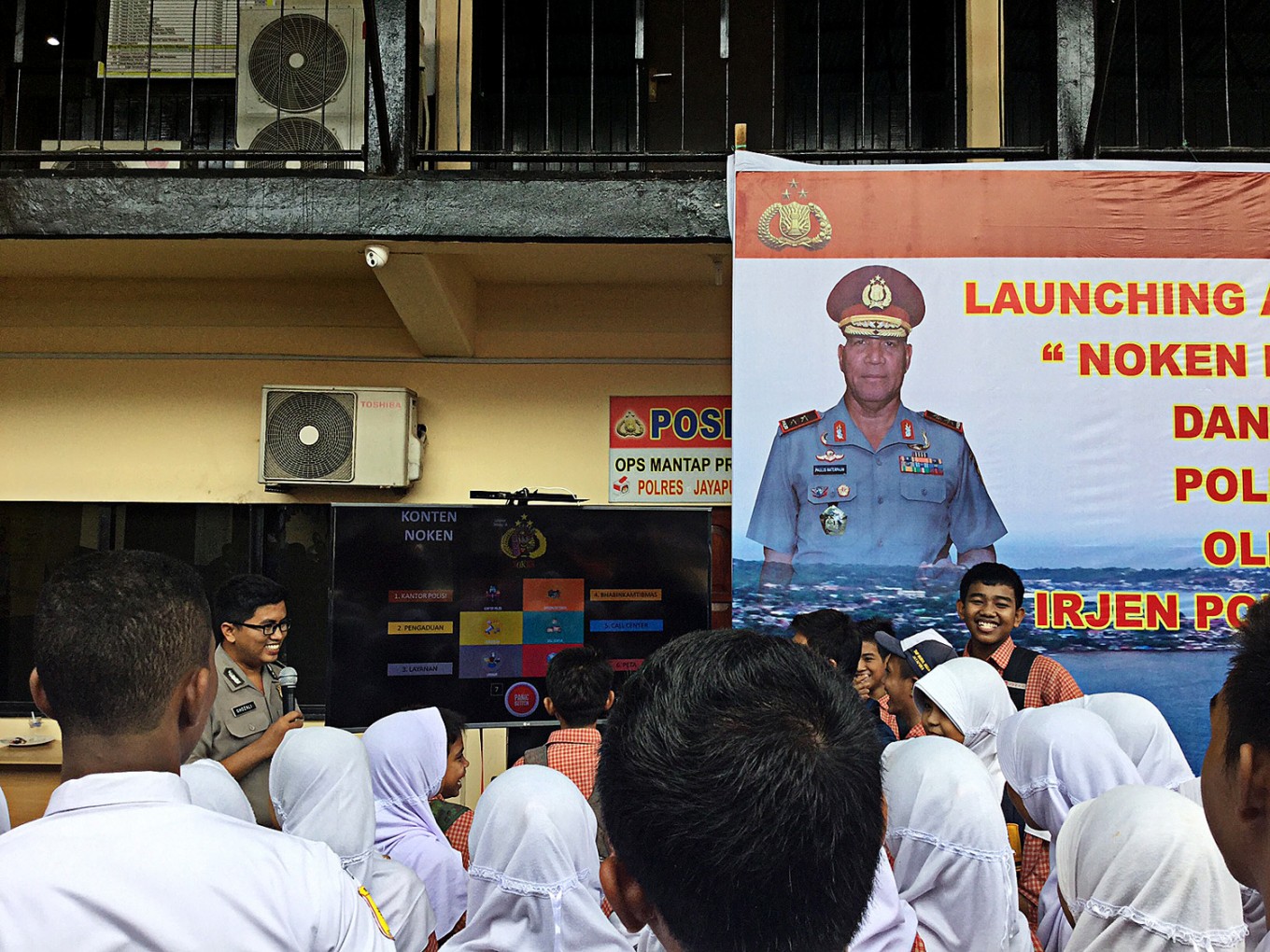 At your service: Jayapura Police personnel explain Noken Online, a new smartphone application to improve public service delivery, to students in Jayapura on Wednesday. (JP/Nethy Dharma Somba)
Jayapura Police have launched Noken Online, an Android-based mobile application that aims to improve police and other emergency services.
"To submit a report, residents do not need to travel to a precinct or sub-precinct police station anymore. They can just open the Noken Online app on their Android mobile phones and submit their reports. People can monitor the situation in the city and give input to the police from home," Jayapura Police chief Tober Marison Sirait said during the launch of the application on Wednesday.
During the launch, Papua Police chief Paulus Waterpauw used the application to contact the offices of several village-level security and public order advisors (Babinkamtibmas).
"It is hoped that all Jayapura residents can benefit from this application as much as possible so that they can get services as early as possible," said Waterpauw.
The Noken Online app is to be implemented widely across the province.
"Jayapura Police has pioneered the implementation of this online-based service. It is hoped that other police precincts do the same in a bid to provide good services to the people," Waterpauw said.
The public services covered by the app include the health sector, as people can directly contact emergency units at the Dok II Regional General Hospital (RSUD) in Jayapura, the Bhayangkara Police Hospital and the Indonesian Navy's Marthen Indey Hospital.
People can also contact fire units, offices of state-owned electricity firm PLN and state-owned tap water company PDAM Entrop, the Jayapura branch of the Health Care and Social Security Agency (BPJS) and the Jayapura Disaster Mitigation Agency (BPBD). A panic button connects users to police offices across Jayapura. (ebf)
Join the discussions