Anies beats Ahok in runoff vote: Quick counts
News Desk

The Jakarta Post
Jakarta |

Wed, April 19, 2017

| 05:33 pm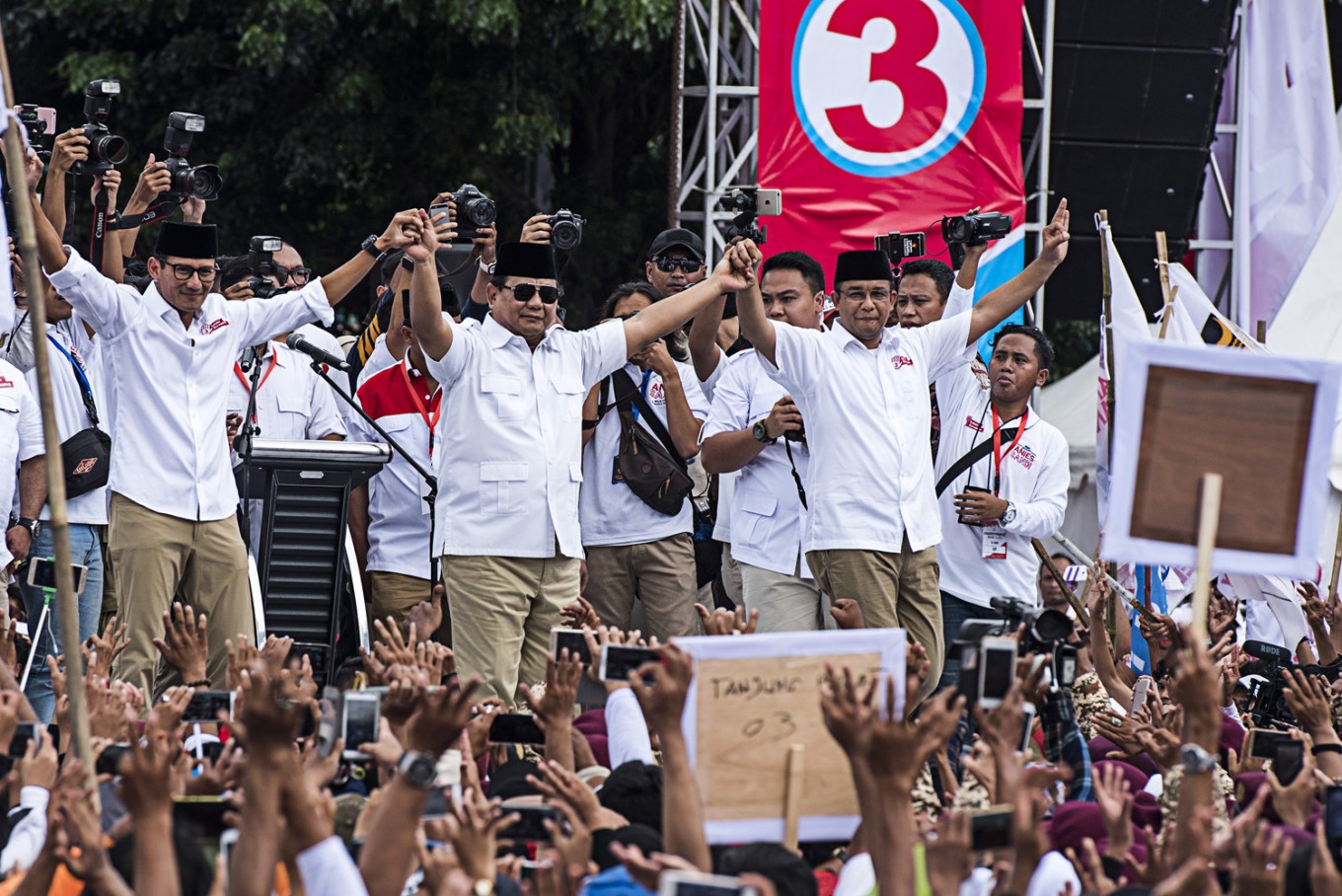 Energetic -- Gerindra Party chairman Prabowo Subianto (center) attends the campaign event of Jakarta gubernatorial candidate pair Anies Baswedan-Sandiaga Uno at Banteng Square, Central Jakarta, on Jan.5. (Antara/M.Agung Rajasa)
Gerindra Party chairman Prabowo Subianto was brimming with confidence on Wednesday afternoon after several quick-count results indicated that Anies Baswedan would emerge victorious in the Jakarta gubernatorial race.
As of 4:45 p.m., with 98 percent of votes counted, Anies and his running mate, Sandiaga Uno, had garnered 58 percent of the vote, while Basuki "Ahok" Tjahaja Purnama and his running mate, Djarot Saiful Hidayat, trailed with 42 percent, according to a quick count conducted by Kompas.
Quick counts by other pollsters—the Indonesian Survey Institute (LSI), the Saiful Mujani Research and Consulting (SMRC) and Polmark—have produced similar results, with the votes gained by Ahok hovering between 42 and 44 percent.
"We just got the news that 90 percent of the votes had been covered by quick counts, indicating that Jakarta will get a new governor and deputy governor," Prabowo said at his residence on Jl. Kertanegara in South Jakarta.
"Alhamdulillah [thank God] this victory is the result of our fight. This is a blessing from God," the coordinator of Anies' volunteers, M. Chozin Amirullah, said in a statement.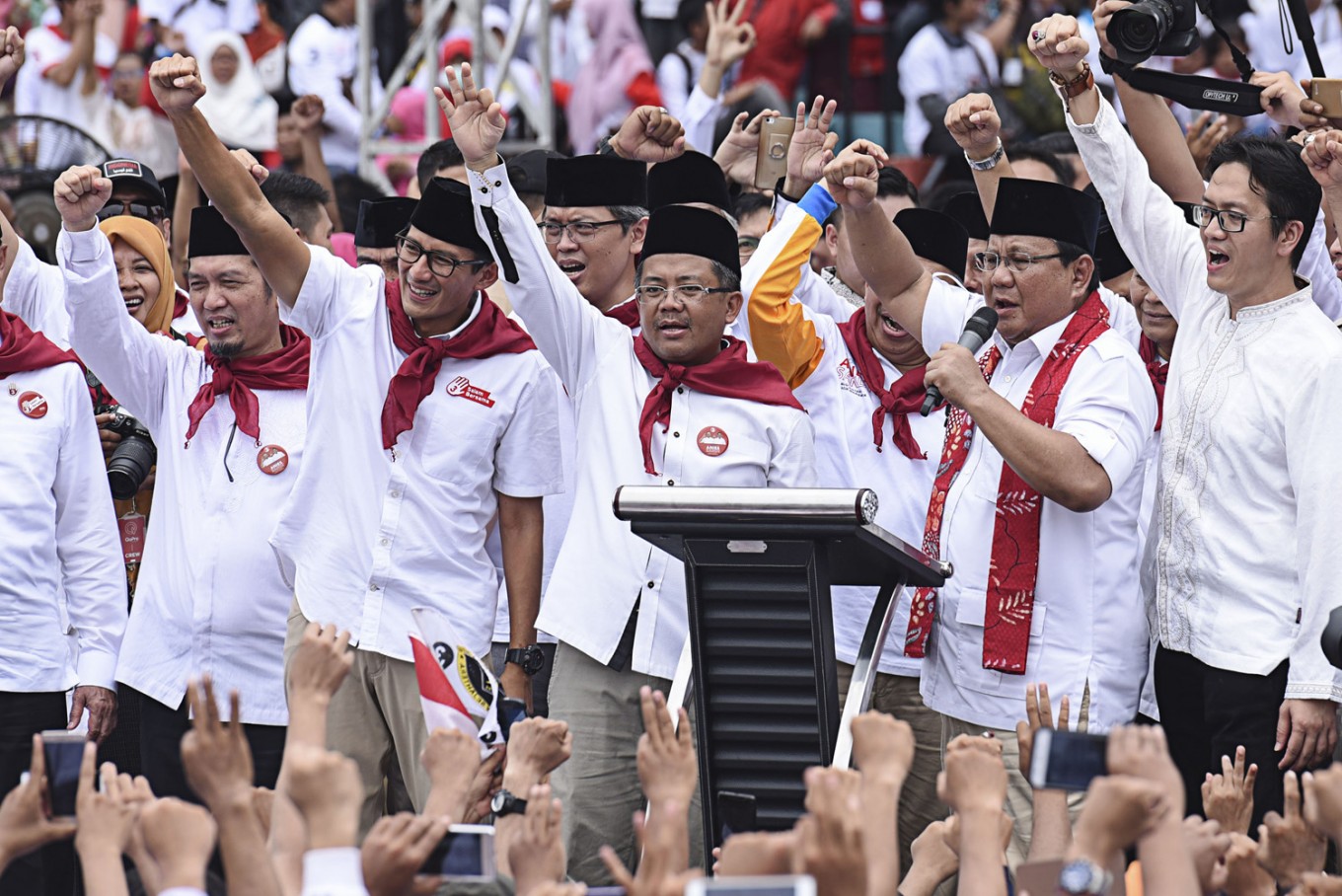 Upbeat -- Gerindra Party chairman Prabowo Subianto (second from right) gives an oration to support Jakarta candidate pair Anies Baswedan-Sandiaga Uno in a mass campaign in South Jakarta on Jan.29. Prosperous Justice Party (PKS) president Sohibul Iman (center) and deputy governor candidate Sandiaga (second from left) attended the event.(Antara/Hafidz Mubarak A.)
(Read also: Jakarta election proceeds smoothly, peacefully)
Prabowo has many reasons to cheer Anies' victory. The Jakarta election is seen as a prelude to the 2019 presidential election, where President Joko "Jokowi" Widodo will likely face off against Prabowo, whom he defeated in 2014.
After winning Jakarta, Prabowo's Gerindra and its fellow opposition party, the Prosperous Justice Party (PKS), have now set their eyes on West Java, Central Java and East Java—the nation's largest constituencies—which will elect their new leaders in 2018.
After voting in Gambir, Central Jakarta, President Jokowi, whose Indonesian Democratic Party of Struggle (PDI-P) backs Ahok, called on Jakartans to unite and cast aside their differences after voting day.
"Don't let differences in politics divide us because we are all brothers," he said.
The President, while claiming to be neutral in the election, has expressed his concern over the political heat surrounding the Jakarta election.
Jokowi has in the past few months struggled to maintain political stability and contain rising sectarianism fomented by hard-line groups and used by his political rivals to undermine his government.
Anies was confident he would win the election and seemed to have delivered a victory speech an hour after polling stations across the capital officially closed and quick-count results were still far from conclusive.
The Muslim scholar expressed his appreciation for his rival, Ahok, for participating in the democratic election, saying that while they were competitors in the race, they were actually working together in the democratic process. "Now we start a new chapter and we should work together to improve this city," he said.
Previously, the PDI-P said it was certain Ahok would win the election. "We are optimistic that at least our target of 52 percent of the vote can be achieved," said PDI-P secretary-general Hasto Kristiyanto as quoted by tribunnews.com.
He was speaking at the residence of PDI-P chairwoman Megawati Soekarnoputri in Kebagusan, South Jakarta, on Wednesday. Commenting on several surveys that had placed candidate pair Anies Baswedan and Sandiaga Uno in the lead, Hasto said some pollsters were being used as campaign tools.
At the time this article was written, Ahok had yet to concede defeat to Anies.
Topics :
Join the discussions