Ahok guilty, but doesn't have to be imprisoned: Prosecutors
Callista Anggun Wijaya

The Jakarta Post
Jakarta |

Thu, April 20, 2017

| 01:10 pm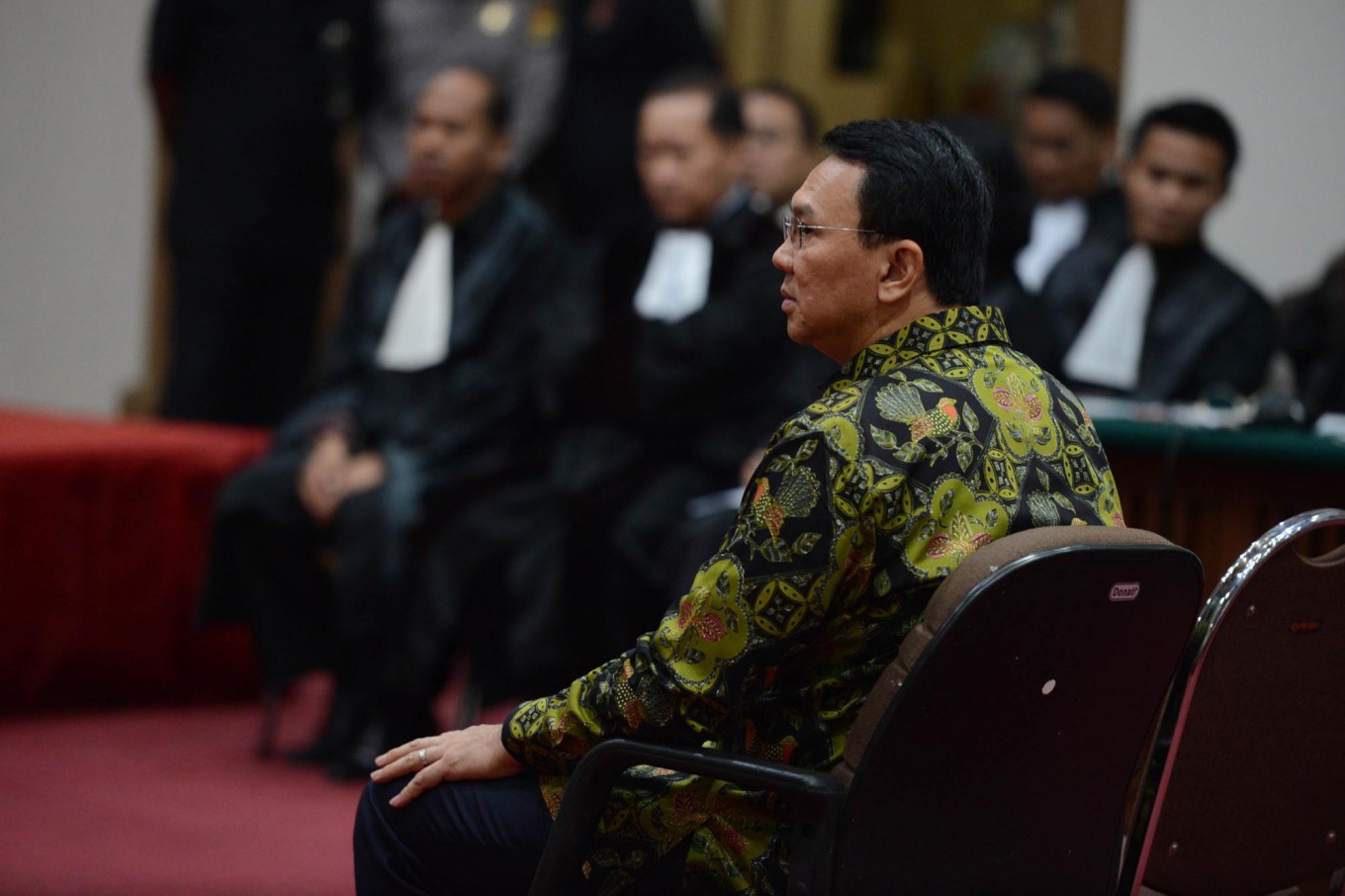 Sidang Tuntutan Ahok Terdakwa kasus dugaan penistaan agama Basuki Tjahaja Purnama atau Ahok mengikuti sidang lanjutan di Pengadilan Negeri Jakarta Utara, Auditorium Kementerian Pertanian, Jakarta, Kamis (20/4). Pada sidang yang beragendakan pembacaan tuntutan dari Jaksa Penuntut Umum itu Ahok dituntut Satu Tahun Penjara. (Republika/ POOL/Raisan Al Farisi via JP)
Prosecutors downgraded the blasphemy charges against Jakarta Governor Basuki "Ahok" Tjahaja Purnama and have demanded the North Jakarta District Court sentence him to two years of probation if it finds him guilty.
"We demand the judges rule one year of imprisonment and two years of probation," prosecutor Ali Mukartono said.
Prosecutors claimed they proved Ahok was guilty of showing animosity toward Muslims who believed that a verse of the Quran, specifically Surah Al Maidah 51, instructed them to not choose non-Muslim people as leaders.
The prosecutors apparently argued that since Al Maidah 51 had various interpretations, even among Muslims, Ahok was at fault because he acted as if he was the one who had the correct understanding of the verse.
Prosecutors claimed that when Ahok said Thousand Islands residents could be deceived by some of the varying interpretations of Surah Al Maidah 51, Ahok not only insulted Muslims who had a different view than him, but also Thousand Islands residents, who were mostly Muslims.
For that reason, they claimed they had proved he had violated Article 156 of the Criminal Code, which carries a maximum sentence of four years.
(Read also: Expats believe Ahok blasphemy case shifted election away from real issues)
The prosecutors said they did not buy Ahok's defense, which was that he had been talking about certain politicians who misused the Quranic verse for political purposes.
If he had meant it that way, he should have mentioned the politicians in his speech, Ali said.
However, the prosecutors said they had decided to demand such a light sentence because Ahok had been cooperative during the legal process.
Also, they added that the contribution he had made to develop the capital during his service as governor was a mitigating factor.
Meanwhile, prosecutors withdrew their accusation that Ahok had violated Article 156a of the Criminal Code, an offense that carries a maximum sentence of five years in prison upon conviction. They said they could not prove Ahok had insulted Islam as a whole, but only individual Muslims.
If the court finds Ahok guilty of the lesser charge and accepts the prosecution's sentencing recommendation, the Governor will only have to serve one year in jail if he is found guilty of violating the same law with the two-year probation period.
The court will likely bring down its verdict within the next few weeks. (dan)
Join the discussions