8 years for cult leader Ga­tot
Panca Nugraha

The Jakarta Post
Mataram, West Nusa Tenggara |

Fri, April 21, 2017

| 10:00 am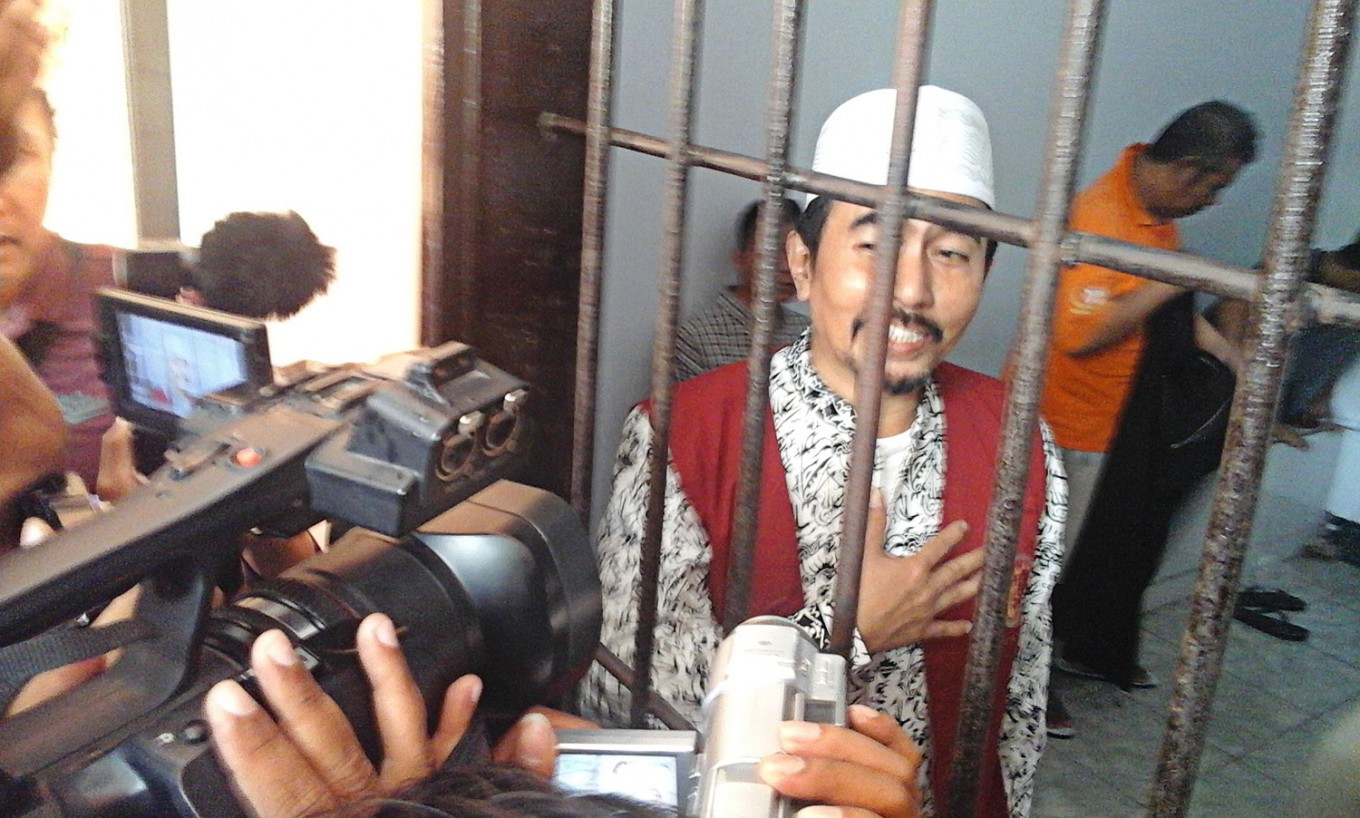 Guilty: Movie actor Gatot Brajamusti, 54, talks to journalists after he attended a hearing at the Mataram District Court, where he was sentenced to eight years in prison on drug charges, on April 20. (JP/Panca Nugraha)
Ga­tot Bra­ja­musti, 54, a movie ac­tor con­victed of pos­sess­ing crys­tal metham­phetamine, has been sen­tenced to eight years in prison and or­dered to pay a Rp 1 bil­lion (US$75,000) fine.
The for­mer In­done­sian Film Ac­tors As­so­ci­a­tion (Parfi) chair­man was sen­tenced in a hear­ing at the Mataram District Court in West Nusa Teng­gara (NTB) on Thurs­day.
The judges, led by pre­sid­ing judge Yapi and two panel mem­bers Di­diek Jat­miko and Yuli At­man­ingsih, con­sid­ered Ga­tot guilty of pos­sess­ing, con­trol­ling and keep­ing crys­tal metham­phetamine, which is cat­e­go­rized as a type-1 nar­cotics, with­out a per­mit as reg­u­lated in Ar­ti­cle 112 (2) of Law No. 35/2009 on nar­cotics.
"Based on in­for­ma­tion ob­tained from wit­nesses, the de­fen­dant and ev­i­dence, the panel de­cides to sen­tence de­fen­dant Ga­tot Bra­ja­musti to eight years in prison and im­pose a Rp 1 bil­lion fine, or an ad­di­tional three months in prison," said Yapi while read­ing out the court's ver­dict.
The sen­tence was lighter than what had been de­manded by pros­e­cu­tors led by Gi­n­ung Pra­tid­ina, who sought a 12-year prison sen­tence for Ga­tot.
The court also sen­tenced Ga­tot's wife, Dewi Ami­nah, 45, in a hear­ing held shortly af­ter her hus­band's ses­sion had fin­ished. The judge sen­tenced Dewi to one-anda-half years in prison for the mis­use of nar­cotics, vi­o­lat­ing Ar­ti­cle 127 (2) of the 2009 Nar­cotics Law.
Ga­tot's case came to the pub­lic's at­ten­tion af­ter he was ar­rested just one day af­ter be­ing elected Parfi chair­man dur­ing the as­so­ci­a­tion's con­gress in Lom­bok, West Nusa Teng­gara. The po­lice made the ar­rest af­ter a woman re­ported Ga­tot to the Jakarta Po­lice, claim­ing that the ac­tor had raped her af­ter forc­ing her to use crys­tal metham­phetamine when she was 16 years old. Another woman also filed a re­port against him with sim­i­lar ac­cu­sa­tions.
Ga­tot's ar­rest roped sev­eral en­ter­tain­ers into his case. Th­ese in­cluded movie ac­tress Elma Theana and singer Reza Ar­tamevia, who made him their spir­i­tual guru. The po­lice's in­ves­ti­ga­tion re­vealed Ga­tot's in­volve­ment in a num­ber of other crimes. Ga­tot ad­mit­ted, for ex­am­ple, to en­gag­ing in sex par­ties with a num­ber of women.
Four peo­ple, in­clud­ing Dewi, were with Ga­tot when po­lice in­ves­ti­ga­tors ar­rested the leader of the spir­i­tual com­mu­nity Pade­pokan Bra­ja­musti in a raid at Room 1100 of Ho­tel Golden Tulip in Mataram on Aug. 28, 2016. They found one bag of crys­tal metham­phetamine weigh­ing 0.6 grams in­side his trouser pocket. Dewi was also ar­rested as she was found to have kept one bag of crys­tal metham­phetamine, also weigh­ing 0.6 grams, in­side her wal­let.
Yapi said one as­pect that had in­creased Ga­tot's charges was the fact that he was a pub­lic fig­ure.
"More­over, the gov­ern­ment is in a se­ri­ous fight against nar­cotics and has stated that this coun­try is in a state of emer­gency re­gard­ing drugs," said Yapi.
Mean­while for Dewi, judge Yuli said she was guilty of pos­sess­ing and keep­ing nar­cotics as charged by pros­e­cu­tors. Dewi was only proven to have used crys­tal metham­phetamine based on the re­sults of her urine test, she said.
"De­fen­dant Dewi is legally and con­vinc­ingly proven guilty of hav­ing mis­used nar­cotics for her­self, so the judges de­cide to sen­tence her to one-and-a-half years in prison," Yuli said.
Ac­com­pa­nied by his lawyers, Ga­tot said he would con­sider the ver­dict. The eight-year prison sen­tence im­posed on him is too heavy for the crime he had com­mit­ted, he claimed.
"I'm dis­ap­pointed. In the Mataram Pen­i­ten­tiary, I will share a room with drug de­fen­dants from other cases. Some of them were charged with a four-year sen­tence and then sen­tenced to just two years in prison, even though the ev­i­dence against them was much stronger than the ev­i­dence against me. It's not fair. I ad­mit that I was wrong but this sen­tence is too heavy," said Ga­tot.
Yapi gave Ga­tot one week to make a de­ci­sion. "We will de­cide whether we will ac­cept it or file an ap­peal," said his lawyer, Ir­fan Suryad­i­nata.
Topics :
Join the discussions