Anies seeks to mend ties
Ivany Atina Arbi

The Jakarta Post
Jakarta |

Fri, April 21, 2017

| 09:30 am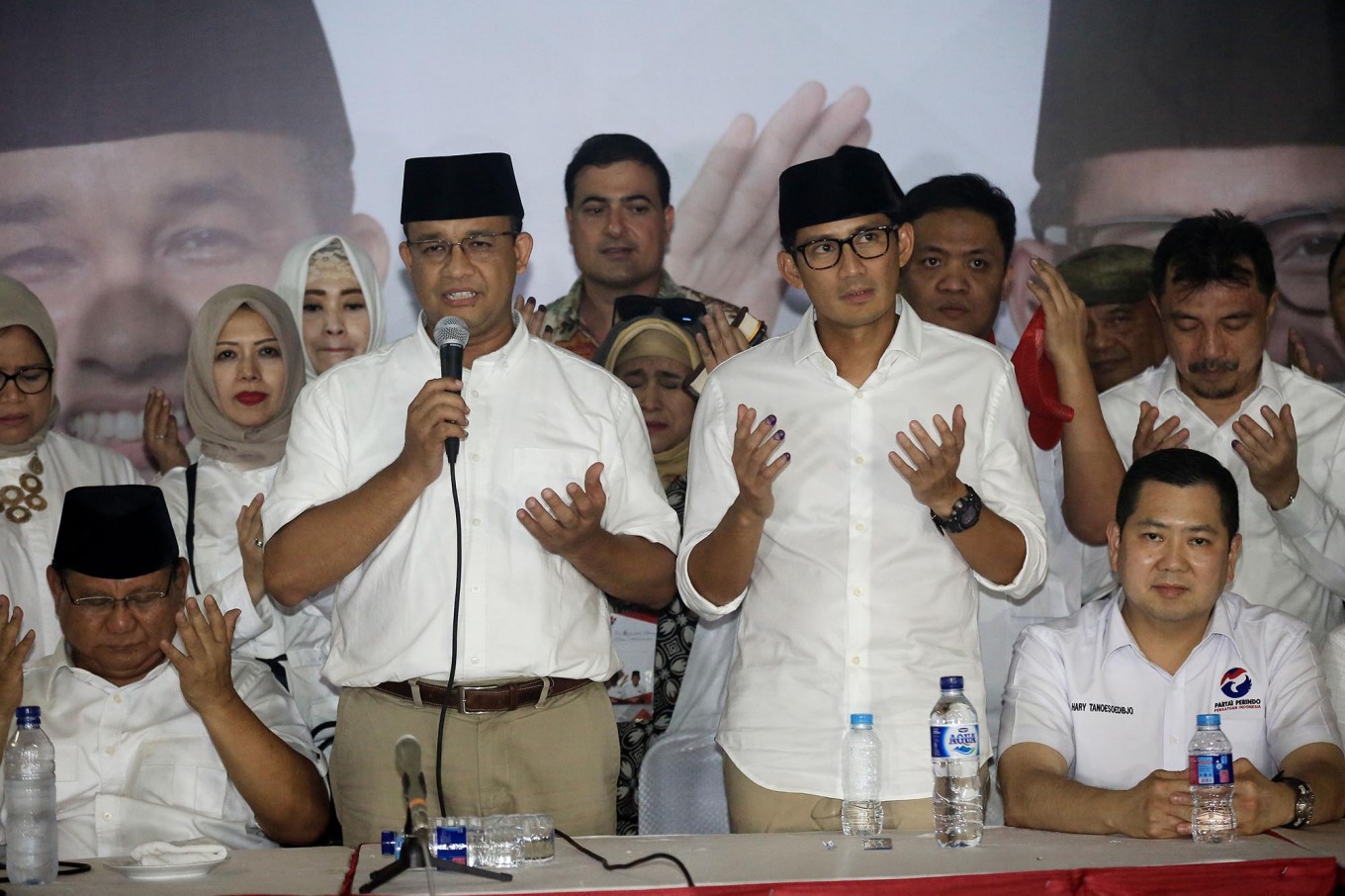 Jakarta governor and deputy governor candidate pair Anies Baswedan (second left) and Sandiaga Uno (second right) give a press statement on quick count results, which show their victory in the Jakarta runoff election, at the Gerindra Party headquarters in Jakarta on April 19. (JP/Dhoni Setiawan)
Anies Baswedan, the pre­sump­tive win­ner of the Jakarta gu­ber­na­to­rial elec­tion, made a con­cil­ia­tory ges­ture on Thurs­day by hold­ing a meet­ing with de­feated can­di­date and in­cum­bent Jakarta Gover­nor Ba­suki "Ahok" Tja­haja Pur­nama at City Hall, fol­low­ing a bit­terly con­tested elec­tion that di­vided the city along re­li­gious and racial lines.
Anies and Ahok agreed to have the meet­ing af­ter the two politi­cians ex­changed text mes­sages on Wed­nes­day shortly af­ter poll­sters pro­jected that Anies would win the gu­ber­na­to­rial elec­tion.
Know­ing that Ahok had to leave City Hall early for his blas­phemy trial, Anies ar­rived for the meet­ing at 7.30 a.m., in­ter­rupt­ing Ahok's reg­u­lar meet-and­greet pro­gram with Jakar­tans.
Upon see­ing Anies, Ahok cut short his meet­ing with the res­i­dents and moved to greet Anies and pro­ceeded to es­cort him to the gov­er­nor's man­sion next to City Hall.
Anies said dur­ing the meet­ing, which lasted 30 min­utes, he and Ahok dis­cussed ef­forts to start a rec­on­cil­i­a­tion process be­tween sup­port­ers from their re­spec­tive camps.
"We all are Jakar­tans. Let by­gones be by­gones. Let's start a new chap­ter," Anies told re­porters af­ter the meet­ing.
Hours af­ter bal­lot­ing wrapped up on Wed­nes­day, a num­ber of re­search out­fits pro­jected that Anies and his run­ning mate, mil­lion­aire San­di­aga Uno, would win the gu­ber­na­to­rial elec­tion by a wide mar­gin.
Jakarta-based poll­ster Sjai­ful Mu­jani Re­search and Con­sult­ing (SRMC) showed Anies se­cur­ing 58.06 per­cent of the vote against Ahok's 41.94 per­cent.
After learn­ing he was trail­ing by a dou­ble-digit mar­gin, Ahok con­ceded de­feat and pledged that he would pave the way for a smooth tran­si­tion at City Hall.
On Thurs­day, one of is­sues high­lighted dur­ing the meet­ing be­tween Anies and Ahok was the 2018 city bud­get.
Anies said an early dis­cus­sion on the bud­get would be cru­cial in his ef­fort to re­al­ize some of his cam­paign prom­ises.
"If we don't dis­cuss it now, I am afraid the pro­grams we cam­paigned on to im­ple­ment in 2018 will be put off un­til 2019 be­cause the 2018 city bud­get has al­ready been ap­proved," Anies said.
Mean­while, Ahok in­sisted that dis­cus­sions on the 2018 city bud­get needed to wrap up soon, with­out wait­ing for Anies to take the reins of power in Oc­to­ber.
He sug­gested that Anies send mem­bers of his team to dis­cuss some of the new de­tails of the bud­get with of­fi­cials in the cur­rent ad­min­is­tra­tion.
"We will in­clude [some of the new de­tails] into pro­grams that need to be im­ple­mented im­me­di­ately," Ahok said.
With re­gards to Anies' in­vi­ta­tion to be­gin work on rec­on­cil­i­a­tion, Ahok main­tained that his sup­port­ers would ac­cept the fi­nal elec­tion re­sult.
"I guar­an­tee that my sup­port­ers will not stir up any prob­lems," he added.
The Jakarta Gen­eral Elec­tions Com­mis­sion (KPU Jakarta) is ex­pected to an­nounce the fi­nal re­sults of the elec­tion in early May.
On the cam­paign trail, Anies pledged he would halt some of Ahok's con­tro­ver­sial poli­cies, in­clud­ing the recla­ma­tion project along the city's north­ern coast as well as the evic­tion pro­gram aimed at widen­ing some of the city's main rivers such as Cili­wung and Cip­inang.
Ahok's de­ci­sion to press ahead with the 2018 bud­get is likely aimed at safe­guard­ing some of his sig­na­ture projects that could be axed by Anies.
Re­spond­ing to Anies' plan to halt the recla­ma­tion project, Co­or­di­nat­ing Mar­itime Af­fairs Min­is­ter Luhut Pand­jai­tan said the pre­sump­tive gov­er­nor should not rush to ex­e­cute the plan.
"There are new pro­cesses that need to be looked at. We will ex­plain about this is­sue care­fully. Maybe Pak Anies does not have com­plete in­for­ma­tion yet," Luhut told re­porters at the State Palace on Thurs­day.
Luhut said he was con­vinced that once Anies got a com­plete pic­ture of the recla­ma­tion project, he would de­cide to re­verse his stance.
There has been no of­fi­cial state­ment from the State Palace re­gard­ing Anies' vic­tory.
Some an­a­lysts say Anies' vic­tory in Jakarta deals a se­ri­ous po­lit­i­cal blow to Pres­i­dent Joko "Jokowi" Wi­dodo, who backed Ahok to be gov­er­nor for the next five years as part of his strat­egy to push through some of his key in­fra­struc­ture projects.
Topics :
Join the discussions