Anies to shut down Alexis to rid Jakarta of prostitution
Callistasia Anggun Wijaya

The Jakarta Post
Jakarta |

Sun, April 30, 2017

| 08:00 am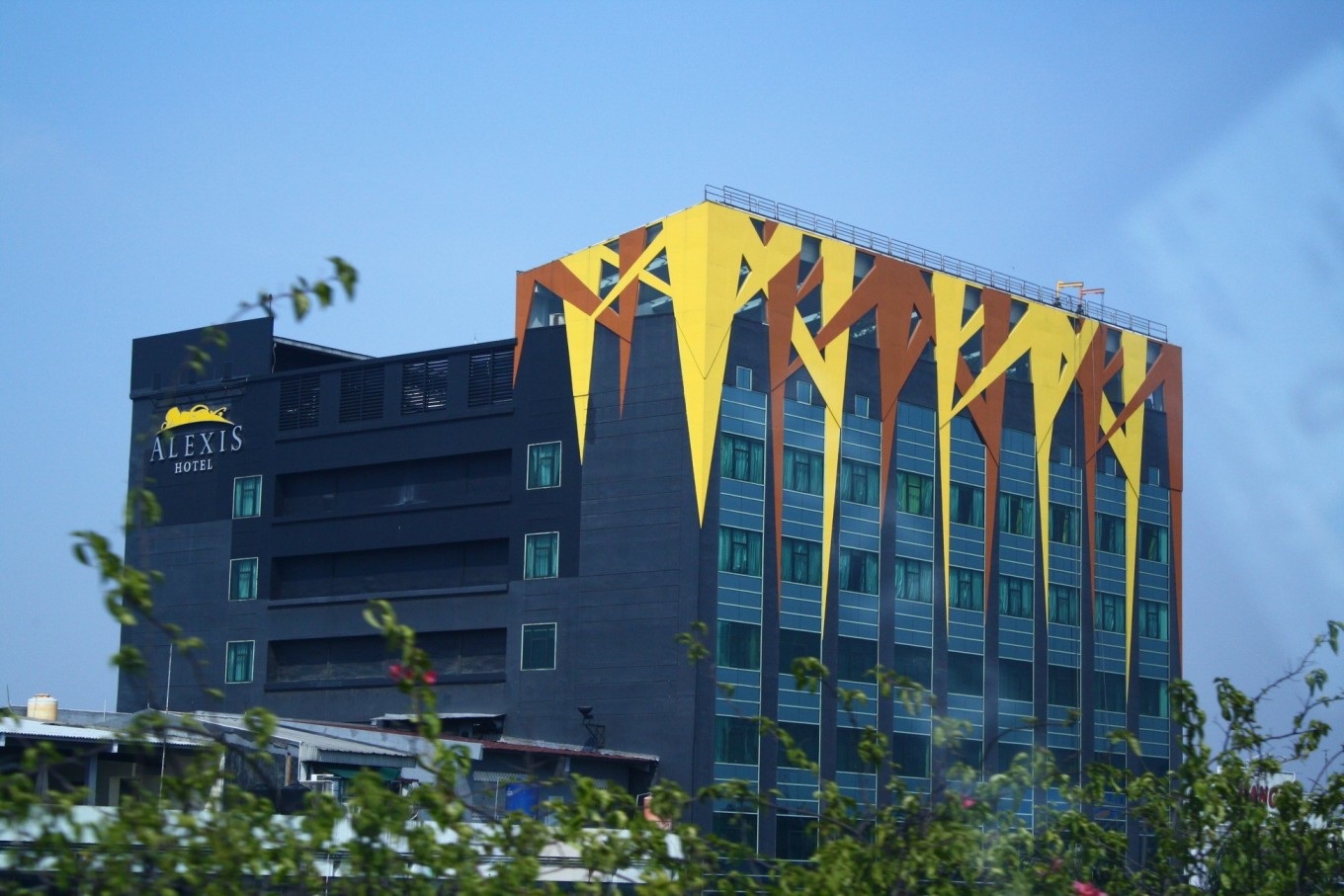 Alexis Hotel in Ancol, North Jakarta, a hotel known for its strip club. (Courtesy of Alexis Hotel /File)
During an election debate on Jan. 13, presumptive governor Anies Baswedan, who was then a gubernatorial candidate, sarcastically criticized his rival Jakarta Governor Basuki "Ahok" Tjahaja Purnama for only acting firmly in evicting low-income residents, but not in curbing high-class prostitution spots.
The former culture and education minister said he would shut down the infamous Alexis hotel in North Jakarta, a business widely believed to be a high-class brothel, if he were elected.
As his wish to unseat Ahok has come true, Anies, whose candidacy was backed by several conservative Muslim groups including the Islam Defenders Front (FPI), has become even bolder by stressing his desire to rid the entire city of prostitution.
Anies said recently he would not only target the closure of Alexis but all businesses involved in activities prohibited by Jakarta public order regulations.
"In principle, we will act firmly against all places that violate regulations, not just one [Alexis]. Don't get the impression that it is only about one place," Anies said.
(Read also: Jakarta's sharia future still long way off)
Prostitution is illegal in Indonesia, home to the world's largest Muslim population. However, the practice remains rampant under the guise of night clubs, entertainment centers and massage parlors. Last year, the Jakarta administration shut down a notorious red-light district, Kalijodo in North and West Jakarta, and transformed it into a green space.
When asked about Anies' statement, Richard, 24, a lawyer residing in Central Jakarta, was skeptical that the Anies administration would succeed in curbing the rampant practice of prostitution in the city.
He felt such a crackdown was unnecessary, especially one conducted for reasons of religious morality, because the issue involved people's private life.
Meanwhile, Masniari, 26, an employee of a private company in South Jakarta, supported Anies in closing prostitution spots, especially during the holy season of Ramadhan.
However, it was unnecessary for the administration to shut down such places permanently as the taxes the businesses generated could benefit the city, she said.
Even though he promised to clean the capital of the sex trade, neither Anies nor the future deputy governor, Sandiaga Uno, have provided a concrete explanation of the mechanisms to crack down on prostitution in the city.
They only said that the cleanup would be conducted in accordance with regulations.
Their vague answers might relate to Ahok's statement that it was not easy to prove that a specific place, such as Alexis, provided prostitution services.
Ahok said earlier that a place of business place could only be shut down if the administration found it to be accommodating the distribution of drugs, as occurred in the Miles and Stadium nightclubs, given that it was hard to prove acts of prostitution.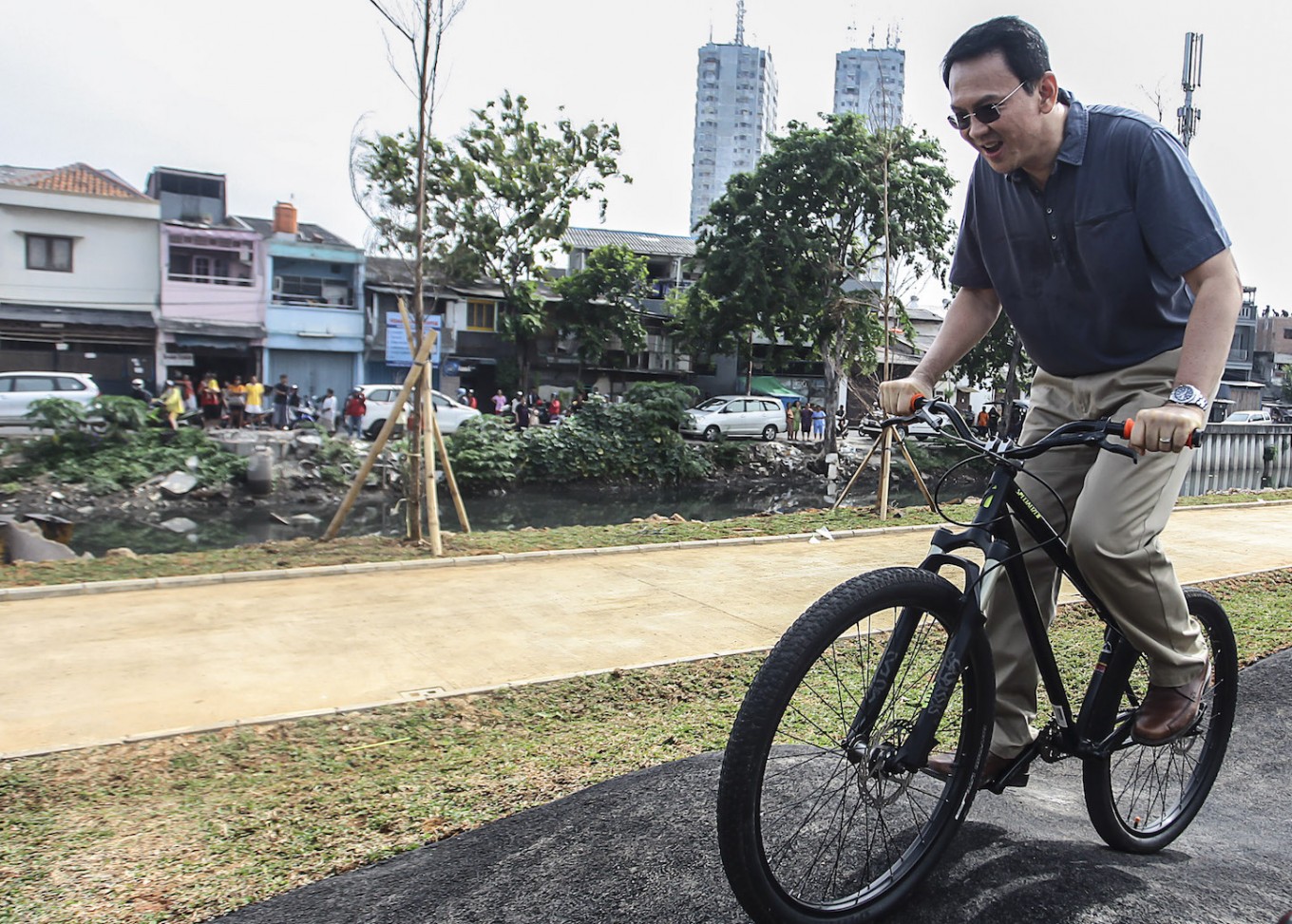 Jakarta Governor Basuki "Ahok" Tjahaja Purnama rides a bicycle on an open space in ex-prostitution area Kalijodo, which was demolished by the capital administration several months ago, to oversee the development of the green area.(Antara/Muhammad Adimaja)
Meanwhile, Centre for Strategic and International Studies (CSIS) political analyst Arya Fernandez doubted that Anies would act severely in curbing such places, saying he believed Anies would veer to the middle ground to accommodate the interests of all Jakarta residents.
"I think, the governor-elect will stand in the middle because he not only got the vote of conservatives but also from the left, liberals, low-income residents, as well as people who don't care about the issue," Arya said.
Anies still has six months before he is inaugurated as governor during which he can formulate a way to realize his campaign promises.
Anies will study the current regulations to see whether it is feasible for him to crack down on prostitution places as promised, Arya said.
Meanwhile, urbanist Yayat Supriatna said the governor-elect could not shut somewhere down without evidence of prostitution as it would result in a lawsuit against the administration.
He said that Anies and Sandiaga's program could be implemented if they strengthened the monitoring and investigation of places that were allegedly providing prostitution services.
Topics :
Join the discussions