No talk of Papua at Press Freedom Day
Marguerite Afra Sapiie

The Jakarta Post
Jakarta |

Wed, May 3, 2017

| 08:39 am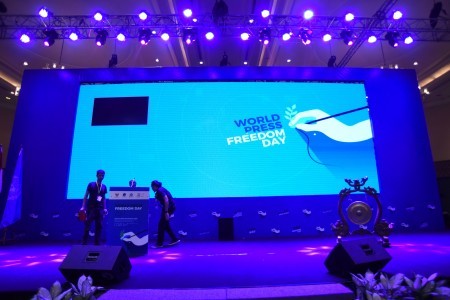 Workers prepare the venue of the Press Freedom Day (WPFD)'s opening ceremony on May 2 in Jakarta. (Antara/Akbar Nugroho)
Indonesia is currently enjoying the privilege of hosting this year's World Press Freedom Day (WPFD) celebration, themed "Critical Minds for Critical Times: Media's Role in Advancing Peaceful Just and Inclusive Societies."
Held from May 1 to 4, the event focuses on strengthening the freedom and quality of journalism to advance peace, justice for all and the rule of law, as well as inclusiveness.
Concerns, however, have mounted as the event, which is coorganized by the UN Educational, Scientific and Cultural Organization (UNESCO), the Indonesian government and the Press Council, does not include any events discussing press freedom in Papua and West Papua provinces. Indonesian and foreign journalists have for years complained about difficulties in getting access to cover the area.
Press Council chairman Yosep Adi Prasetyo confirmed that the event's organizers had never intended to include discussions about press freedom challenges in Papua. "[The issue of press freedom in Papua] is a domestic affair while this event is an international forum where we focus more on discussing issues that are relevant both locally and internationally," he said on Tuesday.
Reports by rights watchdogs, including Human Rights Watch (HRW), have highlighted that journalists reporting in Papua have faced harassment, intimidation and at times violence from security forces and pro-independence forces when reporting on sensitive topics, including alleged human rights abuses.
Despite President Joko "Jokowi" Widodo's announcement in May 2015 that Papua would be open to foreign media, authorities have reportedly continued to restrict foreign journalists' access to Papua on spurious "security" grounds, HRW stated.
"We cannot solve the matter [at the WPFD event], only Jokowi's administration can. Other countries can't meddle in this affair, because of non-interference principles," Yosep said, adding that the council had visited Papua to discuss the concerns with the police and military, urging them to grant access to and support Indonesian and foreign journalists to cover Papua.
The 2017 WPFD features workshops and training sessions as pre-events prior to the opening ceremony which falls on the celebration of WPFD on May 3.
More than 1,500 journalists, 500 of whom are foreign journalists from 90 countries, are expected to attend the annual event in the capital that will be officially opened by Vice President Jusuf Kalla on Wednesday.
Tuesday's highlight was a roundtable on Special Mechanism for Promotion and Protection of Freedom of Expression and Safety of Journalists in Southeast Asia.
Communications and Information Minister Rudiantara said during the roundtable that, compared to neighboring countries, the Indonesian press had experienced more freedom since the beginning of the Reform Era. Since then, the press has been governed by the 1999 Press Law and the government has never intervened, he added.
"All stakeholders want democracy and freedom of expression to be maintained to guard Indonesia's unity while journalists should obey ethics codes," he said.
(Read also: Press freedom day event criticized for sidelining Papua issue)
The annual event will be closed with the adoption of the Jakarta Declaration on Thursday. It will also present the 2017 UNESCO/ Guillermo Cano World Press Freedom Prize, an award named in honor of Guillermo Cano Isaza, a Colombian journalist who was assassinated in front of the offices of his newspaper El Espectador in Bogota in 1986.
This year's prize goes to an imprisoned Eritrean-Swedish journalist Dawit Isaak, who was arrested during a media crackdown that occurred in Sept. 2001. The last time he was heard from was in 2005 and his present location is unknown.
Topics :
Join the discussions