Calls to disband HTI in Papua mount
Nethy Dharma Somba

The Jakarta Post
Jayapura, Papua |

Thu, May 18, 2017

| 10:17 pm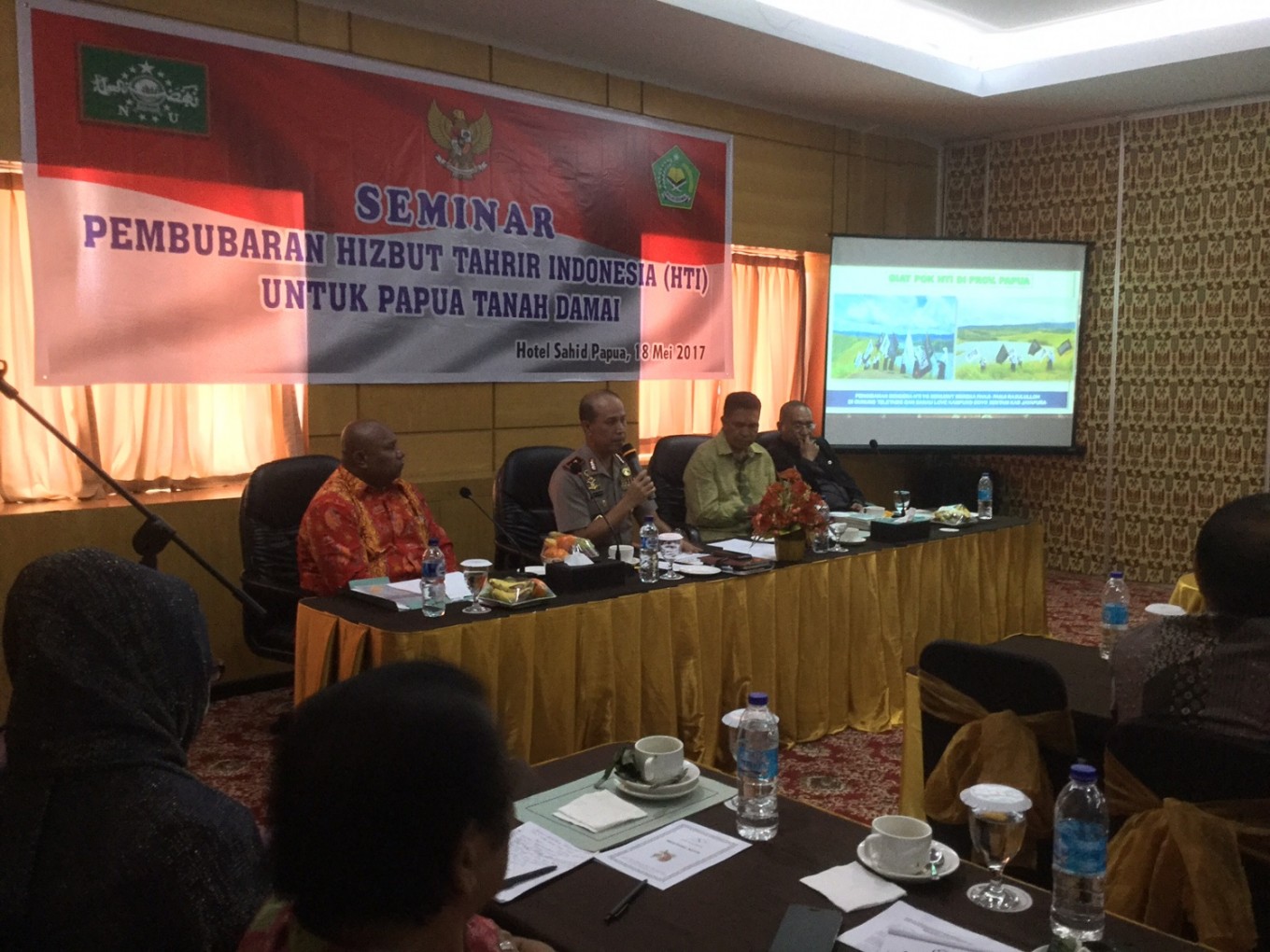 Against radicalism: Papua Police chief Insp.Gen. Boy Rafli Amar (center) responds to mounting calls for the disbandment of a hard-line Islamic organization, Hizbut Tahrir Indonesia (HTI), in a discussion in Jayapura, Papua, on May 18. (JP/Nethy Dharma Somba)
Representatives of many societal elements in Papua have called for the disbandment of a hard-line Islamic group, Hizbut Tahrir Indonesia (HTI), which now has about 300 followers in regencies and municipalities across the region.
With an ideology that contradicts Pancasila and the 1945 Constitution, the presence of HTI can divide the nation and trigger social conflicts, critics say.
The deputy chairman of the Papua chapter of the Islam Propagation Institution (LDI), Samsudin, said ulama (Islamic leaders) from areas across Indonesia rejected HTI in 2006 and their decision had not yet changed. Hence, Indonesian authorities should not hesitate to take tough measures against the organization.
"HTI must be banned in Papua because it will only destroy the harmonious life of religious followers in the region," Samsudin said.
He was speaking in a seminar jointly conducted by Indonesia's largest Islamic organization Nahdlatul Ulama (NU) and the Religious Affairs Ministry's Papua office in Jayapura on Thursday.
(Read also: Papuan people reject Hizbut Tahrir: Expert)
Amirmahmud Madubun of GP Ansor, the young wing of NU, said the government must be active in educating people at the grassroots to reject HTI's ideals and concepts in Papua because it expanded its influence by creating cells on that level.
"If needed, the Religious Affairs Ministry would write letters to schools and religious institutions in Indonesia to give them an understanding about HTI so they can reject both the ideology and the teachings it spreads," said Amirmahmud.
HTI entered Papua in the beginning of 2000 along with the start of Indonesia's reform era. "In Jayapura, there are about 100 HTI supporters, while in Merauke 50 people have joined the group," said Papua Police chief Insp. Gen. Boy Rafli Amar. (ebf)
Topics :
Join the discussions