Activists protest Sitok Srengenge's painting exhibition
Bambang Muryanto

The Jakarta Post
Yogyakarta |

Fri, May 19, 2017

| 11:38 pm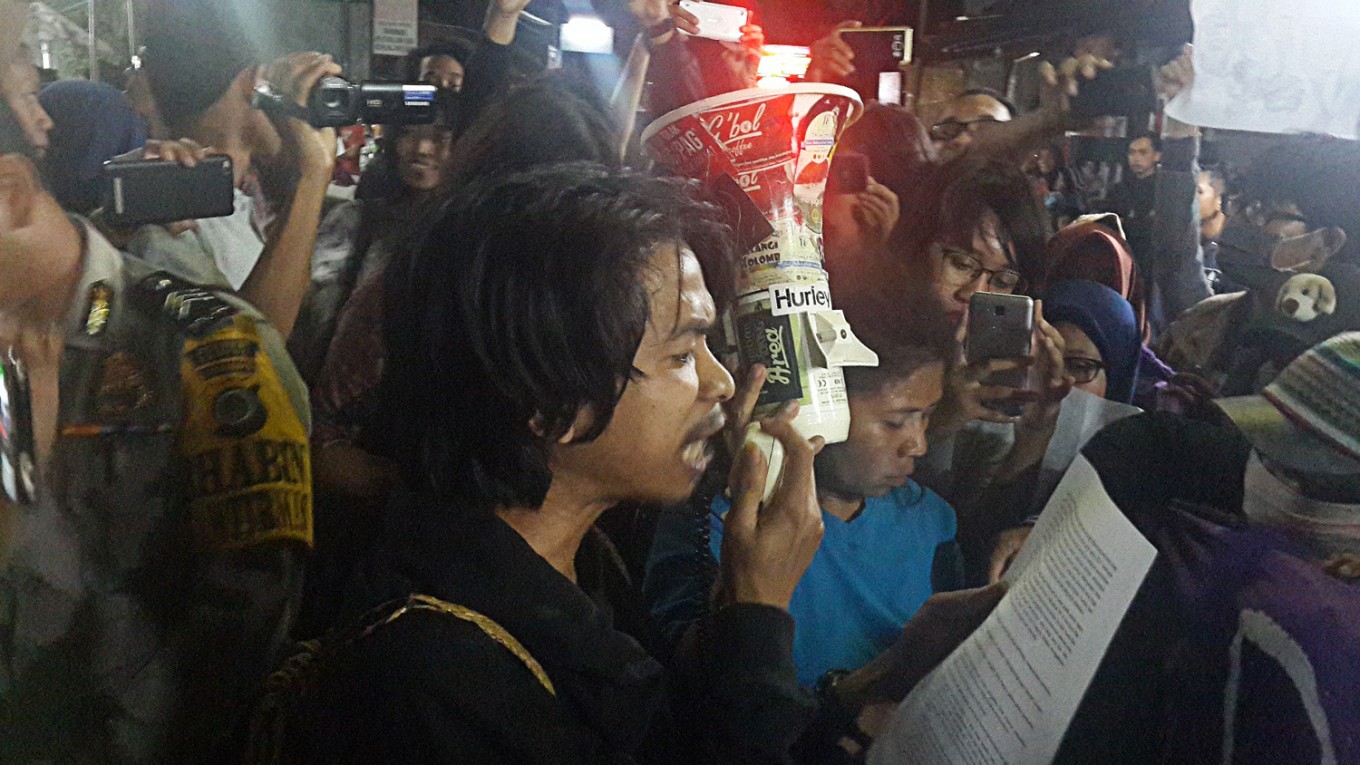 In protest: Muhammad Faris reads out a statement written by activists to protest a solo painting exhibition by noted poet Sitok Srengenge in a demonstration in Yogyakarta on May 18. (JP/Bambang Muryanto)
Dozens of activists protested a solo painting exhibition by noted poet Sitok Srengenge at the Langit Art Space in Bantul, Yogyakarta, on Thursday evening.
Shortly after the exhibition themed "Srengenge (The Sun)" was officially opened, several invitees unexpectedly spread out a large blue banner emblazoned with the message: "Tolak Buayawan Sitok Srengenge (Reject womanizer Sitok Srengenge)."
Buayawan was a mocking nickname given to Sitok, who has been acknowledged as a budayawan (cultural observer), but was later named a suspect in a rape case involving a University of Indonesia (UI) student in 2014.
"Sitok is a rapist!" a female activist shouted. The protest turned the opening of the exhibition attended by noted artists, including painter Joko Pekik and musician Jaduk Ferianto, into chaos.
The activists were forced to leave the exhibition room, after which they joined with others who had gathered in front of the gallery. "Bring Sitok to justice!" yelled the protesters, who were apparently mostly gender movement activists.
They expressed their disappointment for the inability of the authorities to administer justice to Sitok.
Muhammad Faris, one of the protesters, read out a statement that called on law enforcers to imprison Sitok. He also urged police officers to investigate the numerous rapes that in most cases were left unsolved.
"Give justice and protection to all sex violence victims," Faris said.
Sitok rejected again the rape accusation. "My [sexual] relations with [the alleged victim] were consensual," he said. (ebf)
Join the discussions