Alibaba hails entrepreneurial spirit at Taobao Maker Festival
Marguerite Afra Sapiie

The Jakarta Post
Hangzhou, China |

Mon, July 10, 2017

| 10:26 pm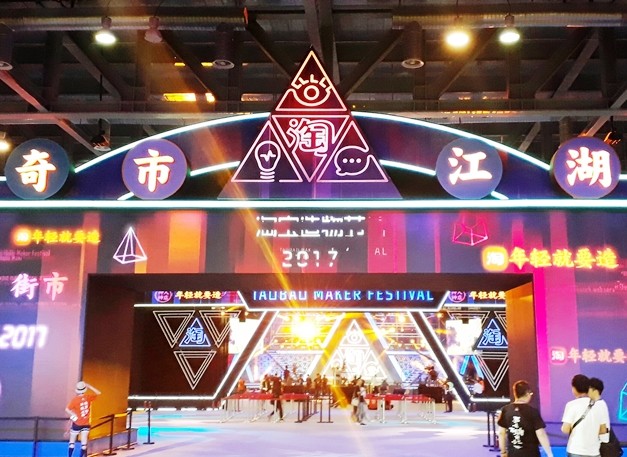 Visitors stand next to the entrance to the 2017 Taobao Maker Festival organized by Alibaba Group. The event, which showcases products of 108 merchants on the Taobao online marketplace, runs from July 8 to 12 in Hangzhou, China. (JP/Marguerite Afra S.)
E-commerce leader Alibaba Group embraces the "maker spirit" of young merchants at its second Taobao Maker Festival, an offline bazaar to showcase the originality and creativity of entrepreneurs on the Taobao marketplace.
The event, which runs from July 8 to July 12 at the Hangzhou International Expo Center in Hangzhou, China, features 108 merchants selected from 20,000 candidates that run a business on Taobao. The number of participants increased by 50 percent from the 72 merchants at last year's festival.
Millennials are at the center of the festival, given the trend of more and more young people opening stores and having their own brands on Taobao over the last few years. The post-1990s generation made up 26 percent of 10 million of Taobao merchants, Alibaba Group chief marketing officer Chris Tung said.
"It's not only about selling to do business, but also a way [for young merchants] to demonstrate passion and share their dreams about what they like in life. Taobao is a platform for them to pursue their dreams, demonstrate their passion and make friends," he said.
For the youngsters, what mattered was the story behind a product, Tung said. The product might not make millions in sales, but the concept behind their creations attracted other young people who shared similar interests and addressed specific lifestyle needs, he added.
The festival showcases a diverse range of products, from unique fashion items, customized keyboards and calligraphy artworks to handmade Chinese umbrellas. The products are not for sale, as the focus is on the interaction between consumers and merchants. (ags)
Join the discussions