PKB joins coalition stance on election bill
Margareth S. Aritonang

The Jakarta Post
Jakarta |

Thu, July 20, 2017

| 02:10 pm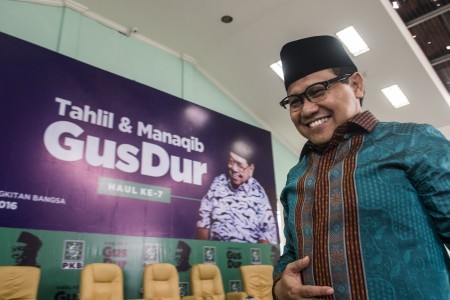 National Awakening Party (PKB) chairman Muhaimin Iskandar attends an event on Dec. 27, 2016 to commemorate the death anniversary of the late president and Islamic scholar Abdurrahman "Gus Dur" Wahid, who is known as a champion of pluralism. (Antara/M Agung Rajasa)
The National Awakening Party (PKB) has announced that it will support the ruling coalition's stance on the five contentious provisions in the election bill.
The coalition party initially refused to back the proposals offered by the majority of the ruling coalition, which is led by the President Joko "Jokowi" Widodo's Indonesian Democratic Party of Struggle (PDI-P).
PKB secretary general Abdul Kadir Karding said that the party had decided to vote for Package A, which contained a list of proposals supported by the ruling coalition, during the voting process of the House of Representatives' plenary session Thursday.
Package A calls for a presidential nomination threshold of either 20 percent of House seats or 25 percent of popular votes, a 4 percent electoral threshold, an open electoral system, a seat allocation of between 3 and 10 for each electoral district and the Sainte-Lague method of converting votes into House seats.
"This is the best for [the PKB], because as a party, we cannot stand alone in the future. We need the others, and we have decided to side with the current coalition," Karding said on the sidelines of a closed-door plenary meeting of the PKB faction at the House.
The lawmakers will have to vote today on the contentious provisions in the election bill, following months of protracted discussion and lobbying. With the PKB now on board, President Jokowi's ruling coalition is expected to win the vote. (ary)
Join the discussions