Election bill passed, presidential threshold intact
Margareth S. Aritonang and Nurul Fitri Ramadhani

The Jakarta Post
Jakarta |

Fri, July 21, 2017

| 02:37 am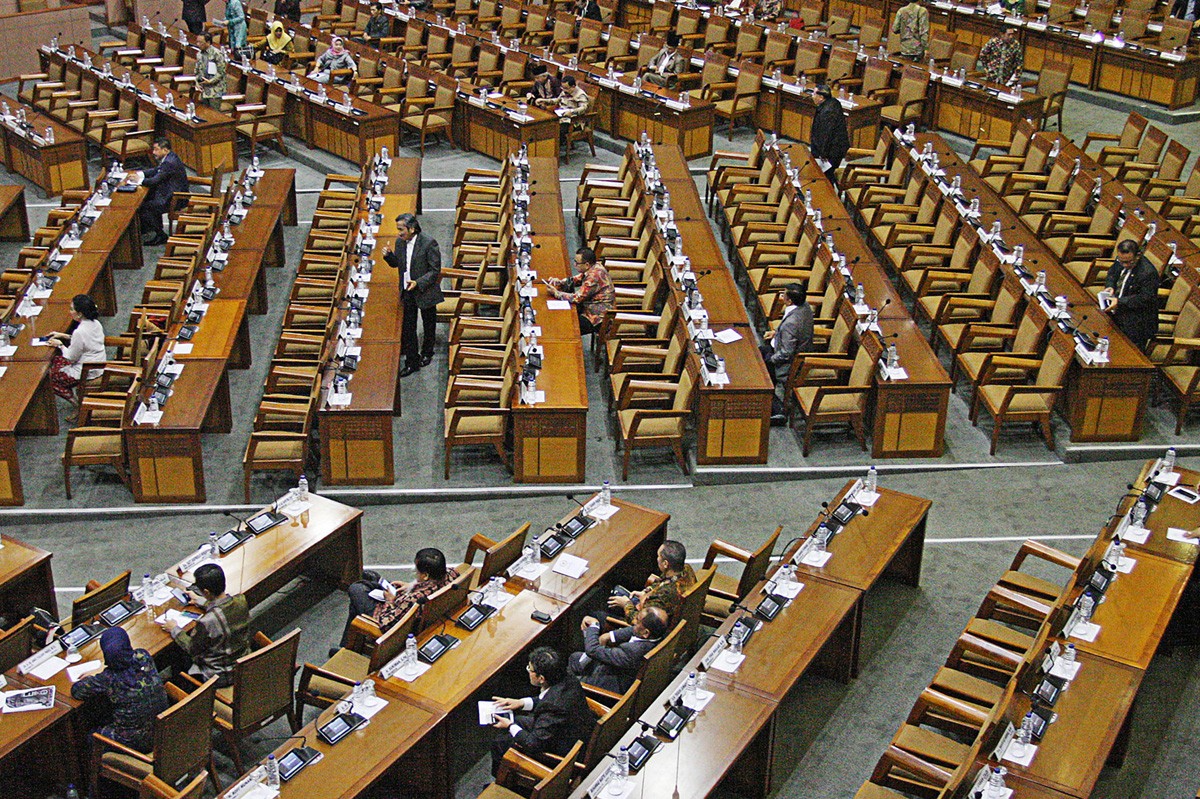 Lawmakers are pictured inside the House of Representatives in this file photo. (Antara/Reno Esnir)
The House of Representatives approved late on Thursday a long overdue election bill, which now only awaits the President's signature to become law. The passed bill maintains a minimum requirement for political parties to nominate presidential candidates – a key decision that serves as a victory for President Joko "Jokowi" Widodo.
After hours of lobbying, lawmakers gave up on trying to reach a consensus.
Of all the items in the bill, nothing attracted a greater share of interest or caused more bickering than the presidential threshold, the minimum percentages of support required by political parties to nominate presidential candidates.
Read also: Lawmakers turn up in droves for election bill showdown
The ruling coalition parties, including the Indonesian Democratic Party of Struggle (PDI-P), the Golkar Party, the Nation Awakening Party (PKB), the National Development Party (PPP), the NasDem Party and the Hanura Party, chose to keep the 20 and 25 percent thresholds.
That means a presidential candidate would require support from a party or coalition of parties with at least 20 percent of the seats in the legislature or 25 percent of the popular vote based on the outcome of the 2014 legislative elections.
The opposition camp, the Gerindra Party and the Prosperous Justice Party (PKS), along with a neutral camp formed by the Democratic Party, demanded the presidential threshold be scrapped to allow an unlimited number of presidential candidates.
The opponents of the threshold were worried that if it was maintained, there would likely be only two presidential candidates with enough support to compete in the next election.
Read also: PKB joins coalition stance on election bill
One candidate is predicted to be from the ruling coalition, which controls about 70 percent of the House seats – if PAN is included in the tally – while another would be from the opposition camp, which secured 20 percent of the legislative seats in 2014.
Former president Susilo Bambang Yudhoyono's Democratic Party would have to join the opposition camp, or try to sway several members of the ruling camp to join its coalition, in order to be able to nominate a candidate.
Discussions in the meeting turned into a heavy debate, which at one point forced the House leaders to suspend the proceedings for several hours to give time for the factions to conduct last-minute negotiations and lobbying.
Topics :
Join the discussions