Commission probes lack of Setya mention in e-ID verdict
News Desk

The Jakarta Post
Jakarta |

Sun, August 13, 2017

| 05:48 pm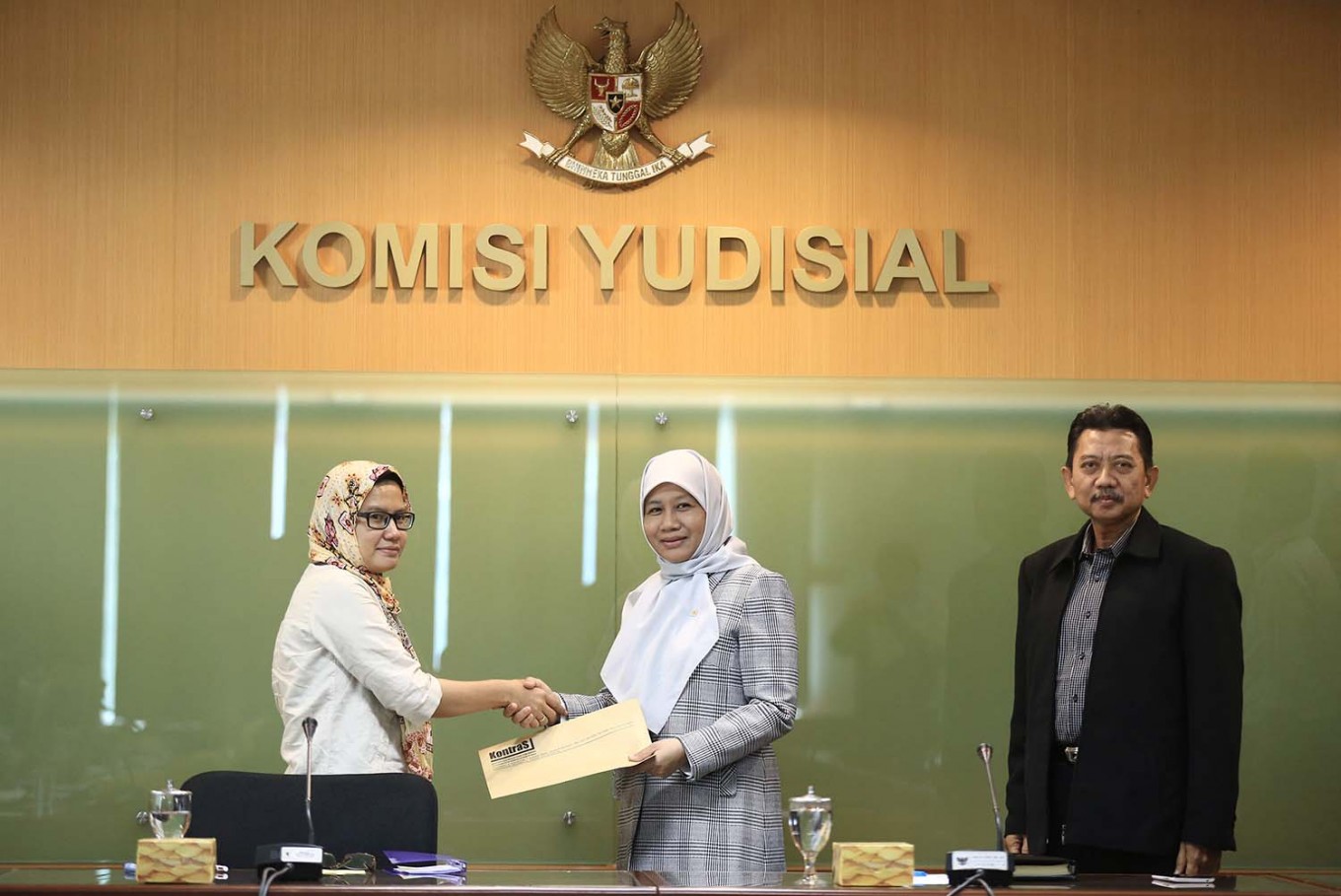 The Commission for Missing Persons and Victims of Violence (KontraS) Yati Andriyani (left) hands over a report on trial proceedings related to the death of human rights defender Munir Said Thalib to Judicial Commission deputy chairman Sukma Violetta (center) in Jakarta, on Feb. 21. (JP/Dhoni Setiawan)
Jakarta
The Judicial Commission has formed a team to look into the verdict readings on former senior Home Ministry officials Irman and Sugiharto, who were found guilty in the e-ID graft case.
Controversy has arisen after no mention was made of the alleged role of another suspect in the case, House of Representatives Speaker Setya Novanto, in the verdict readings.
Setya, the chairman of the Golkar Party, was cited in the prosecutors' indictment and sentence demand in the Irman and Sugiharto case as having played a crucial role.
"We view [the absence of any mention of Setya] as a possible ethical violation," commission chairman Aidul Fitriciada Azhari said on Saturday as quoted by kompas.com.
Read also: Key witness in e-ID graft case dead: KPK
He added that the examination of the verdict readings was ongoing and might take between a week and two months.
Last month, the Jakarta Corruption Court found Irman and Sugiharto guilty of conspiring to enrich themselves and others by rigging the Rp 5.9 trillion (US$ 441 million) e-ID project, causing Rp 2.3 trillion is state losses.
The verdict readings did mention three other politicians – the Hanura Party's Miryam S. Haryani as well as Golkar's Markus Nari and Ade Komarudin – for allegedly receiving illicit benefits from the project.
Setya is among dozens of politicians who have been implicated in the case. (kuk/bbs)
Join the discussions