PBB challenges presidential threshold requirement
Margareth S. Aritonang

The Jakarta Post
Jakarta |

Tue, September 5, 2017

| 09:53 pm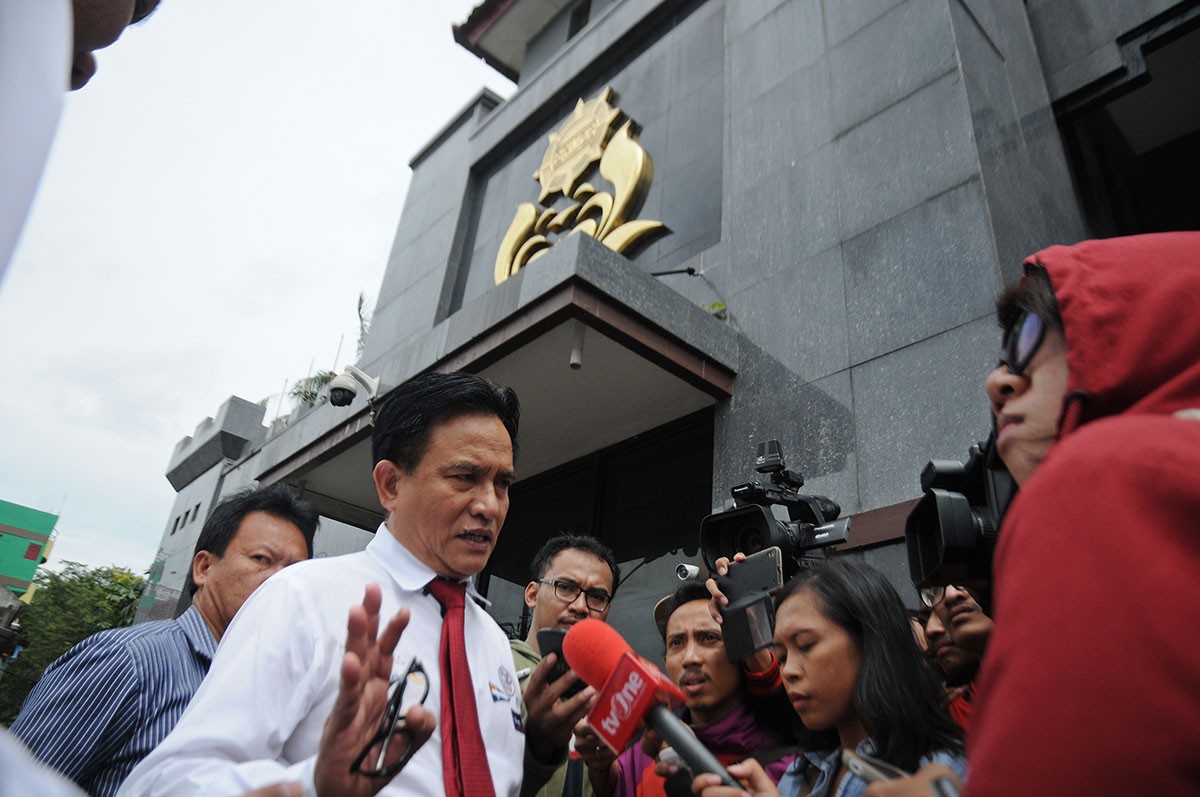 Law expert Yusril Ihza Mahendra (left) talks to journalists at the National Police's Mobile Brigade (Brimob) headquarters in Kelapa Dua, Depok, West Java, on Dec.2, 2016. (Antara/Indrianto Eko Suwarso)
The Crescent Star Party (PBB) led by constitutional law expert Yusril Ihza Mahendra filed on Tuesday a judicial review request with the Constitutional Court (MK) to challenge Article 222 of the newly passed Elections Law that requires a threshold for political parties seeking to nominate a presidential candidate.
The article obliges a party or coalition of parties to secure at least 20 percent of seats in the House of Representatives or 25 percent of the popular vote in order to be able to nominate a presidential candidate in the 2019 election.
Yusril said that such a requirement disadvantaged his party. "The PBB has the constitutional right to nominate a presidential candidate because it will be a participant in the election. Article 222 of the 2017 Elections Law restricts the party in exercising its rights. Thus we want the MK to drop it," Yusril said.
He further argued that the presidential-threshold requirement would be irrelevant because the 2019 legislative and presidential elections would take place simultaneously. Using the result of the 2014 election as a reference to maintain the threshold requirement, as proposed by supporters of the threshold, would also be unacceptable, he added.
"So what is the basis of implementing the presidential threshold?" Yusril asked.
The judicial review request filed by the PBB has lengthened the list of judicial reviews of the law requested, with requests being previously submitted by the Advocate Cinta Tanah Air (ACTA) and the Peaceful and Benign Islam (Idaman) Party. (ebf)
Topics :
Join the discussions