Irma becomes stronger as Florida braces for hurricane's fury
Brian K. Sullivan

Bloomberg
Boston, United States |

Sun, September 10, 2017

| 03:23 pm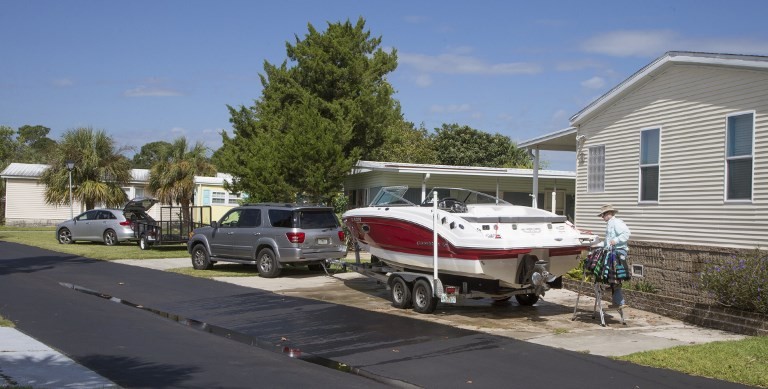 CRAWFORDVILLE, FL - SEPTEMBER 09: Jack Diestelhorst prepares to take his boat to Tallahassee from the Shell Point Beach community of the north Florida panhandle Sept. 9, 2017 in Crawfordville, Florida. Current tracks for Hurricane Irma shows that it will hit Florida's west coast on Sunday. Mark Wallheiser/Getty Images/AFP (Agence France -Presse/Mark Wallheiser/Getty Images)
Hurricane Irma strengthened as it churned toward southwestern Florida, threatening severe damage in Tampa and other cities facing the Gulf of Mexico in what could end up being the most expensive storm in US history.
With top winds of 130 miles (209 kilometers) an hour, the deadly storm is expected to strike the Florida Keys Sunday morning and then follow the state's Gulf Coast north, the US National Hurricane Center said in an advisory around 2 a.m. New York time. Irma became a Category 4 storm as it moved closer to the state.
President Donald Trump discussed round-the-clock preparations now under way with his Cabinet, calling Irma "a storm of enormous destructive power."
Rob Miller, a meteorologist at AccuWeather Inc. in State College, Pennsylvania, said a track "near or just to the west is almost, if not, a worst-case scenario for Tampa Bay," said "It shoves all the water into Tampa Bay and then shoves it right into downtown."
The storm has left at least 22 people dead and thousands homeless across the Caribbean, and threatens to rack up as much as $200 billion in damages. Irma's anticipated northern turn has begun, raising the threat to Florida's west coast while potentially sparing Miami a direct hit.
Irma was about 70 miles south-southeast of Key West, according to the hurricane center. It could pass over the island city sometime after 7 a.m. local time Sunday as a Category 4 storm, said Alan Reppert, a meteorologist with AccuWeather. It will then continue up the coast making a second landfall between Fort Myers and Sarasota later in the day, said Jeff Masters, co-founder of Weather Underground in Ann Arbor, Michigan.
"A trajectory west of previous forecasts will still mean hurricane-force winds for the entire southern portion of Florida from coast to coast," said Shunondo Basu, meteorologist and natgas analyst at Bloomberg New Energy Finance.
Storm damage may worsen if Irma drifts along Florida's west coast without coming ashore and weakening, said David Streit, a meteorologist at Commodity Weather Group LLC in Bethesda, Maryland. On its current path, Irma may wipe out as much as 20 percent of the citrus crop in the world's second-largest orange juice producer.
Some 6.5 million residents have been ordered to evacuate, Florida Governor Rick Scott said at a press briefing late Saturday. Almost 400 shelters are open in counties in the path of the storm. The Tampa-St. Petersburg-Clearwater area is home to about 3 million people.
Topics :
Join the discussions