US waters down North Korea sanctions draft before UN vote
Gregory Viscusi and Kanga Kong

Agence France-Presse
New York, United States |

Mon, September 11, 2017

| 06:12 pm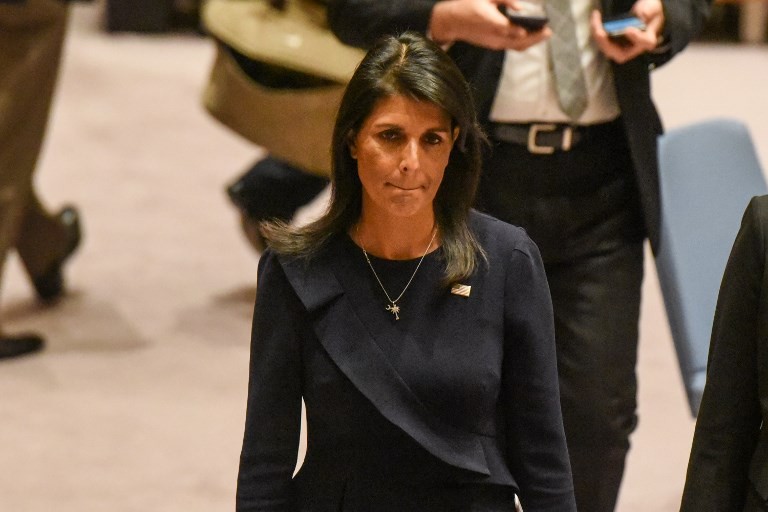 Bellicose: Ambassador to the UN, Nikki Haley, leaves after a United Nations Security Council meeting on North Korea on Sept. 4, 2017 in New York City. The securty council was holding its second emergency meeting in a week after North Korea announced the detonation of what it called an underground hydrogen bomb Sept. 3. (Agence France -Presse/Stephanie Keith)
The US has watered down a proposal to punish North Korea for its sixth and most powerful nuclear test, omitting an oil embargo and a freeze of Kim Jong Un's assets, according to a European diplomat.
While the US, UK and France are united on the latest proposal, it's unclear whether Russia and China -- the other veto-holding members of the United Nations Security Council -- will back the text as it stands, said the diplomat, who asked not to be identified because the discussions are private.
More modifications are inevitable and it's unclear if a vote will take place Monday as the US has sought, the diplomat said.
The negotiations reflect differences among the world's top powers over the best way to halt Kim's push for a nuclear weapon that can target the US homeland. President Donald Trump wants China and Russia to use their economic leverage to rein in Kim, but both countries are skeptical that sanctions will work and have called for peace talks.
North Korea warned on Monday of retaliation if the UN approves the US proposal for harsher sanctions.
"In case the US eventually does rig up the illegal and unlawful 'resolution' on harsher sanctions, the DPRK shall make absolutely sure that the US pays a due price," its state-run Korean Central News Agency said, citing a statement by the Ministry of Foreign Affairs that used its formal country name. "The forthcoming measures to be taken by the DPRK will cause the US the greatest pain and suffering it had ever gone through in its entire history."
Despite the rhetoric, there was a sign both sides are looking for a diplomatic solution. North Korean foreign ministry officials are likely to hold informal talks with former US officials in Switzerland on Monday, Japan's Nippon Television reported, without saying where it got the information.
The US had initially sought the implementation of stronger measures against North Korea, including bans on oil imports, textile exports and employing guest workers from the isolated nation.
The revised draft resolution drops the proposed oil embargo and instead caps shipments of refined petroleum products at 2 million barrels a year while limiting crude oil exports to North Korea to current levels, the diplomat said.
Join the discussions