Mentawai residents oppose permit for industrial forest
Syofiardi Bachyul

The Jakarta Post
Padang |

Thu, September 14, 2017

| 08:30 am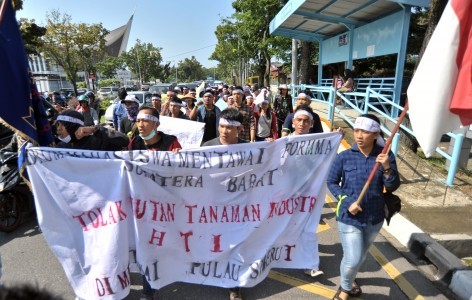 College students from the Mentawai Students Forum join a protest in Padang, West Sumatra on Wednesday against the granting of an industrial forest permit to a company in Siberut Island, Mentawai Islands regency. (Antara/Iggoy el Fitra)
The residents and regency administration of the Mentawai Islands have opposed the decision made by the central government and West Sumatra provincial administration to grant an industrial forest (HTI) permit for a company in Siberut Island.

The HTI permit was given to private firm PT Biomass Andalan Energi for 20,030 hectares.
At least 50 Mentawai residents, mostly college students, protested in front of the West Sumatra Environment Agency on Wednesday to express their opposition. At the same time as the residents' protest, the agency was
holding a meeting to discuss the environmental impact analysis (Amdal). The group demanded the agency not proceed with the meeting, arguing that granting the permit would be disadvantageous to Mentawai.

"Since the 1970s, the production forest concession has only resulted in floods," said Daudi Silvanus Satoko, who led the protest on Wednesday.
Acting Environment Agency head Siti Aisyah, who met with protestors, said her office would not dare to issue a permit that did not follow proper procedure as it would create a legal fallacy. The meeting to discuss the Amdal, she said, had been attended by representatives from various stakeholders.

Not only the residents, but the Mentawai Islands regency administration also urged the central and provincial governments not to proceed with the plan.
Mentawai deputy regent Kortanius Sabeleake said that the regency administration had sent a letter to the Environment and Forestry Ministry to lodge a protest. However, no response has yet been received.

"The regency administration doesn't have any power regarding permit issuance, we were not given a say in the matter even though the location is in our regency," he said, adding that such a policy did not favor the people who had owned their land on the island for a long time.

He said the lands managed by local people on Siberut Island had been decreasing. Some 127,715 ha of land out of the island's total area of 386,715 ha are now concession areas for three companies. Some 190,500 ha are for Siberut National Park and 33,341 ha are for other purposes. The remaining land that could be used by 37,000 residents was 34,071 ha.
Topics :
Join the discussions