Army to hold screenings of PKI movie
News Desk

The Jakarta Post
Jakarta |

Sun, September 17, 2017

| 04:33 pm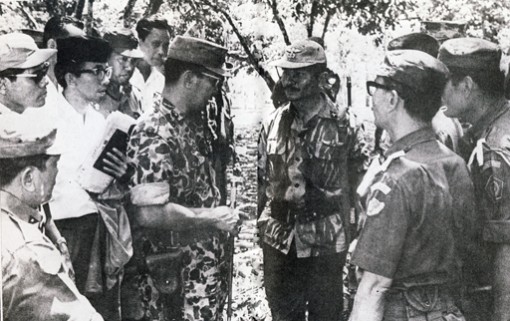 Dark history -- Maj. Gen. Soeharto briefs members of the Army's Special Forces (RPKAD, now Kopassus) prior to the removal of the bodies of Army officers who were murdered during an alleged coup attempt on Sept. 30, 1965, which was blamed on the now defunct Indonesian Communist Party (PKI). As the most senior military officer available at the time, Soeharto led all the operations to restore security and impose order in the aftermath of the alleged attempt. (JP/30 Tahun Indonesia Merdeka/File)
The Army has instructed its personnel to hold screenings of the propaganda film Pengkhianatan G30S/PKI (Betrayal of the Communists) on Sept. 30.
An internal message carrying the instruction has recently been circulating on social media, prompting the Army to confirm it.
Army spokesperson Brig. Gen. Wuryanto said that such a mandatory screening would be crucial to get across the "correct" version of history.
"Thirty September is an important date for our country. These days, we deal with so many efforts to twist facts about the historical events of Sept. 30, 1965," he said as quoted by tempo.co.
He said the film could provide key information regarding what happened on the fateful date, especially for the young generation, who was not given enough education on civic matters and Pancasila since the start of the Reform Era.
Pengkhianatan G30SPKI, which is directed by acclaimed director Arifin C. Noer, tells the story of Gen. Soeharto in quashing a coup blamed on the Indonesian Communist Party (PKI). In the big-budget film, communists are depicted as godless savages who mutilated military officers in a frenzy.
Under the New Order regime, the movie was made mandatory viewing and was broadcast on public television annually on the night of Sept. 30.
Topics :
Join the discussions