Lawmakers want discussion on 1965 purge banned
Nurul Fitri Ramadhani and Margareth Aritonang

The Jakarta Post
Jakarta |

Mon, September 18, 2017

| 04:22 pm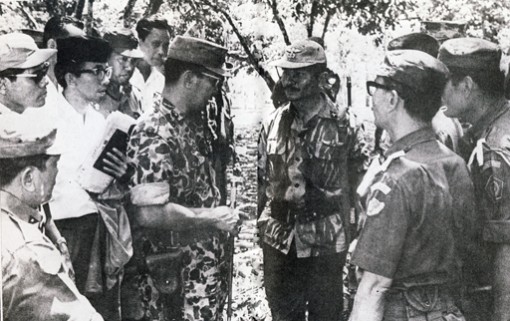 A dark history -- Maj. Gen. Soeharto briefs members of the Army's Special Forces (RPKAD, now Kopassus) prior to the removal of the bodies of the Army generals who were murdered during an alleged coup attempt on Sept. 30, 1965, which was blamed on the now defunct Indonesian Communist Party (PKI). As the most senior military officer available at the time, Soeharto led all the operations to restore security and impose order in the aftermath of the alleged attempt. (JP/30 Tahun Indonesia Merdeka/File)
Several lawmakers are calling for a total ban on discussion pertaining to the 1965 communist purge to prevent friction in society following a mob attack on the Foundation of the Indonesian Legal Aid Institute (YLBHI) in Jakarta on Monday morning.
Teuku Taufiqulhadi, a lawmaker from the NasDem Party, has pinned the blame on human rights activists for the mob attack, saying the activists had acted "insensitive" by initiating a public gathering on Sunday to protest the police's decision to block a discussion on the 1965 purge at YLBHI a day earlier.
"The human rights activists' insistence to hold the gathering provoked members of the public to commit violence," Taufiqulhadi told the press on Monday.
The lawmaker from House of Representatives Commission III overseeing law and human rights said he supported the initiative to end "unresolved matters" from the country's dark past. "But we must know the limit to how far we must to reveal what happened then," he added.
A group of people claiming to be anticommunists besieged the YLBHI early on Monday over false accusations that the gathering held inside the building on Sunday was being attended by supporters of the now defunct Indonesian Communist Party (PKI).
Tension escalated as the mob demanded to go inside, forcing the police to evacuate the participants to the nearby National Commission on Human Rights (Komnas HAM) before they could finally return home.
Syarief Hasan of the Democratic Party said police should have broken up the gathering in the first place to maintain security.
"Breaking up the gathering, or other communism-themed gatherings, doesn't mean the government has violated democracy," Syarief said. "It is necessary to avoid tension that might put anyone in danger".
The lawmaker stressed, "Communism is banned here. Thus the government must uphold that policy". (ary)
Topics :
Join the discussions