School students learn history of 1965 communist treachery through drama
Aman Rochman

The Jakarta Post
Malang, East Java |

Sun, October 1, 2017

| 01:10 pm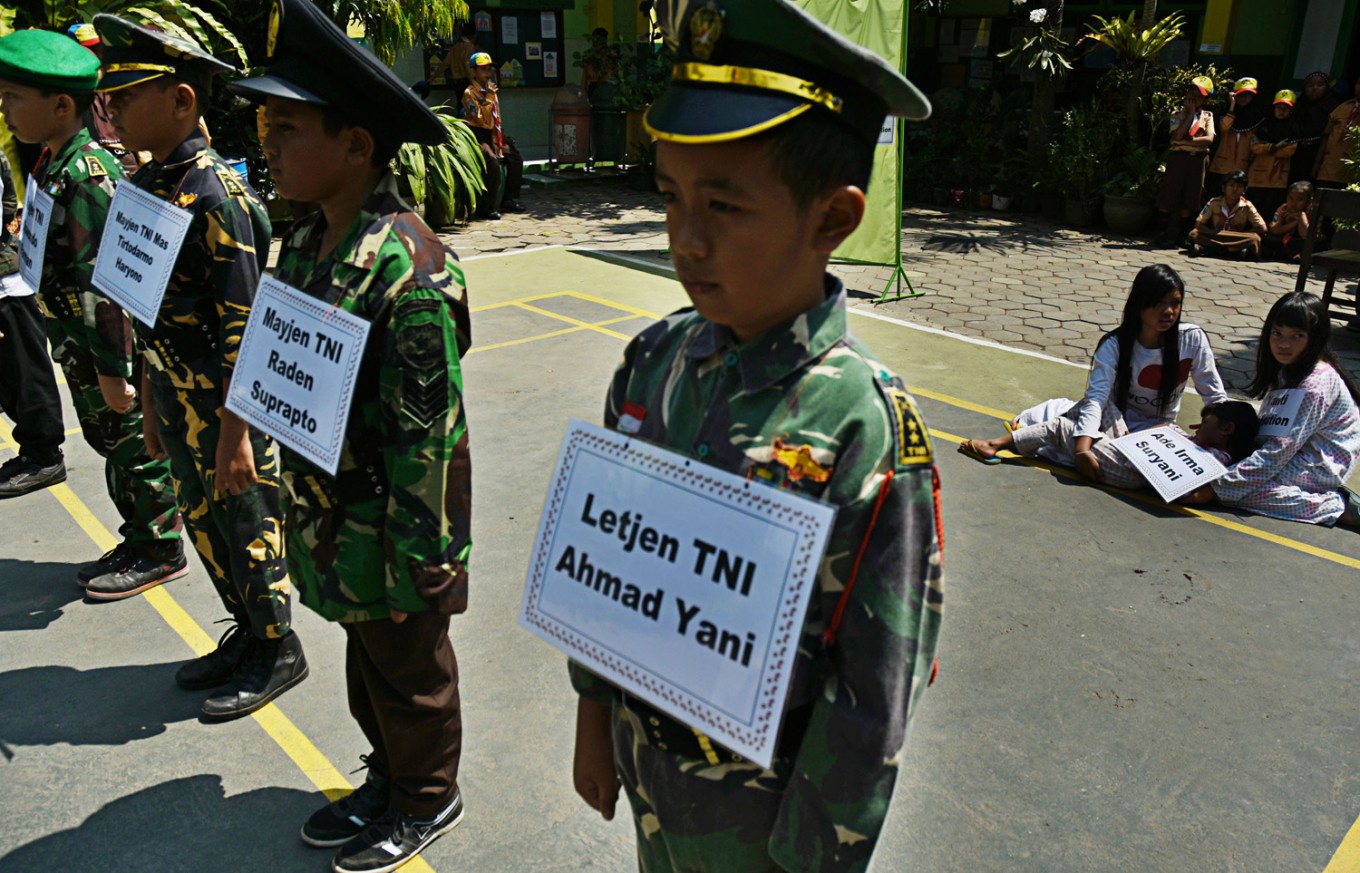 Learning history: Students of elementary school SD 1 Dinoyo in Malang, East Java, on Friday act in a drama to commemorate the coup attempt perpetrated by the Indonesian Communist Party (PKI) in 1965. (JP/Aman Rochman)
Students of elementary school SD 1 Dinoyo in Malang, East Java, on Friday acted in a drama that resembled the death of Ade Irma Suryani Nasution in a controversial coup attempt perpetrated by the Indonesian Communist Party (PKI) in 1965.
Through the drama, the students were encouraged to learn about the historical event called the September 30 Movement (G30S) following the recent directive by Education and Culture Minister Muhadjir Effendy, who called on Indonesian students not to watch the Pemberontakan G30S/PKI (The Treachery of G30S/PKI) movie.
Teacher Joko Raharjo said the drama was part of the school's activities to introduce the history of the nation to their students.
"We can understand Pak Muhadjir's suggestion, which may come from his concern that the movie is not suitable for children. We must find another way to teach our students about what happened in 1965. That's why we asked our students to act in a drama, which portrays the death of Ade Irma Suryani Nasution, who was still five years old that year," said Joko.
He referred to the daughter of late Gen.Abdul Haris Nasution. The Army general survived after being abducted by members of the PKI on Sept. 30, 1965, but his daughter was shot and killed.
Joko further said the drama was created to respond to questions raised by the school's students on the 1965 event. "They have often asked us who is Lt.Gen.MT Haryono, whose name is used on a street where our school is located," he said. The plot of the drama was developed as suitable for children. (ebf)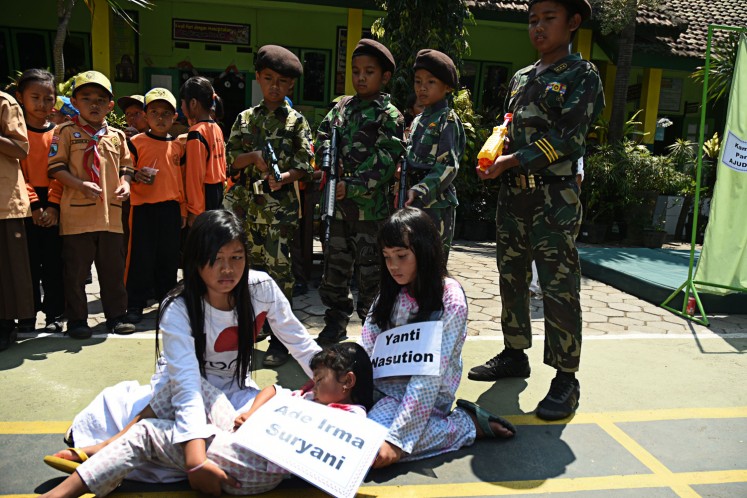 Fun learning: Students of elementary school SD 1 Dinoyo in Malang, East Java, on Friday act in a drama resembling the death of Ade Irma Suryani Nasution during the 1965 communist coup attempt. (JP/Aman Rochman)
Topics :
Join the discussions