Spain, Catalan into the unknown as leader suspends independence
Daniel Bosque and Patrick Galey

Agence France-Presse
Barcelona, Spain |

Wed, October 11, 2017

| 12:21 pm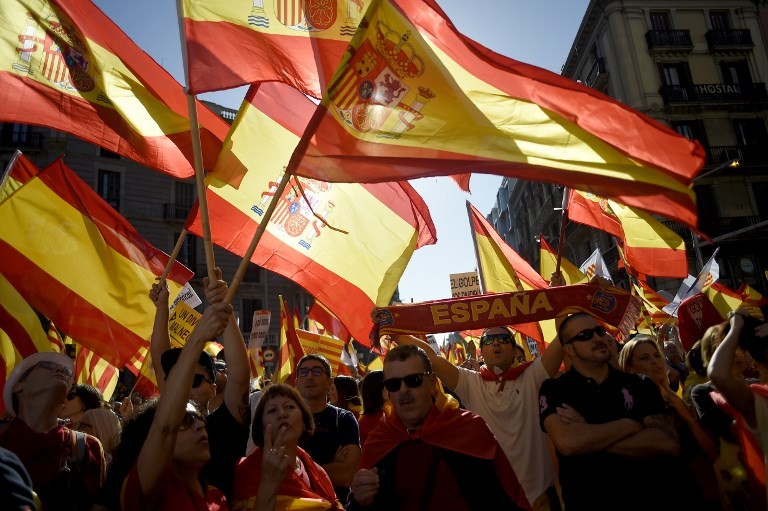 People wave Spanish flags during a demonstration called by pro-Spain groups late last week. (Agence France -Presse/Jorge Guerero)
Spain's government prepared to hold crisis talks on Wednesday after Catalan leaders signed a suspended declaration of independence and called for negotiations with Madrid.
Prime Minister Mariano Rajoy will chair an emergency cabinet meeting in response to Catalan leader Carles Puigdemont's announcement on Tuesday that he had accepted "the mandate of the people for Catalonia to become an independent republic" following a banned referendum earlier this month.
Rajoy has vowed to use everything in his power to prevent independence and has refused to rule out imposing direct rule over the semi-autonomous region -- an unprecedented move many fear could lead to unrest.
At stake is the future of a region of 7.5 million people, one of Spain's economic powerhouses, whose drive to break away has raised concern for stability in the European Union.
Crowds of thousands gathered outside the parliament building in Barcelona on Tuesday evening, waving Catalan flags and banners screaming "democracy" in the hope of witnessing a historic night in a region that remains deeply divided over independence.
Political leaders in Catalonia, Spain and Europe have come out against secession, concerned over the country's biggest upheaval since its transition to democracy in the 1970s.
But Spain's political establishment rounded on Puigdemont following the declaration, and support among separatists in Catalonia was mixed.
Deputy prime minister Soraya Saenz de Santamaria told reporters shortly after the signing that Puigdemont was "a person who doesn't know where he is, where he's going or with whom he wants to go".
Barcelona resident Maria Rosa Bertran said she was against a delayed secession.
"I find it even worse because it is suffering a longer agony. Indecision and uncertainty is the worst thing that can happen to us," she told AFP.
Puigdemont and his allies signed an independence declaration outside the parliament chamber, but he then suspended it and again called for dialogue, a regional government spokesman told AFP.
Spain and Catalonia now enter into the unknown, as Madrid has repeatedly said independence is not up for discussion.
Marc Cazes, a student in Barcelona, said: "I did not expect independence to be declared today because of all the processes that the government of Spain has begun, both with police actions and with threats."
Topics :
Join the discussions