Mobile services for people wanting to get e-IDs
Ivany Atina Arbi

The Jakarta Post
Jakarta |

Fri, October 20, 2017

| 06:51 pm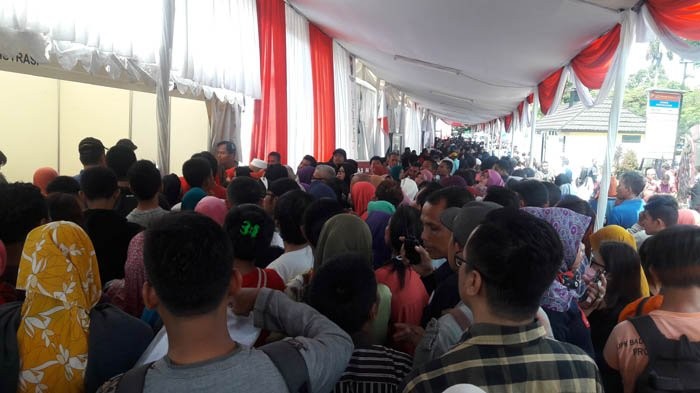 Long lines are seen at Nusantara Expo exhibition in Taman Mini Indonesia Indah cultural park in East Jakarta, where a booth processed e-ID card applications, on Friday. Some 2,000 Jakartans had registered at the booth as of Thursday. (Warta Kota/Joko Supriyanto)
The Jakarta administration is boosting its efforts to ensure all eligible Jakarta citizens get e-ID cards by, among other means, operating mobile card-processing services.
The Jakarta Population and Civil Registration Agency head Edison Sianturi said on Friday that the services would be operated in five municipalities across Jakarta every Saturday, starting Oct. 28.
"People need not go to TMII to process the e-IDs because our human resources there are limited," he said referring to Jakartans who flocked to a special booth located in the Nusantara Expo exhibition at Taman Mini Indonesia Indah (TMII) cultural park in East Jakarta, starting from Oct. 18 to Oct. 22.
"We will operate two cars in each municipality," Edison told The Jakarta Post.
Roughly 2,000 people had registered at the TMII booth as of Thursday, but only 1,386 of them had received the cards. The remaining 700 people could not get the cards as the agency needed to check that their data was not registered in other regions, wartakota.tribunnews.com reported.
Hundreds of people stood in long lines in front of the agency's booth despite the rain.
The e-ID corruption case, which has seen Golkar Party chairman Setya Novanto named a suspect, has hampered the process of distributing e-IDs in the country, including the capital city.
Of 7.72 million Jakarta citizens that should have e-IDs, only around 7 million of them already have the cards.
Join the discussions