Papua gets more Brimob personnel as post-election security concerns remain
Nethy Dharma Somba

The Jakarta Post
Jayapura, Papua |

Tue, October 24, 2017

| 03:30 pm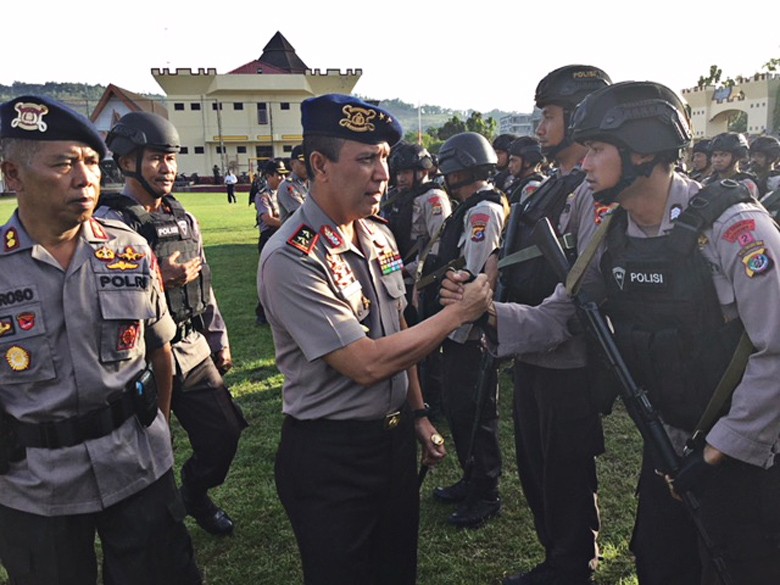 All set: Papua Police chief Insp. Gen. Boy Rafli Amar greets a member of the Mobile Brigade from the North Maluku Police during a ceremony in Jayapura on Oct.23. (JP/Nethy Dharma Somba)
Papua has received an additional 400 Mobile Brigade personnel to secure its two regencies, Intan Jaya and Tolikara, as security incidents related to the elections of regional heads held simultaneously in 11 regencies and municipalities across the province on Feb.15 continue.
Two hundred Brimob personnel from the South Sulawesi Police will be deployed to Intan Jaya regency while 200 other personnel from the East Nusa Tenggara (NTT) Police and the North Maluku Police will be dispatched to Tolikara regency.
Although the Constitutional Court (MK) has declared the winner of the election for Intan Jaya regent and deputy regent, the elected pair has not yet been inaugurated. Meanwhile, the elected Tolikara regent and deputy regent were inaugurated on Oct.16.
Papua Police chief Insp.Gen. Boy Rafli Amar said the security situation in Intan Jaya and Tolikara had not yet been fully calmed because supporters of the defeated candidates could not yet accept the election results. Protest rallies had still occurred in the two regencies. Road blockades continued in Tolikara.
"Although the elections have ended, the MK has issued its ruling on the elections, and the elected regents and deputy regents have been inaugurated, we are still facing protests by several societal groups who are disappointed with the results of the elections," said Rafli, during a ceremony to mark the arrival of 200 Brimob personnel from the NTT Police and the North Maluku Police at Kotaraja Brimob Field in Jayapura on Monday.
Rafli said the security measures taken would put forward a dialogue and efforts to prevent horizontal conflicts. (dra/ebf)
Join the discussions