Muslim scholar starts crowdfunding for first 'pesantren' in US
Nurul Fitri Ramadhani

The Jakarta Post
Jakarta |

Tue, November 14, 2017

| 02:39 pm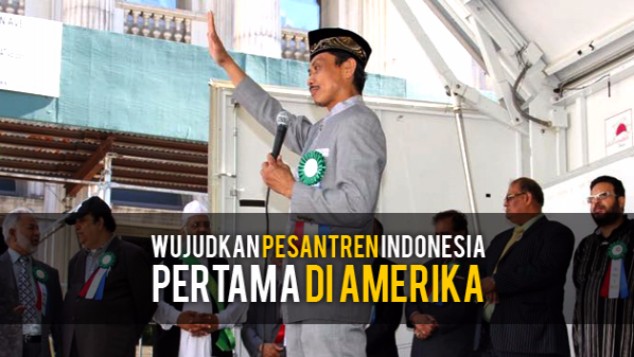 Shamsi Ali appears in this undated handout photo on his crowdfunding plan to establish the first Indonesian 'pesantren', or Islamic boarding school, in the United States. (Photo courtesy of/Kitabisa.com)
Shamsi Ali, an Indonesian national and respected Muslim scholar who lives in New York, has started an online crowdfunding campaign to build the first ever Indonesian pesantren, or Islamic boarding school, in the United States.
Shamsi plans to name the school Pondok Nusantara Madani USA. In order to realize his plan, the Bulukumba, South Sulawesi native is calling upon his fellow Indonesian Muslims to donate through his Nusantara Foundation or the Indonesian crowdfunding platform, Kitabisa.com.
The prominent religious figure, who served as imam from 2001-2011 of The Islamic Cultural Center of New York, the largest mosque in New York City, and who is known for promoting moderate Islam and interfaith dialog, stressed that it was important to gather support to establish an Islamic school founded on Indonesia's moderate Islam in the US.
"There is still no Islamic education center in the US that is managed by Indonesian Muslims, when we actually have a more unique ways of dakwah [religious proselytizing] than Muslim communities from Pakistan or Middle Eastern countries," Shamsi said in a written statement published on Monday on Kitabisa.com.
He has found a location for the planned boarding school, on a 7.4-hectare plot of land in the East Coast state of Connecticut. However, he said, as he had very limited time to pay for the land, he hoped Indonesian people would be willing to donate.
"I have spoken to the landlord, and I have until the end of November to give them full payment. Otherwise, he will give the land to another party," Shamsi said.
The total funds needed to establish the school is around US$1 million, of which $750,000 will be used to pay for the land and the rest for land clearing and development.
The fundraiser's communication team said in the statement that it had collected around Rp 761 million ($56,216) from 530 donors so far through its Kitabisa.com/pesantrenamerika crowdfunding page. (rin)
Join the discussions