Siliwangi military command initiates Citarum River rehabilitation
Arya Dipa

The Jakarta Post
Bandung, West Java |

Tue, December 5, 2017

| 05:03 pm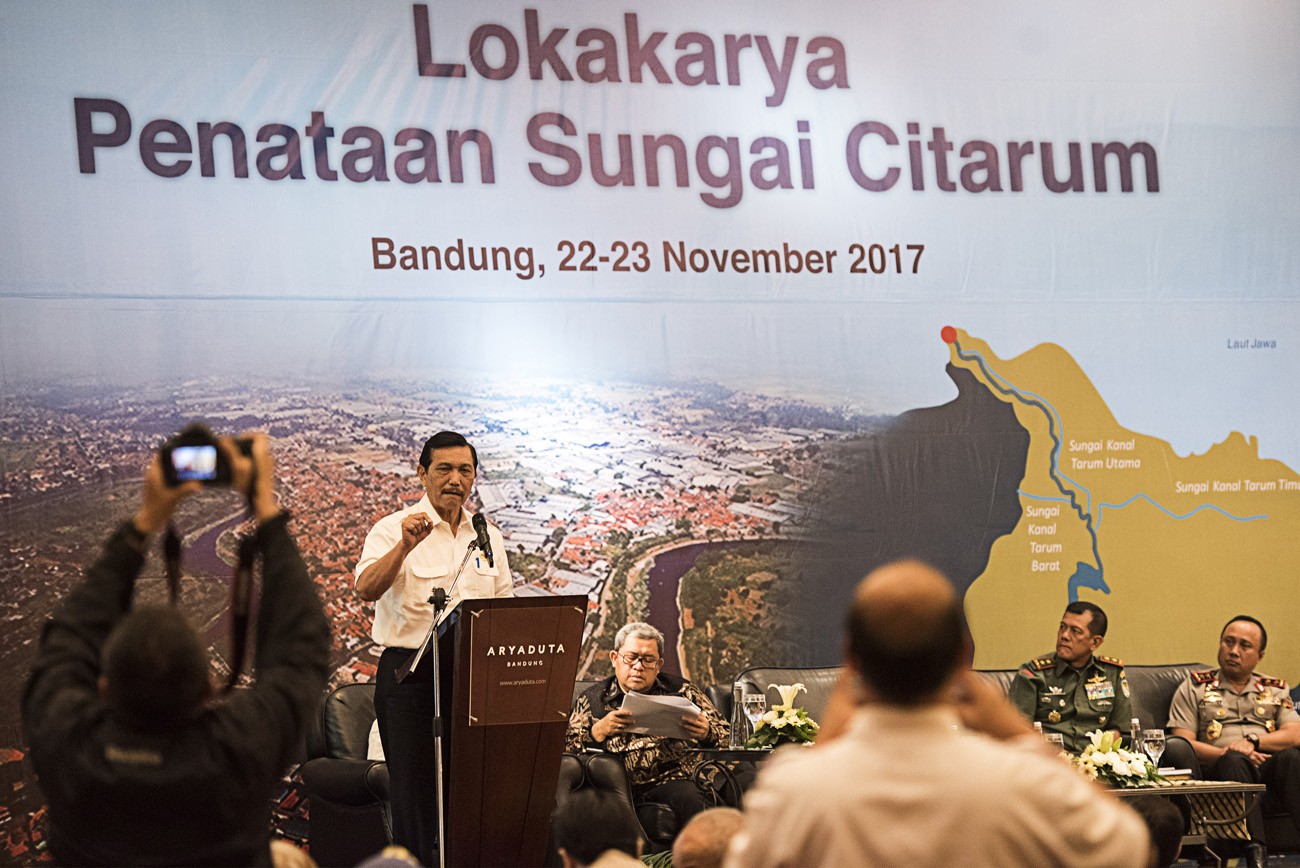 Protecting the environment: Coordinating Maritime Affairs Minister Luhut Pandjaitan (center) speaks at a workshop on the rehabilitation of Citarum River in Bandung, West Java, held from Nov.22 to Nov.23. Maj. Gen. Doni Monardo, the newly installed commander of the Military Area Command (Kodam) III/Siliwangi, attended the meeting. (Antara/M.Agung Rajasa)
Maj. Gen. Doni Monardo, the newly installed commander of the Military Area Command (Kodam) III/Siliwangi in Bandung, West Java, has started his job by urging all elements of society to cooperate to rehabilitate the damaged environment in the province, especially the Citarum River Basin.
He had held at least seven meetings with related stakeholders to discuss the Citarum River rehabilitation plan.
Doni said the river, which has its upper reaches at Situ Cisanti in Bandung regency, flowed along 269 kilometers and supplied 80 percent of the raw water for Jakarta and its surrounding areas. The river is now in a critical condition, he said.
Doni went on to say that such a situation was worrying and dangerous for 24 million people who lived along the riverbank. The Citarum River is the source of water for 4,200 hectares of paddy fields in Karawang, he said. Once it is polluted, it is very likely that the rice produced will contain poisonous substances.
"Contamination with hazardous and toxic waste is dangerous. The mercury contamination level in the river has been above normal," said Doni on Sunday.
"We need a centralized command. I hope the West Java governor [Ahmad Heryawan] would coordinate all related parties so that we could work together for the sake of Citarum River."
Citarum-Ciliwung Riverside and Protected Forest Management Agency chairman, Djonli, said the condition of the forest near Citarum River had been getting worse in recent years. Only 13 percent of the 660-hectares is still covered with trees. "It should be at least 30 percent." (vla/ebf )
Topics :
Join the discussions