Timing of massive TNI rotation raises questions, expert says
News Desk

The Jakarta Post
Jakarta |

Wed, December 6, 2017

| 03:49 pm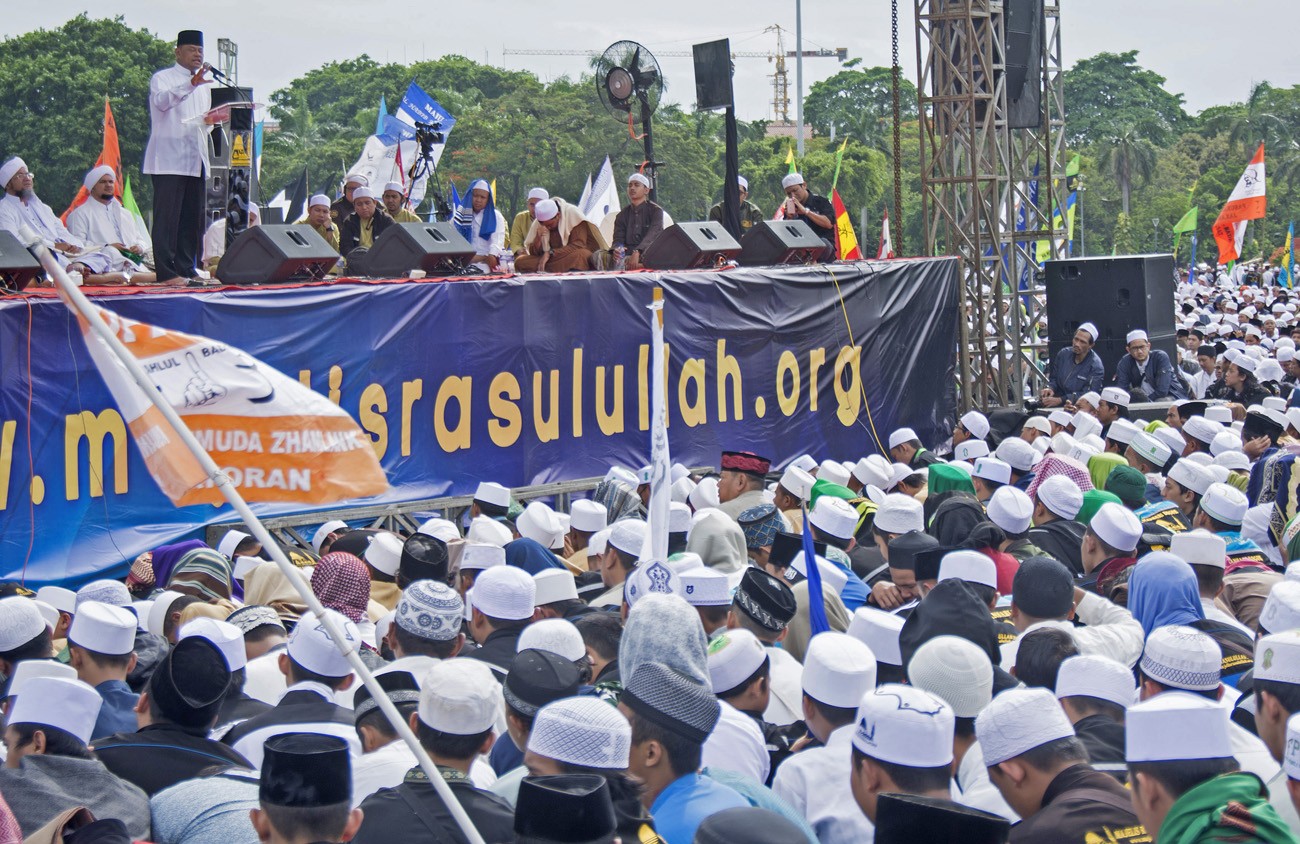 Staying firm: Indonesian Military (TNI) commander Gen. Gatot Nurmantyo speaks in front of sympathizers and followers of Islamic mass organizations during the celebration of 'Maulid Nabi' (the birth of the Prophet Muhammad) at the National Monument complex in Jakarta on Dec. 1. (Antara/Aprillio Akbar)
Military expert Mufti Makarim said the process to rotate 85 Indonesian Military (TNI) senior officers revealed in a letter dated Dec. 4 might have started several months ago.
"It's a long process. So, there is nothing political about this," he told The Jakarta Post on Wednesday.
However, Mufti said, the timing of the rotation of the high-ranking military officials did raise questions.
"The commander must clearly explain the reassignment so that the public will not make certain assumptions," Mufti said, referring to TNI commander Gen. Gatot Nurmantyo.
It is also particularly important for Gatot to clarify the process he had taken to reassign officers who would hold strategic command positions, he went on.
"Otherwise there might be a sense that Gatot aims to put 'his people' on important posts, making it harder for Hadi to deal with them," Mufti said.
(Read also: TNI Commander orders massive reshuffle ahead of April retirement)
As reported earlier, Gatot signed a letter on Monday on the reassignment of 85 senior military officers, only a few months before his retirement in March. The 85 officers comprise 46 Army officers, 28 Navy officers and 11 others from the Air Force.
The reassignment comes on the heels of the announcement of Air Chief Marshal Hadi Tjahjanto as Gatot's possible successor. President Joko "Jokowi" Widodo submitted a letter to the House of Representatives on Monday, informing his plan for Gatot's replacement with the Air Force Chief of Staff.
Gatot said as quoted by kompas.com on Wednesday that he had signed the rotation letter before he learned about Jokowi's letter. (kmt/ebf)
Join the discussions