Dynastic politics haunts regional elections
Panca Nugraha

The Jakarta Post
Mataram/Jakarta |

Fri, January 12, 2018

| 03:30 pm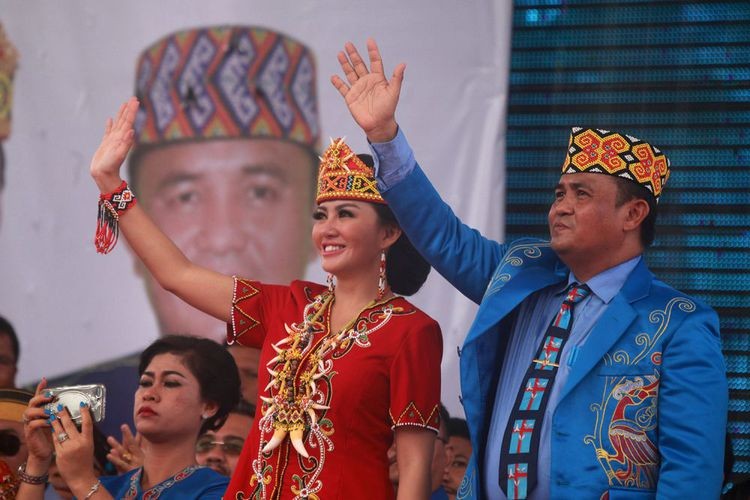 Karolin Margret Natasa (left), who is running in the West Kalimantan gubernatorial race, and her running mate Suryadman Gidot (right), wave at their supporters during an event in Pontianak, the province's capital, on Wednesday, Jan. 1, 2018. (kompas.com/Yohanes Kurnia Irawan)
Dynastic politics may haunt the 2018 regional elections with a considerable number of candidates related to incumbent or former regional heads committed to running as registration closed on Wednesday.
For instance, in West Nusa Tenggara (NTB), incumbent Governor Zainul Majdi's elder sister, Sitti Rohmi Djalilah, is running for the deputy governor post accompanying governor candidate Zulkieflimansyah.
Campaign team member Muhammad Nasip Ikroman, however, insisted that Sitti was nominated through a democratic process.
"This is not dynastic politics. Dynastic politics uses all kinds of means, including forcing the nomination of an incapable candidate. Sitti is capable of running, regardless of the fact she is related to the incumbent governor," Ikroman said on Friday.
Daughter of incumbent West Kalimantan Governor Cornelis, Karolin Margret Natasa, who is running for her father's post this election, also dismissed the notion of playing the political dynasty card.
She said her candidacy, supported by the ruling Indonesian Democratic Party of Struggle (PDI-P), was the result of the party's regeneration process.
"My candidacy was not decided out of nowhere. It was the result of party regeneration," she said on Thursday, as quoted by kompas.com.
Constitutional law expert Feri Amsari said that dynastic politics had a detrimental effect on democracy, especially in developing countries like Indonesia where citizens were less knowledgeable about democratic processes.
"Certain groups and certain families take advantage of this lack of awareness to block others from the [election] process," he told The Jakarta Post. "This results in leadership that puts family interests above the public good." (nmn/kmt/ipa)
Topics :
Join the discussions