Bogor resident has to part with 200-kg crocodile pet after 21 years
News Desk

The Jakarta Post
Bogor |

Mon, February 5, 2018

| 12:46 pm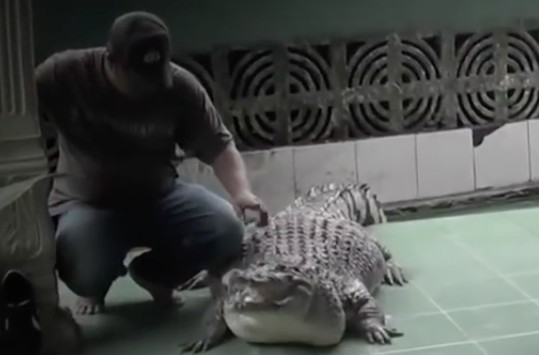 A 200-kilogram crocodile named Kojeg plays with its owner, Muhammad Irwan, in Bogor, West Java, in an undated video screen capture. (Youtube screen capture/File)
A Bogor resident has to say goodbye to his two-decade-old pet, a 200-kilogram estuarine crocodile named Kojeg.
Muhammad Irwan, however, will still be able to meet Kojeg at its new home at the Taman Safari Indonesia conservation park in Bogor, West Java.
Kojeg will be in the hands of the West Java Natural Resources Conservation Agency (BKSDA), which was tasked with moving the reptile on Sunday.
The authorities were alerted to the case by footage that went viral on the internet, showing Kojeg being washed and having its teeth brushed by Irwan.
The video earned Kojeg international attention, with journalists from foreign media outlets coming for an interview.
Then came the BKSDA, explaining that Kojeg was of a protected species that may not be kept as a pet.
"We evacuated Kojeg after Irwan, its owner, wholeheartedly accepted handing Kojeg over to the state," BKSDA investigator Adjat Sudrajat was quoted as saying by news agency Antara on Sunday.
Irwan rescued Kojeg from children who planned to harm the animal by paying them Rp 30,000 21 years ago.
"I have a strong bond with this crocodile ever since it was only the size of a gecko," said Irwan.
Irwan believes Kojeg will adapt easily to a new environment.
"Kojeg is a domesticated crocodile and familiar with seeing many people. So, I think it is better for Kojeg to be at a conservation site rather than being released in the wild," he said.
Khedi, an officer with the BKSDA, said that weighing 200 kg at a length of 2.75 meters, Kojeg was considered obese.
Irwan used to feed Kojeg twice a week, every Saturday and Sunday. For each meal, Kojeg would consume 2 kg of black goldfish.
"Obesity is dangerous for the animal, as it will weaken its metabolism," said Khedi, "so we will give Kojeg a specific diet at the rehab center."
Kojeg also needed to work out, Khedi added.
"Kojeg will get a wide space for exercising in quarantine. And subsequently, the exercise will grow back its natural instinct as a predator," he said, adding that the crocodile would be in quarantine for at least one month. (srs)
Topics :
Join the discussions