Govt revokes controversial research policy, set to gather 'input'
Moses Ompusunggu

The Jakarta Post
Jakarta |

Wed, February 7, 2018

| 11:12 am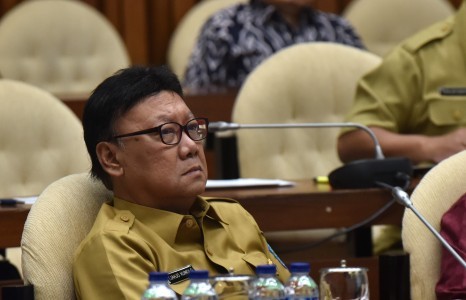 Home Affairs Minister Tjahjo Kumolo appears in this May 30, 2017 file photograph taken during a House of Representatives hearing. (Antara/Wahyu Putro A. )
Home Minister Tjahjo Kumolo voided late on Tuesday a much-maligned regulation aimed at screening research projects that carried "negative impacts" on the country, in an about-face that came only hours after he had defended the policy.
Issued on Jan. 17, Home Ministry Regulation No. 3/2018 on the research information letter (SKP) allowed authorities to assess the "potential negative impacts" of a particular research project, a mechanism that resembled the Environmental Impact Analysis (Amdal) requirement for businesses that could harm the environment.
The 2018 regulation obliged researchers – individuals or groups – to report their research results to the Home Ministry, replacing a 2014 regulation that only obliged researchers to report to local administration officials that would then issue a research recommendation.
In an official statement published on the Home Ministry's website, Tjahjo said the country would revert to the previous 2014 regulation, citing the need to absorb "the aspirations from various parties" like academics, research institutions and the legislature before issuing a new regulation on the matter.
The ministry will convene a focus group on Feb. 8 to gather advice it will use as a basis for the upcoming regulation, the statement read.
The government aims to remain vigilant with regard to "negative impacts that could possibly stem from research and are not the subject of research," as stipulated in the overturned 2018 regulation.
The Home Ministry's director general for Politics and General Governance, Soedarmo, admitted that no detailed explanations had been provided as to what the government deemed were "negative impacts".
Soedarmo said academics had not been involved in drafting the 2018 regulation, adding that the ministry had not disseminated the controversial regulation among academia.
Earlier, academics who had learned of the 2018 regulation censured the provision on "negative impact of research projects," saying the government had no right to determine the impact of scientific research.
Rustam Ibrahim, former director of the Institute of Economic and Social Studies and Development (LP3ES), called the regulation a "legacy of the New Order era" under the late Suharto that "should not be in place anymore during the era of reform and democracy".
On Tuesday, the Home Ministry's legal bureau chief, Widodo Sigit Pudjianto, defended the new regulation as a means to simplify the work of researchers in Indonesia, saying that the SKP would ensure that the country reaped the "benefits of research".
"Topics that could divide society, such as 'should the country change its basis from Pancasila to something like the HTI wanted', are clearly prohibited," Widodo said on Tuesday, referring to the banned radical Islamic group Hizbut Tahrir Indonesia. (ahw)
Topics :
Join the discussions