Setya's former lawyer indicted for obstruction of justice
Kharishar Kahfi

The Jakarta Post
Jakarta |

Thu, February 8, 2018

| 12:42 pm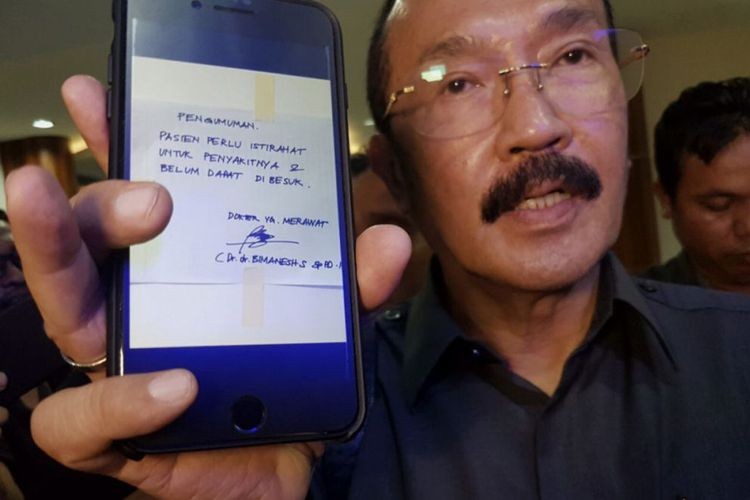 Fredrich Yunadi, a former lawyer of graft defendant and politician Setya Novanto, shows a picture of a doctor's note on Nov. 16, 2017. The note said nobody was allowed to visit Setya, who was under medical treatment at Medika Pemata Hijau Hospital in Jakarta at the time. (Kompas.com/Yoga Sukmana)
Corruption Eradication Commission (KPK) prosecutors have indicted Fredrich Yunadi, a former attorney of graft defendant Setya Novanto, for obstructing the antigraft body's investigation against his former client in a graft case related to the e-ID card procurement project.
"[The defendant] has been accused of manipulation to enable Setya Novanto to be admitted to Medika Permata Hijau Hospital in order to evade KPK questioning," prosecutor Fitroh Rohcahyanto read out the indictment.
On Nov. 16, the defendant allegedly asked for help from his acquaintance Bimanesh Sutarjo, a doctor working in the hospital, to have Setya admitted to the hospital for hypertension. Fredrich presented a picture of Setya's medical record from Premier Jatinegara Hospital, where Setya had previously been treated.
"However, there was no reference letter from Premier Jatinegara Hospital to any other hospital," Fitroh went on to say.
Later that day, Fredrich reportedly asked doctors to change the diagnosis to road accident, although such an accident had yet to occur. The lawyer also managed to reserve all VIP rooms at the hospital under Setya's name.
KPK investigators raided Setya's house on Nov. 15 to arrest him after he had failed to respond to the agency's summonses. However, Setya was absent, as he had reportedly gone to Bogor, West Java, with his adjutant Reza Pahlevi and Golkar politician Aziz Samual.
A day later, he was involved in an accident, when the car he was in hit an electricity pole. He was admitted to Medika Permata Hijau Hospital before eventually being detained by the KPK on Nov. 19.
The antigraft body has also named Bimanesh a suspect in the case. (ahw)
Join the discussions