Father of kidnapped Argentine girl attempts to commit suicide
Andi Hajramurni

The Jakarta Post
Makassar, South Sulawesi |

Wed, February 14, 2018

| 06:15 pm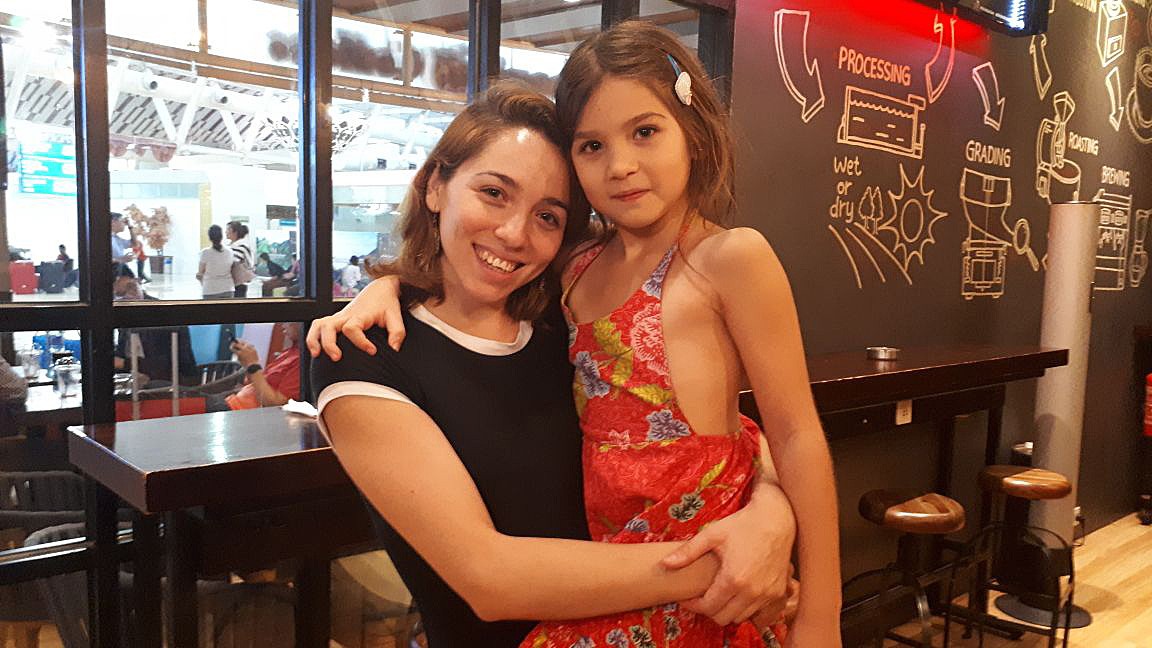 Reunited: Elisabeth Avalos (left) takes a picture with her daughter, Alum Langone Avalos, 7, in a lounge at Sultan Hasanuddin International Airport in Makassar, South Sulawesi, last week, before flying to Jakarta. (Courtesy of the South Sulawesi Police/File)
Jorge Gabriel Langone, 42, an Argentine accused of kidnapping his daughter, Alum Langone Avalos, 7, reportedly attempted to commit suicide on Tuesday morning.
Langone, who has been detained at the Makassar Immigration Office detention center, reportedly slashed his wrist with a broken bottle. He was rushed to Wahidin Sudirohusodo Hospital in Makassar, South Sulawesi, where he is still being treated.
Makassar Immigration Office head Andi Pallawarukka said on Wednesday that Langone had attempted to end his life as he did not want to be repatriated.
"The Argentinian Embassy in Jakarta scheduled Jorge's and his female friend's repatriation on Thursday, but he did not want to return to Argentina," he said.
Pallawarukka said Langone would be deported to Argentina and face legal action for taking Alum out of Argentina without the consent of her mother, Elisabeth Avalos, in June last year.
Langone and his female companion, Candela Soledad Guetereez, 33, were arrested in North Toraja, South Sulawesi, last Tuesday. He was arrested by Makassar immigration officers for entering Indonesia without a visa.
"We will take them to Jakarta, from where they will be flown to Argentina. The Argentinian Embassy has provided their tickets," said Pallawarukka. (ebf)
Join the discussions