Bekasi residents depart earlier to avoid odd-even policy
News Desk

The Jakarta Post
Jakarta |

Mon, March 12, 2018

| 03:30 pm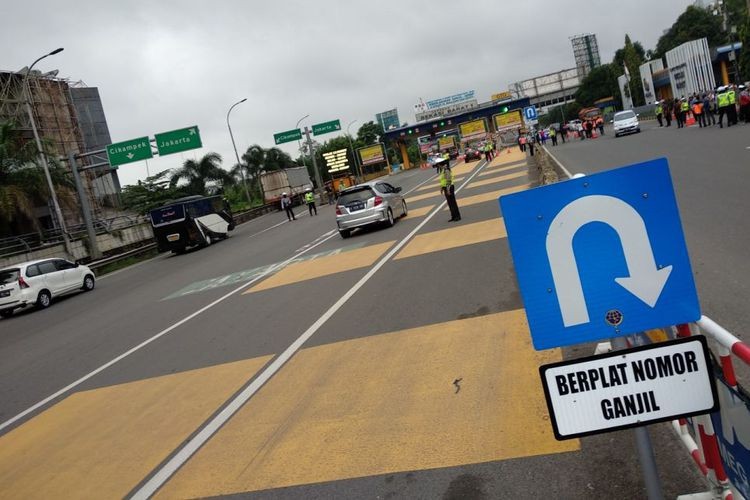 The West Bekasi toll gate on the first day of odd-even plate license policy on March 12. (kompas.com/Setyo Adi )
Many Jakarta-bound Bekasi residents traveling with their private cars have opted to depart earlier in an attempt to avoid being affected by the odd-even license plate policy at the East and West Bekasi toll gates in West Java.

"At the West Bekasi toll gate, there has been a 37 percent vehicle increase from 4 a.m. to 5 a.m. compared to normal days. Meanwhile, the most significant increase felt at the East Bekasi toll gate was from 5 a.m. to 6 a.m., when there was a 23 percent vehicle increase," State-owned toll road operator Jasa Marga's Jakarta-Cikampek subdivision general manager Raddy R. Lukman said in a statement on Monday.

The newly implemented policy, which aims to ease congestion on the crucial toll road connecting Jakarta and Cikampek in West Java, as well as reduce the number of private cars entering the gridlocked capital, came into effect on Monday after a weeks-long awareness-raising campaign.
It regulates that only cars whose license plate number ends in an odd number can pass through the toll gates on odd dates and vice-versa, from 6 a.m. to 9 a.m. on weekdays.

Raddy said the policy had greatly reduced the number of vehicles entering the toll gates during peak hours on that particular morning. Only 3,672 cars entered the Bekasi toll gate, down from 5,600 cars usually. Meanwhile, 1,545 cars entered the East Bekasi toll gate, compared to 2,400 cars normally.
The Transportation Ministry's Greater Jakarta Transportation Body (BPTJ) has prepared park-and-ride sites as well as Transjabodetabek buses to carry affected residents. The policy will last until construction work along the toll is completed.

The body had predicted that many cars would take alternative roads, such as the newly-opened Becakayu toll road, which connects Bekasi, Cawang and Kampung Melayu, as well as the Kalimalang non-toll road. (fac)
Topics :
Join the discussions