Military and police chiefs vow to maintain neutrality during elections

Balikpapan |

Wed, March 28, 2018

| 06:58 pm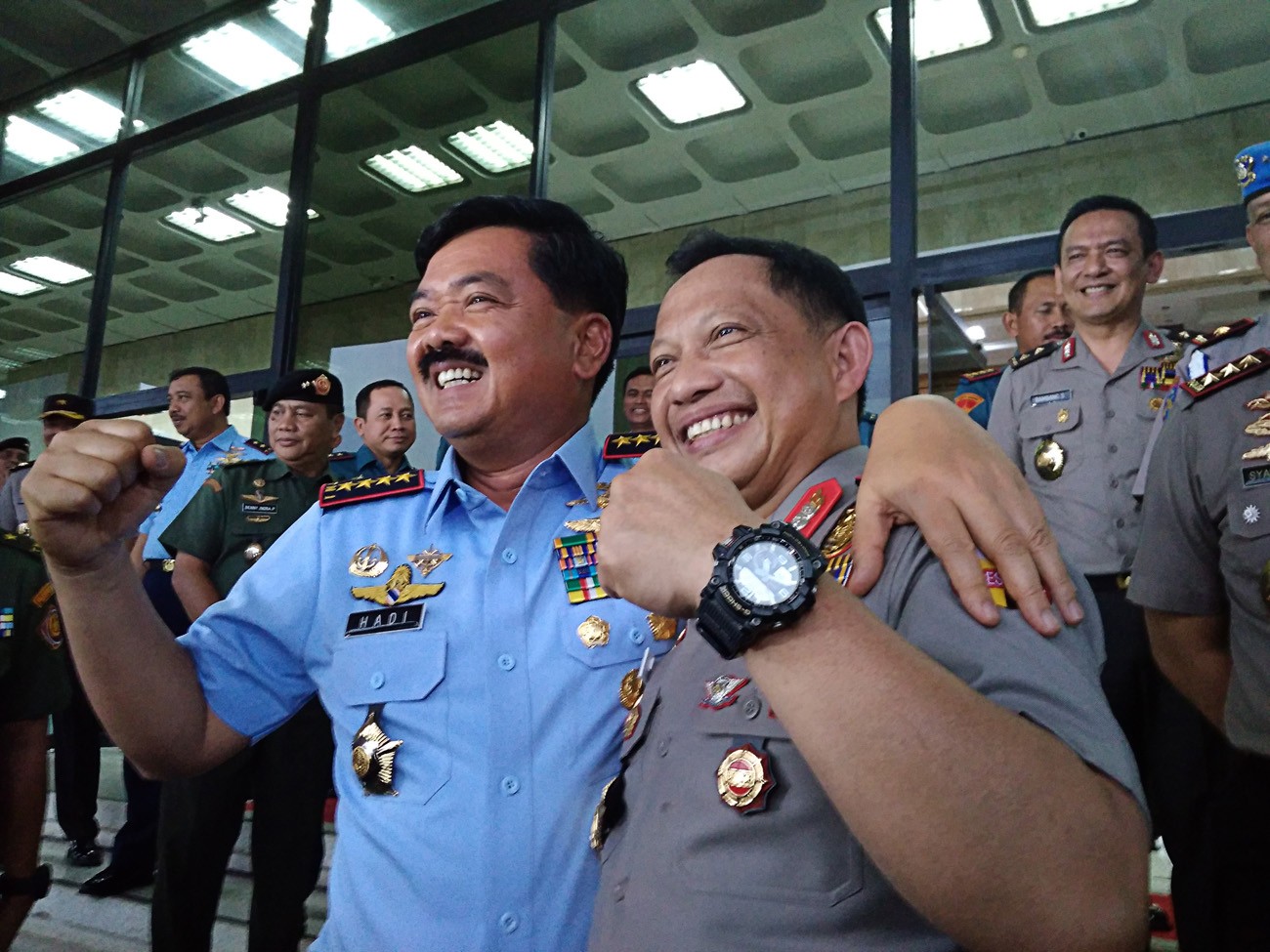 Brothers in arms: Indonesian Military (TNI) commander Air Chief Marshal Hadi Tjahjanto (left) and National Police chief Gen.Tito Karnavian (right) embrace in a show of solidarity on Dec. 11 after their meeting at the TNI headquarters in Cilangkap, East Jakarta. (JP/Andi Muhammad Ibnu Aqil)
Indonesian Military (TNI) commander Marshall Hadi Tjahjanto and National Police chief Gen. Tito Karnavian reiterated that both forces would maintain neutrality during the regional elections and national election held this year and next year.
"Soldiers and police personnel don't have voting rights. We stand with all groups to keep the security and order," Hadi said in Balikpapan, East Kalimantan, on Wednesday.
Both Hadi and Tito delivered a speech to thousands of military and police personnel during a work visit in Balikpapan ordering them to strengthen unity and cooperation between the two institutions.
With solid cooperation, the two forces can do well in securing the 2018 concurrent regional elections and 2019 legislative and presidential elections.
"We can guarantee that the elections can run smoothly and successfully," Tito said.
After the meeting in Balikpapan, Hadi and Tito continued their trip to Tarakan to visit Indonesia's border posts in Nunukan and Malinau.
President Joko "Jokowi" Widodo had previously ordered the TNI and the National Police in a joint meeting in January to maintain neutrality in the upcoming elections and to map potential conflicts that might rise during the elections.
This year, 171 regions will vote for their leaders, while next year, the legislative and presidential elections will be held concurrently for the first time. (rin)
Topics :
Join the discussions