Soekarno-Hatta world's 17th busiest airport
News Desk

The Jakarta Post
Jakarta |

Wed, April 11, 2018

| 01:42 pm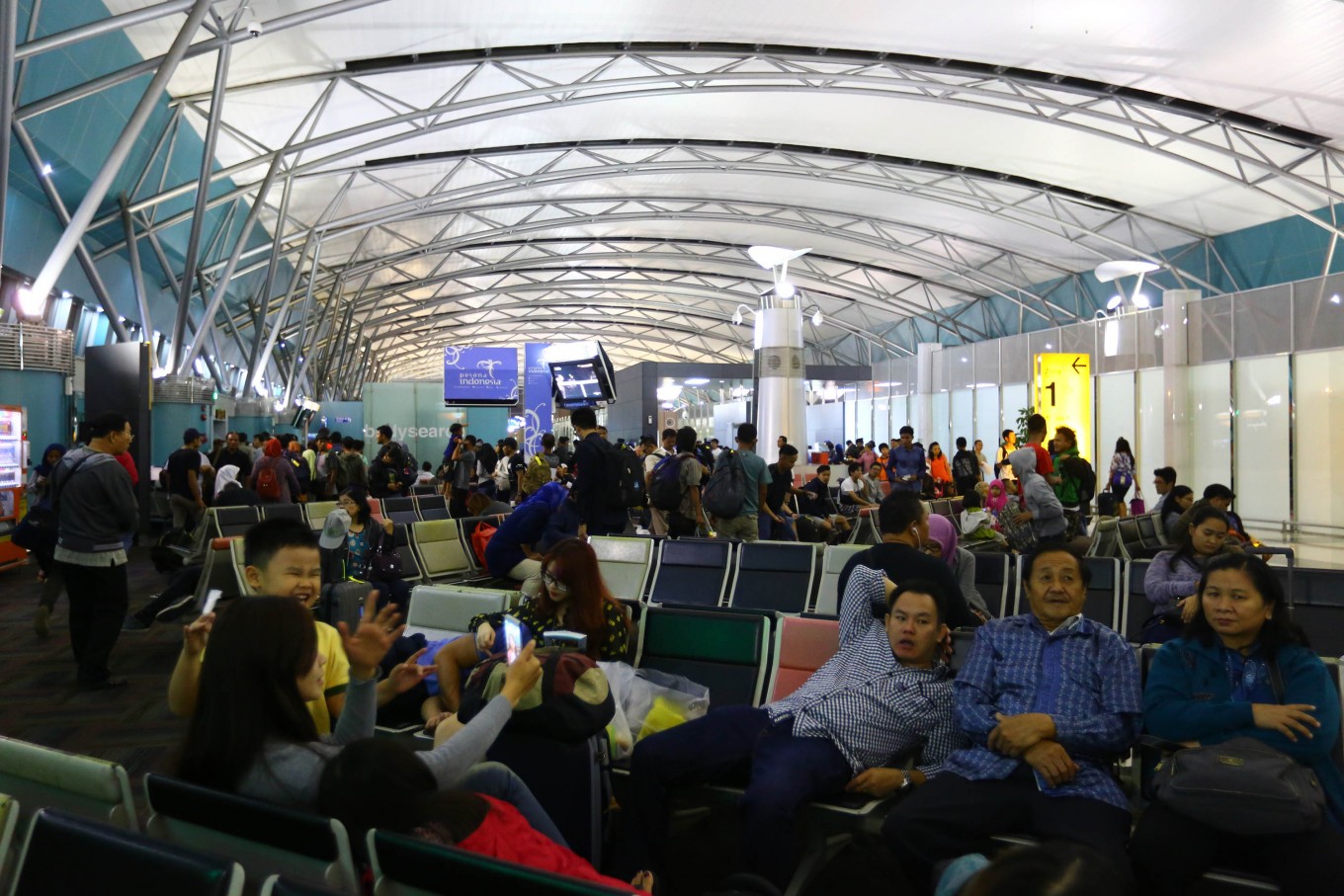 Passengers wait for their flight in Terminal 3 at Soekarno-Hatta International Airport. (The Jakarta Post/wienda parwitasari)
Soekarno-Hatta International Airport in Tangerang, Banten, is the world's 17th busiest airport, according to Airports Council International (ACI).
Based on reports from 1,202 airports worldwide, ACI's preliminary passenger traffic results for the most-traveled airports in 2017 reveal that Atlanta-Hartsfield-Jackson is the busiest airport with almost 104 million passengers annually.
Meanwhile, with 96 million passengers, Beijing Capital International Airport is in second position, followed by Dubai International Airport (88 million), Tokyo Haneda International Airport (85 million) and Los Angeles International Airport (84.6 million).
Meanwhile, Hong Kong International Airport occupies top spot as the largest air cargo handling center with more than five million metric ton of cargo handled in 2017, representing growth of 9.4 percent year-on-year, according to the ACI as reported on its website: http://www.aci.aero.
Even with the uncertainty regarding the threat of trade wars and the growth of protectionist sentiments across the world, business confidence has remained strong through inventory build-up and increased export orders in 2017, it said.
"The surge in cargo volume and passenger numbers across many of the world's airports is testament to heightened business and consumer confidence, at least in the short term," said ACI world director general Angela Gittens.
She said universal access to online retail and e-commerce platforms represents competitive pressures on traditional brick and mortar retail in certain markets, but the huge growth in e-commerce had fuelled the air cargo side of the airport business.
The world's busiest airports 2017:
1. Hartsfield-Jackson Atlanta International Airport (104 million passengers)
2. Beijing Capital International Airport (96 million)
3. Dubai International Airport (88 million)
4. Tokyo Haneda International Airport (85 million)
5. Los Angeles International Airport (84.6 million)
6. Chicago's O'Hare International Airport (80 million)
7. London Heathrow Airport (78 million)
8. Hong Kong International Airport (73 million)
9. Shanghai Pudong International Airport (70 million)
10. Aéroport de Paris-Charles de Gaulle (69 million)
11. Amsterdam Airport Schiphol (68.5 million)
12. Dallas/Fort Worth International Airport (67 million)
13. Guangzhou Bai Yun International Airport (66 million)
14. Frankfurt Am Main Airport (64.5 million)
15. Atatürk International Airport (64 million)
16. Indira Gandhi International Airport (63.5 million)
17. Soekarno-Hatta International Airport (63 million)
18. Singapore Changi Airport (62.22 million)
19. Incheon International Airport (62.16 million)
20. Denver International Airport (61 million) (bbn)
Join the discussions