Tapir to be released into natural habitat in Jambi
Jon Afrizal

The Jakarta Post
Jambi |

Thu, April 12, 2018

| 07:09 pm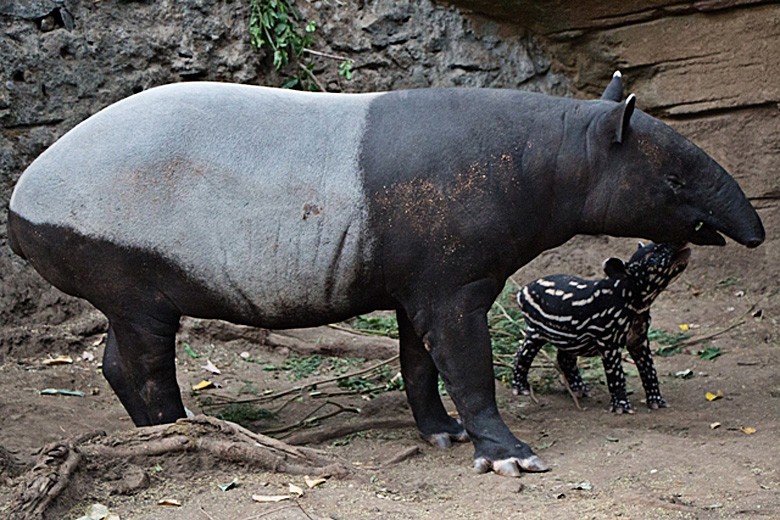 Protected species: A tapir walks around with its cub. The Jambi Natural Resources Conservation Agency (BKSDA) is set to release a tapir seized from a Suku Anak Dalam tribe member, or Orang Rimba, into a customary forest in Merangin regency. (Kompas/File)
The Jambi Natural Resources Conservation Agency (BKSDA) is set to release a tapir into a customary forest in Merangin regency. The tapir was confiscated from Egok, a member of the Suku Anak Dalam tribe, or Orang Rimba, when he was about to sell the protected species in Bangko city last week. Egok reportedly aimed to sell the animal for Rp 15 million (US$ 1,088) to a Bangko resident.
The BKSDA Jambi's Conservation Area I office head Udin Awaludin said the tapir was from an area near Manau River in Dusun Bangko sub-district, Bangko district, Merangin regency.
He said Egok had brought the tapir to Bangko city last Wednesday. "After quite a long negotiation, Egok finally agreed to hand over the tapir to us," said Udin on Wednesday.
He added that the tapir was later handed over to the BKSDA Conservation Area I office in Bangko city on Monday. The tapir was in a healthy condition when it was handed over to the office.
"The tapir is five months old. It's female and weighs around 50 kilograms," said Udin.
Based on a medical assessment they conducted, veterinarians at the Merangin Animal Husbandry and Plantation Agency suggested that the tapir needed to receive four months of treatment to ensure its condition was stable and it could adapt to living in the wild.
After handing over the tapir, Egok received financial assistance from several conservation NGOs and the Merangin Social Affairs Agency. (ebf)
Join the discussions