Rally participants asked to change t-shirts before entering CFD
Callistasia Anggun Wijaya

The Jakarta Post
Jakarta |

Sun, May 6, 2018

| 07:21 pm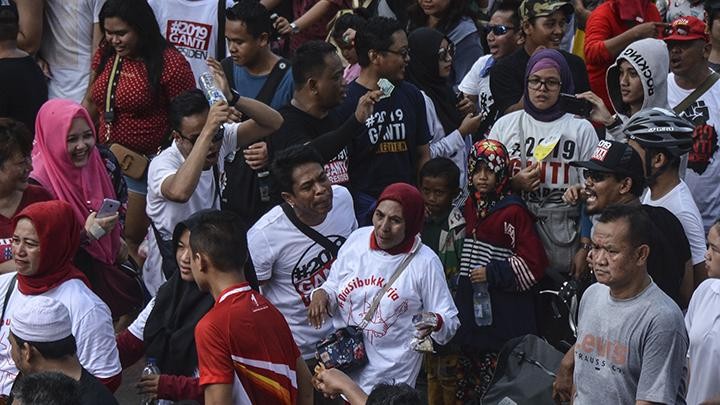 Supporters of President Joko "Jokowi" Widodo, wearing T-shirts emblazoned with the text "#DiaSibukKerja" (He is Busy Working) face a group with #2019GantiPresiden (Change the President 2019) during the Car Free Day event in Central Jakarta on April 29. Jokowi supporters allegedly faced intimidation from the opposing group as seen in a viral video. (Antara/Aprilio Akbar)
Officers of the Jakarta Public Order Agency (Satpol PP) distributed white t-shirts to people who were wearing T-shirts with "#2019GantiPresiden" (Change President in 2019) printed on them at the Car Free Day (CFD) event, in a bid to ensure the event is "politics free".
Five sacks of white T-shirts were prepared in anticipation of participants of the #2019GantiPresiden declaration rally, being held around Arjuna Wiwaha monument, Gambir, Central Jakarta, about 2.3 kilometers from Jl. MH Thamrin, choosing to enter the CFD area wearing their politically emblazoned T-shirts.
Jakarta Public Order Agency head Yani Wahyu said the distribution of the t-shirts was in line with Jakarta Gubernatorial Decree No. 12/2016 on no politics at the CFD.
The step was taken following an incident last Sunday in which a woman, who was wearing a white T-shirt bearing the slogan "#DiaSibukKerja" (He is Busy Working), to express her support for President Joko "Jokowi" Widodo, was heckled by several people who were wearing "#2019GantiPresiden" t-shirts.
"We offered white T-shirts to participants of the declaration rally who wanted to enter the CFD area. We didn't force them, simply persuaded them to wear the white T-shirts to comply with the gubernatorial decree," Yani told The Jakarta Post on Sunday.
Yani said he had deployed 250 officers, of whom 120 were women, to safeguard the CFD and to make sure no political activities were conducted in the area.
Besides distributing white T-shirts, Satpol PP also erected several banners stating people could only hold environmental, sports, arts or cultural events at the CFD. (evi)
Join the discussions